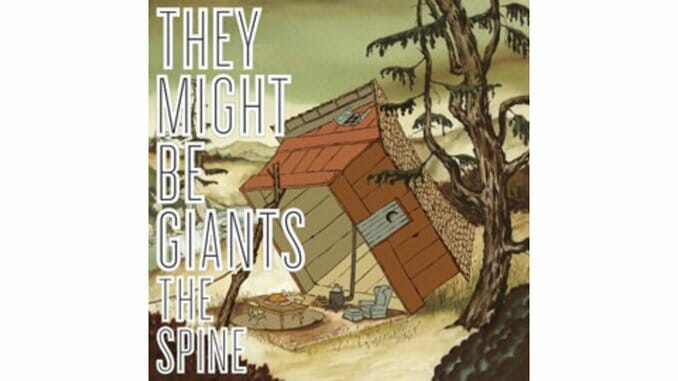 The word "fearless" is often tossed around when describing the careers of culturally and socially active brooding singer/songwriters—those who dare speak out against oppression, war or whatever issue MoveOn.org instructs them to care about this week. But I ask, what about a band that has unwaveringly built a huge following and successful career, crafting infectious pop songs about former presidents, metaphysical birdhouses, and being reincarnated as an expired bag of groceries? That, my friends, is fearless.
After writing several TV theme songs (Malcolm in the Middle, The Daily Show), collaborating with various websites and magazines (homestarrunner.com, McSweeney's), and writing children's books and music (No!, Bed, bed, bed), They Might Be Giants could rightly change their name to They Might Be Workaholics. It's remarkable, in fact, that the "two Johns" (Linnell and Flansburgh, the beating heart of the band) found the time to release a new adult album, The Spine—their 10th release in over 20 years—and stuff it full of classic Giants fare that's as catchy and reckless as ever.
The Spine is infectious genre-hopping pop music, peppered throughout with small pieces of delightful bewilderment. The 16 songs are bite-sized, only one of them clocking in at over three minutes, but the album rarely pauses to catch its breath with forgettable offerings. Since the group's inception, however, it's had to endure labels such as "geek rock" or "fluffy kids music." But give the Giants a chance. I'd be willing to bet you can't listen through this entire album without at least tapping your foot, or humming along with one of the catchy melodies.
The Spine will please the band's die-hard fans, providing some soon-to-be Giants standards (if you can call anything the band does "standard") with songs like "Experimental Film," "Thunderbird" and "Museum of Idiots." These songs have the power to stir listeners into a frenzy, surgically opening their skulls so that Linnell and Flansburgh can poke their fingers into the parts of their brains that trigger the joy response. Tracks like "Broke in Two" and "I Can't Hide" find the band blazing paths less traveled in its career. For TMBG, normalcy is more of an oddity than anything else.
The Spine also reveals the group's gentler side. Whether it be marriage, fatherhood or simply the wisdom that comes with age, this album has a more tender feel than previous TMBG efforts (in their own off-kilter fashion, of course).
They Might Be Giants isn't everyone's cup of tea, nor is The Spine, but Linnell and Flansburgh have proven once again it's possible to jump outside of pop music trends and often land above them.