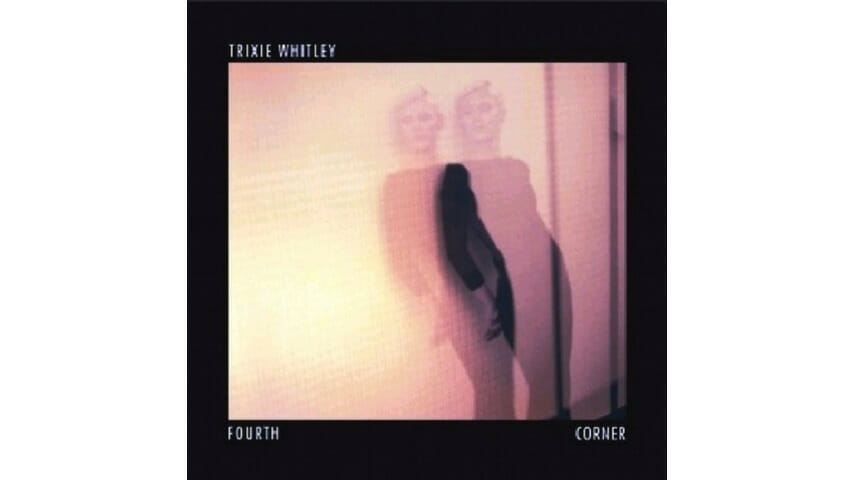 There's a powerful moment on "Breathe You in My Dreams," a standout on Fourth Corner, Trixie Whitley's solo debut, when the verse gives way to what promises to be a dramatic chorus. Rather than going into her upper range to belt the lyrics and enjoy a true diva moment, Whitley goes in the opposite direction, shifting into her lower register and revealing a husky baritone that's all fine grain and hollowed-out vowels. It's certainly not the expected decision, but Whitley is not a predictable vocalist. Where other singers might go for broke, she hangs back slightly and turns the song inside out.
To match her counterintuitive interpretive style, Whitley has one of those enormously dramatic voices that can sound too big for the song. Its subdued hoarseness recalls vintage Kim Carnes—not a popular influence, but certainly a valid one—but its sheer size may remind listeners of Erika Wennerstrom, who bulldozes through the Heartless Bastards' blues-rock jams. It's almost too much—too powerful, too demonstrative, too baroque. But only almost. Whether she's fronting Daniel Lanois' Black Dub project or singing her own songs, Whitley manages to write songs with bold emotions and desperate sentiments. In other words, she expands the material to the instrument rather than constricts the instrument to the material.
How diverse that material turns out to be. Fourth Corner incorporates rock and R&B, soul and jazz, torch songs and Quiet Storm; Whitley borrows from Janis Joplin as well as Anita Baker, Van Morrison as well as Robert Johnson. It's tempting to read that range as autobiography. The daughter of the late American singer/songwriter Chris Whitley, she grew up in Belgium and sang on her father's records, toured with a ballet company and DJ'ed at the Belgium Museum of Modern Art (when she was only 11 years old). She's obviously been exposed to a great deal of music in her life, and much of it shows up on Fourth Corner.
It's a confidently eccentric album, never quite settling on any one approach. Traditional drums are largely absent (which is odd considering Whitley herself is a drummer), yet the odd, murky percussion propels "Irene" and "Need Your Love," lending them a startling tension. Working with Thomas Bartlett (better known as Doveman), Whitley creates a dark, nocturnal atmosphere, as if Fourth Corner was set during the wee hours at some smoky basement lounge. The milieu is fascinating and immersive, a perfect setting for her pipes, and by the time things quiet down on closer "Oh, the Joy," she's stripped away everything but her voice and her surprisingly formidable guitar playing. It's a lovely, understated moment, as though she's achieved a bit of hard-won serenity and realized she has the perfect instruments to express it.