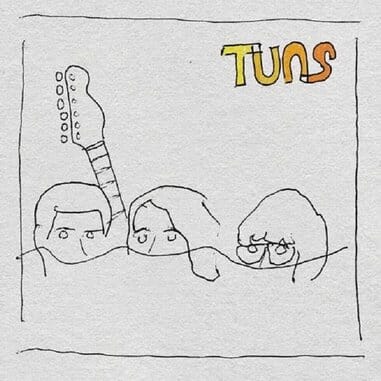 The term "supergroup" can be the cause of ecstasy or anguish when applied to one's favorite musicians. Sometimes differing musicians can reinvent themselves or find a new route to follow, as is the case with supergroups from the Eric Clapton/Ginger Baker collaboration Cream to the recent chart-topping partnership between Skrillex and Diplo, Jack Ü. Far too often, however, supergroups become a gimmick as opposed to a band worthy of listening to—does Hollywood Vampires ring a bell?
TUNS is a Canadian supergroup that unites the indie rock stylings of Sloan's Chris Murphy, The Inbreds' Mike O'Neil, and Super Friendz's Matt Murphy. As three established veterans to the '90s Halifax underground scene, TUNS comes together to make indie-indebted power pop without any gimmicky pretenses. On their self-titled debut album, TUNS has achieved what all supergroups should aspire to by making an album that sounds familiar to recognized fans while still fresh enough to garner a new following. But TUNS blows the term "supergroup" out of the water by tapping into the strengths of each individual musician for a one-of-a-kind mixture of talent.
There is classic indie sound that permeates the entirety of TUNS. While the bands that make up TUNS rose to prominence for their angsty indie rock alongside acts such as Guided by Voices and Pavement, the members of TUNS have matured since their '90s heydays. The result is a jangly, upbeat style of power pop with a slight edge that makes for a sound foreign to the band members' past discography, but that perfectly encapsulates the underground energy of TUNS with a newfound sense of optimism. Though songs across the album's nine tracks have a jaunty college rock guitar groove reminiscent of R.E.M., there is just enough modern flair to go along with the nostalgia that makes TUNS recall more present-day '90s nostalgia acts including Courtney Barnett and Mac Demarco.
Over time, the members of TUNS have been able to turn their own talents into specialized talents on their new project. All the songs sound like something unlike the discography of any of its past members. Album highlight "Mind Over Matter" is slightly grungy, but has a cheerful exuberance akin to acts going as far back as Cheap Trick. The songs only get brighter from there, even on drearily titled tracks such as "Lonely Life" that find the band all finding what's good even in the worst of times. Even on the lovelorn country-esque haze of "Look Who's Back In Town Again," TUNS greets life's cut downs with a mature and cheery disposition that stands proud even in the album's dreariest moments.
Thankfully, TUNS is a supergroup that is much greater than the sum of its parts. As opposed to a group of musicians looking to reclaim their past successes, the members of TUNS make the music they know how to without any hang ups on their prior careers. In the end, TUNS holds up just as strongly to any of the member's legendary bands, and they are making their own legend along the way.