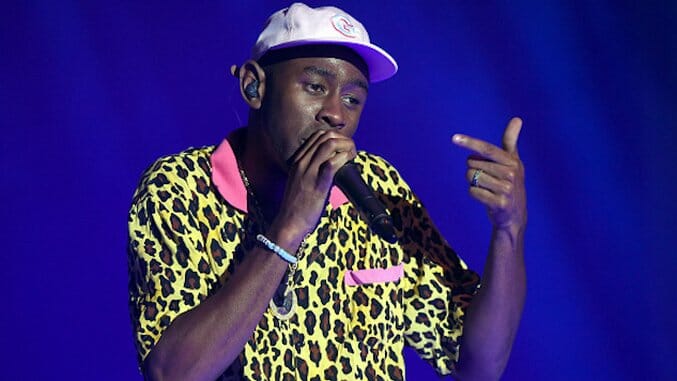 It's been a big year for Tyler, the Creator, and he's not done yet: He's shared a pair of brief new loose tracks, "BEST INTEREST" and "GROUP B," on YouTube. The former was left off of his critically acclaimed fifth studio album, IGOR, which topped the charts and received a 2020 Grammy nomination, while the latter is a "random song from last week [that] has nothing to do with igor," as Tyler tweeted.
In its video's description, Tyler calls "BEST INTEREST" "a song that [he] never got to fully finish from IGOR sessions" that he "didn[']t want to sit on a hard drive." With its lighthearted feel and chipmunk-esque vocal processing, it certainly sounds the part. "GROUP B" is a short rap track that finds him spitting verses over a spliced vocal sample, without a visual accompaniment. Via Twitter, Tyler explained that the lo-fi video for "BEST INTEREST" of him lip-synching on a boat ride came together quite serendipitously:
was on a boat, told the homie to just start filming, i was lip syncing to no music, was surprised when it synced up perfectly

— Tyler, The Creator (@tylerthecreator) December 23, 2019
IGOR and Tyler have also received their fair share of praise from Paste this year. The record was one of our best hip-hop albums of the year, as well as one of the best of 2019 overall, whereas Tyler's dynamic performance on the IGOR tour made him one of 2019's best live acts.
Listen to "BEST INTEREST" and "GROUP B" below.