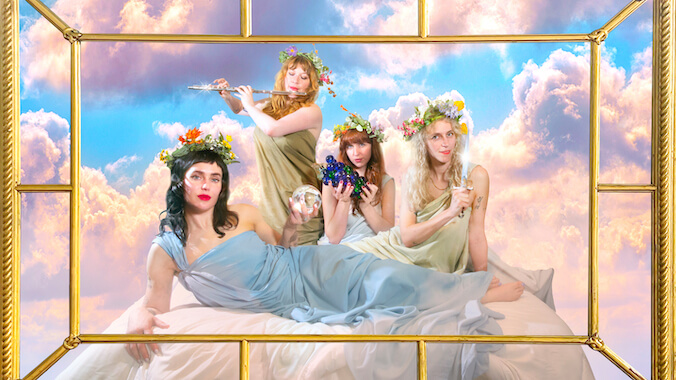 Seattle darlings Who Is She? are playful and free, and their new LP Goddess Energy reflects that seamlessly. The supergroup—Tacocat's Bree McKenna and Emily Nokes, Chastity Belt's Julia Shapiro and Lisa Prank's Robin Edwards—are happily in control of their femininity and their music. Nowhere is this fact more clear than on their new album, where they gleefully rail against Jeff Bezos, mourn old streaming services and pay homage to that ever-forgotten day of the week, Thursday. The album is a celebration of community and womanhood, brought to life through joking song-a-day challenges and joyous nighttime jams.
Power pop is back, and Who Is She? is leading the charge—reveling in their girlhood with witty glee. The supergroup granted us access into their songwriting process as they skipped through each track on their newest triumph, and it's just as witty as you'd expect. We recommend tuning into Goddess Energy as you make your way through the band's musings.
"Goddess Energy"
This song (and the name of the album) is a tribute to our friend Aaron Greene, who once politely declined having lunch with us because he said it would be "too much goddess energy." We thought that was the funniest, most kind diss ever and it been an inside joke for a long time so we decided to write a song about it.
"96 Ghouls"
This one is inspired by the ghoulish process of online dating and how it ends up dehumanizing people. You collect and label people ghouls as well as becoming a ghoul yourself. Sometimes you hate your ghouls, but you also love them because they're yours. There's a ghoul in all of us! 
"MoviePass"
We wrote this when the beloved but ill-fated movie subscription service MoviePass was a thing of the past, but we must have cast a spell for it to come back. This song is about existing in this brief, beautiful glitch in time where we could see as many movies as we wanted in the theater. MoviePass was the one that got away, a love that burned bright and fast, and knowing it's over but wishing you could go back. Movie theaters also are significant to Bree and Robin, who both worked as popcorn-scoopers in their early 20s. We also think that this song definitely cast a spell for MoviePass to come back.
"Thursday"
We are big fans of "day of the week" songs like "Manic Monday" and "Friday, I'm in Love," and we realized there weren't enough songs about Thursday. So we decided to write one!
"My My Orca Card"
This is our take on the Le Tigre song "My My Metro Card." We love Le Tigre and public transit and wanted to make this song about Seattle, so we added some of our favorite Seattle bus lines and sprinkled in a local billionaire villain. It was also tied into a local sports scandal so it's now technically a jock jam. We just got to play a few dates on their tour and it was a dream come true!
"Shania"
This is a response song to Shania Twain's 1998 hit "That Don't Impress Me Much." As we would all be pretty impressed if someone had a car or was a rocket scientist, it made us wonder: Shania, how could we impress you?
"Anne Hathaway"
People are so mean to Anne Hathaway! Leave Anne alone! This is probably our most controversial song because people get very heated about their feelings for Anne Hathaway.
"Please Don't Kick Us Out"
>For some reason, the house two of us live in (and all four of us have lived in at some point) has been escaping demolition for over a decade, even though it's always supposed to be any day now. With the Seattle housing crisis being a cruel reality for artists, this is our little song about not wanting to get kicked out.
"See-Monkeys"
Everyone with social media ends up in weird little holes where you end up spiraling into, like, your ex-roommate's boyfriend's sister's account and maybe get weirdly invested in their life from afar even though they have nothing to do with you. Sometimes you keep going back to check on them, like they are your little pets. We call these little creatures See-Monkeys.
"Bitch for God"
This song is about Marianne Williamson. We wrote this way before she announced she was running for president again so we must've cast a spell for that to happen, too. We are open to her using it in her presidential campaign! Marianne, email us at [email protected].
"All Mixed Up"
On our first record, we had a lot of songs based on newspaper missed connection ads, and this is the last one from that batch that we never got around to recording. It's based on a real ad by someone who bought a mixtape at the thrift store and is looking for the person who made it. So romantic! We hope they found each other.