If There's Really "a Riot Going On," Yo La Tengo Aren't Saying What It Is
Sure, the Jersey indie vets named their new album after Sly & the Family Stone's infamous protest record. But their protest is a subtle one.
Photo: Courtesy Matador Records
Music
Features
yo la tengo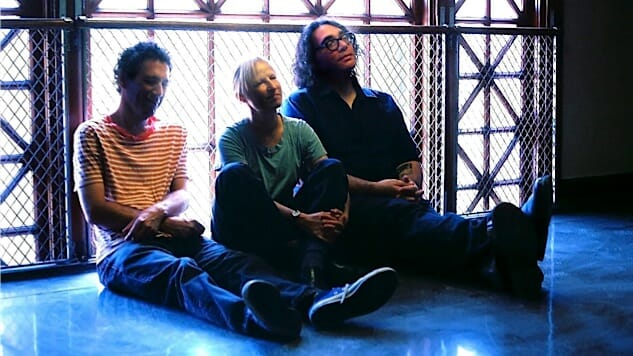 Yo La Tengo had a reason for naming their new album, There's a Riot Going On, but singer and guitarist Ira Kaplan doesn't intend to explain what it was. "As you may have noticed, I'm not that fond of the broad statement," Kaplan says, firmly but with bemusement.
Of course the Hoboken, N.J., trio was aware that the title of their 15th LP was just one "g" away from There's a Riot Goin' On, Sly and the Family Stone's landmark 1971 release, which famously scrubbed away much of that band's trademark pizzazz for a cynical, acrid take on the state of America, delivered through a narcotic haze. Given the current state of the country, and the world, might the title homage suggest that Yo La Tengo have also made a protest album of sorts? Don't count on it. "I don't know what protest music is," he says. "I don't really think of it as a genre."
"For us," says Kaplan, "the record is about coping. I feel that way a lot. You try to live your life as best you can, and personally, I'm very fortunate to be working with James and Georgia. It makes my life so much richer, and hopefully that's expressed in the music."
All right, let's come back to that. Whatever Sly's album was, Yo La Tengo's version of There's a Riot Going On is characteristically low-key and cerebral on 15 new songs that feature subtle musical interplay among Kaplan, his wife Georgia Hubley on drums, piano and vocals, and James McNew on bass and vocals. Hubley sings lead on "Shades of Blue," a quietly catchy vintage-style pop song built around piano, steady bass and tambourine. "For You Too" pairs a fuzzed-over synthesizer with chiming guitar and a wistful melody, while the first half of the instrumental "Dream Dream Away" is just a strummed acoustic guitar, joined in the second half by ephemeral swirls of synthesizers and vocals wrapped in reverb. Ballpark organ and a hollow percussion sound frame whispery vocals on "Let's Do It Wrong," and the trio shows its playful side on "Esportes Casual," a lounge-y bossa nova number that clocks in at just under a minute and a half.
Uncharacteristically, Riot, which comes out March 16 on the trio's longtime label, Matador, was what Kaplan calls "a very unlinear process"; the group was midway through making the album before they realized that's what they were doing. "We were actually working on the record almost literally without knowing we were working on it," Kaplan says. "We knew we were working on writing some songs, but we thought the recordings we were making were kind of a means to the end. But it turned out they were the end. We didn't have to do anything else."
Kaplan, now 61, Hubley, 58, and McNew, 48, usually come up with songs for an album by playing together in their rehearsal space until the music inspires McNew to begin recording it. "There's not very much of that on this record, if any," Kaplan says. In fact, making There's a Riot Going On, the band's first album of originals since 2013's Fade, more closely resembled how Yo La Tengo works when they're writing music for films, which they've done for movies including 2005's Junebug and 2006's Old Joy. (Their film scores were collected for the 2008 compilation They Shoot, We Score.) "With the film stuff, it tends to be that one person would have an idea and we'll go with that," Kaplan says. "There's at least one song on the record that began as something we submitted to a film, but it wasn't something the director was looking for. I remember even at the time hoping they would turn it down because it was something we wanted to keep for us."
The band also went digging through their extensive stockpile of rehearsal recordings to revive older ideas, or sometimes just fragments of them, which often leads in unexpected directions. "It's hard to label instrumentals in a way that you'll remember them," Kaplan says. "So a lot of it is, when we're looking for something, we'll frequently find something else simultaneously."
Though such a process sounds like it relies on luck as much as anything, it's an instructive example of how Yo La Tengo operate. "The amount of work and thought that they put into what they do allows them to be very free with it once they get going," says Mac McCaughan of Superchunk, who played vibraphone and keyboards as a touring member of Yo La Tengo after their 2000 album And Then Nothing Turned Itself Inside-Out. Preparing for the tour involved not just becoming intimately familiar with songs from that album, but being open to playing obscure tunes from Yo La Tengo's catalog, or oddball covers, on any night. "That combination of discipline and improvisation is what makes them great," says McCaughan, who also sat in with Yo La Tengo at one of their Hanukkah performances in New York last December, after Superchunk opened the show.
Read: Yo La Tengo Announce First New Album in Five Years, Share Four Songs
Yo La Tengo have honed that particular balance for more than 30 years, going back to their 1986 debut, Ride the Tiger (McNew joined as a full-time member for 1993's Painful), having built a career on a mix of deft musicality, the eclectic taste of lifelong record collectors (they've covered Billy Joel, Fleetwood Mac, the Stooges, NRBQ and Archie Bell and the Drells, among many, many others) and a subtle sense of humor that often plays out in album titles like I Am Not Afraid of You and I Will Beat Your Ass, from 2006, or their covers album from the same year, Yo La Tengo Is Murdering the Classics.
It's entirely possible that same dry wit played into naming the new album There's a Riot Going On, but naturally, Kaplan plays it cool. He does offer one oblique clue about whether these 15 new songs have any current-events subtext. "For us, the record is about coping," he says. "I feel that way a lot. You try to live your life as best you can, and personally, I'm very fortunate to be working with James and Georgia. It makes my life so much richer, and hopefully that's expressed in the music."