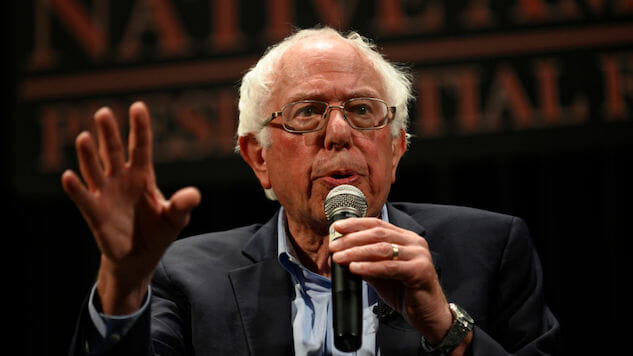 Senator Bernie Sanders released a $16.3 trillion Green New Deal plan on Thursday morning. The plan is designed to eliminate the use of fossil fuels in the United States by 2050 in order to fight the ongoing climate change crisis. It's the most expensive Democratic proposal yet (the second highest is Elizabeth Warren's $2 trillion green manufacturing plan) to fight global warming and greenhouse gas emissions.
The climate crisis is the greatest challenge facing humanity. It's also our single greatest opportunity to build a just and equitable future.

We are going to create 20 million jobs and an economy that works for all.

It's time for a #GreenNewDeal. https://t.co/NteQAl2D7M

— Bernie Sanders (@BernieSanders) August 22, 2019
The original Green New Deal, which was championed by congresswoman Alexandria Ocasio-Cortez, got Sanders' support early on. His new plan will be referred to by the same name, and treats climate change as a national emergency (which it is). He already has the endorsement of the Sunshine Movement, which called "the most ambitious plan we've seen so far."
Today @BernieSanders released his sweeping vision for a #GreenNewDeal.

It's the biggest, boldest, and most ambitious plan we've seen so far to take on the greed of the fossil fuel billionaires, & create millions of good jobs tackling the climate crisis.https://t.co/f5G7aDP0oX

— Sunrise Movement (@sunrisemvmt) August 22, 2019
The new plan's main goals will be to build new sustainable power sources across the U.S. (using wind, solar and geothermal energy) and commit $200 billion to impoverished nations in their fight against global warming.
In regard to the plan's outcome, Sanders also claims it will ultimately pay for itself within the next 15 years, and create 20 million new jobs for Americans. The plan would be funded by placing higher taxes and fees on oil-industry giants.
Sanders is sure to receive pushback from conservatives, with many big-name players still somehow regarding climate change as a hoax. Nonetheless, this climate change crisis will certainly play a big part in the 2020 election.