Gubernatorial Candidate Brian Kemp Keeps Finding New Ways to Rig His Own Election
Photo by Jessica McGowan/Getty
Politics
News
Brian Kemp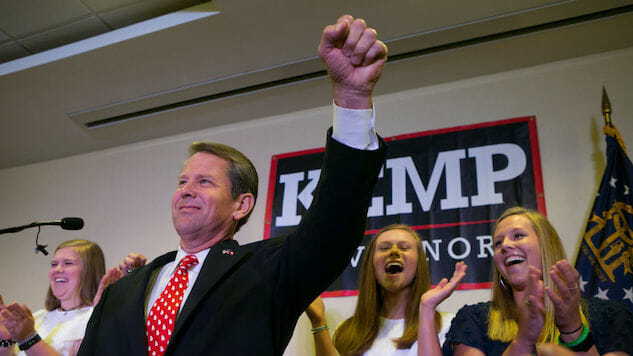 If you've heard about acts of voter suppression in Georgia, then you've probably heard the name of gubernatorial candidate Brian Kemp. Not only is he running for governor of the state, but as secretary of state, he's also the official in charge of running the election. He's done exactly what would be expected of someone in what should be one of the most textbook and easily avoided examples of corruption in politics.
Per NPR, Kemp and his team have removed over 100,000 names from voter registration lists. When questioned about it, he said that they hadn't responded to mailed communications about their voter status. He also stalled 50,000 voters who had hyphens in their last names (in accordance with the state's "exact match" voter registration law), a statistic which NPR notes affected mostly minorities. Things escalated further this weekend.
On Sunday, in the latest twist, Kemp baselessly accused Democrats of hacking the Georgia election. He's used his position as Secretary of State to post this information, without evidence, on the official Secretary of State website. Kemp refused to give much other information on the alleged attack, other than that he's asked the FBI to get involved.
Ironically, Slate reports that Kemp originally refused any outside help in securing state elections. The Department of Homeland Security offered up assistance in warding off any tampering during the midterms, such as cyber attacks, the very thing he's accusing Democrats of. He's even been sued for running the "most vulnerable" election, nationwide, which is a great moniker for a gubernatorial candidate.
It's important to note, though, that no actual damage has been reported. According to the announcement on the Secretary of State's website, no data was stolen or altered.
In spite of all this, the state will not be making the switch to paper ballots, due to the impending election. Instead, Georgia will be using its potentially compromised computer system, put together by an official whose name is on the ballot.