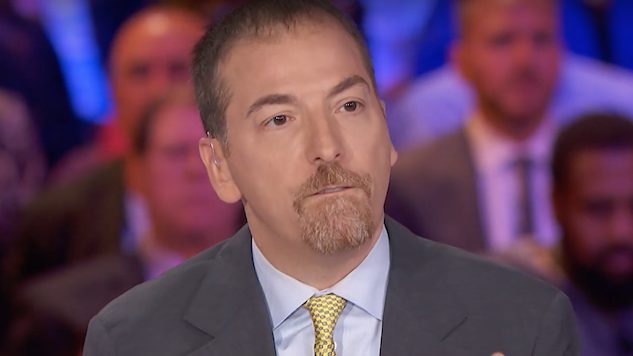 Wednesday night marked the first of two Democratic Primary Debates, and moderator Chuck Todd decided to speak more than half of the primary candidates, according to FiveThirtyEight.
NBC's Meet the Press host is fourth in line of the overall 15 individuals who spoke last night. Leading the pack is candidate Corey Booker with a hefty 2,181 words, while following is Beto O'Rourke with 1,932, Elizabeth Warren with 1,637 and then not even five words behind is Todd with a whopping 1,633. Some candidates, including Bill de Blasio and Jay Inslee, didn't even cap 1,000 words.
Cory Booker spoke the most words tonight.
Beto O'Rourke was second.
Elizabeth Warren was third.
Chuck Todd, one of the debate's moderators, spoke just 4 words less than Warren and more words than 7 of the candidates on stage. https://t.co/01rAtNoxuapic.twitter.com/JKixEyiHAb

— FiveThirtyEight (@FiveThirtyEight) June 27, 2019
Nonetheless, it seemed the host wanted to speak a bit more than his moderating counterparts—he spoke almost 500 words more than his fellow moderator Rachel Maddow, in fact. With the second debate set for tonight, it begs the question of whether Todd plans to hog the mic again.