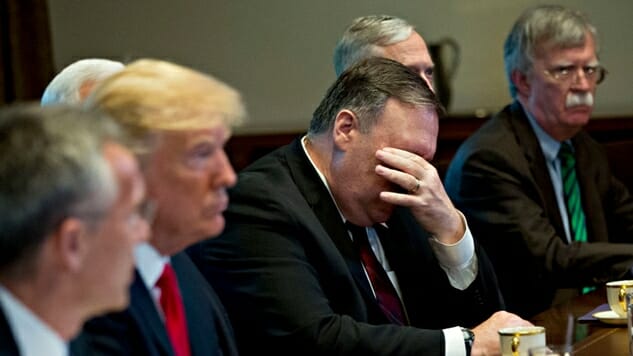 Dear Leader Donald took his first trip to Europe, and it did not go well. It's quite telling that he had far more success with the autocrats in Saudi Arabia than with democratically elected leaders in Europe. Although, I guess it shouldn't be surprising that someone who spent his entire career around the mob would better understand how to deal with a brutal ruling family than politicians who represent a diverse coalition of interests. Aside from posing for a picture that looked like an ad for the Illuminati and another with a miserable-looking Pope, his first trip abroad had been a success prior to yesterday. Here are the eight most embarrassing moments from his visit to NATO.
1. He shoved Dusko Markovic—the Prime Minster of Montenegro
Did Trump just shove another NATO leader to be in the front of the group? pic.twitter.com/bL1r2auELd

— Steve Kopack (@SteveKopack) May 25, 2017
I'm a bit skeptical that this was completely intentional, as Trump is a fan of saying hello via the shoulder clap, but he's so clueless and rude that he hasn't earned the benefit of the doubt on this "America First" shove.
2. Trump lost a handshake battle to Emmanuel Macron
We broke down this epic standoff yesterday, and it's worth revisiting again. Donald Trump has one move when trying to gain handshake dominion over his opponent, and Macron's advanced scouting department cooked up one hell of a gameplan—combating force with even more force.
3. Trump was shown up twice by Macron
France's newly elected president took a victory lap by stampeding all over Donald Trump's pride, as this is some serious diplomatic shade thrown towards our commander-in-tweet.
À Bruxelles, unis avec nos alliés de @NATO. pic.twitter.com/7nyaoI8hki

— Emmanuel Macron (@EmmanuelMacron) May 25, 2017
If you're not seeing it, watch again. Macron walks directly towards Trump, Trump sticks his arms out to the sides to greet him (like every mafia don in every movie ever), and the French president immediately takes a hard right to Angela Merkel, subsequently shaking hands with her and the man standing to her right. Just when Donald thinks he's going to get his overdue handshake, Macron pivots back in the opposite direction, shaking another man's hand as Donald sits and stews. When Macron finally does reach out to embrace our president, Trump pulls his patented "yank 'em in" handshake, only to have Macron pull the exact same move in response. Then Macron tweets out the video on his own account. Just a savage move all around. I think it's safe to say that France's new president is not intimidated by our POTUS's shtick.
4. Trump didn't support Article V
Now we're getting into the serious gaffes. The day before he made this speech, an administration official told The New York Times that Trump was going to endorse NATO's mutual aid pledge. He didn't. The closest he came was this passage towards the beginning of his speech.
"We remember and mourn those nearly 3,000 innocent people who were brutally murdered by terrorists on September 11th, 2001. Our NATO allies responded swiftly and decisively, invoking for the first time in its history the Article 5 collective defense commitments."
Article V is pretty much the entire point behind NATO. It stipulates that if one NATO member is attacked, all NATO members are attacked—and the only time it has ever been invoked is right after 9/11, when our European allies came to our aid in Afghanistan to try to weed out the Taliban and Osama bin-Laden. It is a sacred pact that Trump repeatedly questioned during the campaign, and when provided the opportunity to clear up any confusion as to whether the United States will honor its commitments, our president shrunk from the moment. Needless to say, our friends in Europe are not pleased.
Just got this text from GOP natsec official: "Had to apologize to a European defense attaché just now. 'I'm sorry. He's an idiot.'"

— Eli Stokols (@EliStokols) May 25, 2017
Such exercises, source continues, "are often covers for offensive ops.

"This is how wars get started."

— Eli Stokols (@EliStokols) May 25, 2017
The theory that Euro IC gloves are off also extends to a very senior GER govt contact of mine.

White. Hot. Fire.

cc: @20committee

— Rick Wilson (@TheRickWilson) May 25, 2017
5. Trump spent the rest of his speech proving he doesn't know jack shit about NATO
Look at their faces and the whispering as Trump admonishes leaders over NATO financial obligations. pic.twitter.com/gLCYgKTdi3

— Bradd Jaffy (@BraddJaffy) May 25, 2017
very striking that Trump made a point of 'not lecturing' the Saudis, and then arrived in Brussels and lectured Europeans.

— Anne Applebaum (@anneapplebaum) May 25, 2017
This is such a mess.
6. Say what?
(emphasis mine)
"I want to extend my appreciation to the 9/11 Memorial and Museum in New York for contributing this remnant of the North Tower, as well as to Chancellor Merkel and the German people for donating this portion of the Berlin Wall. It is truly fitting that these two artifacts now reside here so close together at the new NATO Headquarters. And I never asked once what the new NATO Headquarters cost. I refuse to do that. But it is beautiful."
Trump's modus operandi is a lot easier to understand if you look at him as a wannabe mafia don and not as a businessman.
7. Trump righteously pissed off the Germans
He was complaining about the German trade surplus with the United States, and threatened them in a meeting, saying "look at the millions of cars they sell in the US, and we'll stop that."
! Trump tells EU leaders: "The Germans are bad, very bad", will "stop" German car sales to US https://t.co/IR5khYeFvp

— Mathieu von Rohr (@mathieuvonrohr) May 25, 2017
Again, it's a lot easier to understand his motivations if you look at every relationship we have as a protection racket. In Trump's America, we have no allies, only nations who owe us money.
8. Only half the country hates me!
Thank you for your support. Together, we will MAKE AMERICA SAFE AND GREAT AGAIN!#POTUSAbroad#USA???????? pic.twitter.com/42vCwr5GkA

— Donald J. Trump (@realDonaldTrump) May 25, 2017
This poll is clearly an outlier. Here are all other available polls on his approval rating, via RealClearPolitics.
Gallup: 39%
Fox News: 40%
Economist/YouGov: 40%
Reuters/Ipsos: 37%
Quinnipiac: 37%
Monmouth: 39%
Public Policy Polling: 40%
NBC News/Wall St. Journal: 39%
RCP Average: 39.7%
Nate Silver at FiveThirtyEight also pointed out that his core supporters are shrinking. Conventional wisdom says that he will never dip below 35-40% approval since that is his base, but the data does not bear that out. This chart shows that the percentage of people who "strongly approve" of Trump has fallen from around 30% earlier this year to around 20% today. Given that Trump is trying to pass a health care bill with a 20% approval rating and he's spending a lot of time preparing a team of "street fighters" to push back on the Russia stories, it's hard to see any policies that will help get him back on track. He ran on the promise of improving life in the forgotten centers of America, and given that he's doing things like trying to eliminate the office that fights back against opioid addiction, it doesn't look like he's going to fulfill those promises any time soon. This may be the last poll he tweets out for quite some time.
Jacob Weindling is a staff writer for Paste politics. Follow him on Twitter at @Jakeweindling.