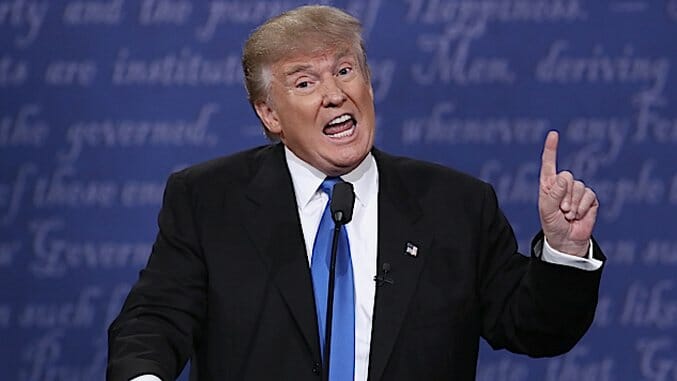 In the past two years, the concept of "there is always a tweet" has gone from political curiosity to metaphysical fact to the one true religion. If you're unfamiliar with this concept, treat yourself to Jake Weindling's thorough treatise on the subject, with 100 actual examples. Or settle for this short explanation: For every action Trump takes as president, and for every inane complaint or edict that emanates from his mouth, there is a tweet from his past either directly contradicting the words he is spewing, or demonstrating that he has committed the same exact sin. It's like hypocrisy, but bolder and stupider.
So, now that the White House is demanding the firing of TBS' Samantha Bee after she called Ivanka Trump a c*nt, the existence of that same word in Trump's Twitter past is all but inevitable. Trump, along with his real-life minions, has equated Bee's remark with Roseanne Barr's overt act of Twitter racism—this is nonsense, by the way—and has essentially argued that what's good for the goose is good for the gander.
Why aren't they firing no talent Samantha Bee for the horrible language used on her low ratings show? A total double standard but that's O.K., we are Winning, and will be doing so for a long time to come!

— Donald J. Trump (@realDonaldTrump) June 1, 2018
Then Sarah Huckabee Sanders took up the fight on Trump's behalf, saying:
"The language used by Samantha Bee last night is vile and vicious. The collective silence by the left and its media allies is appalling.
"Her disgusting comments and show are not fit for broadcast, and executives at Time Warner and TBS must demonstrate that such explicit profanity about female members of this administration will not be condoned on its network."
Bee, under intense pressure, apologized, and it seems like, despite the White House's best efforts, she probably won't be fired.
But guess what? Back in 2013, Trump had no such compunctions about the c-word: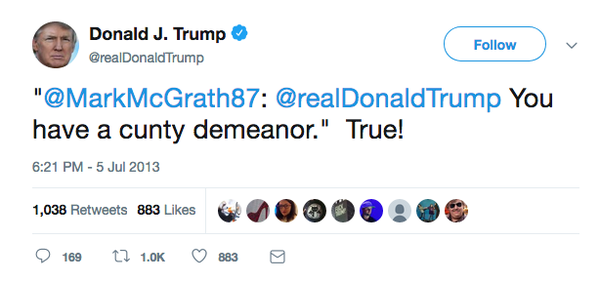 Repeat it to yourself: There is always a tweet.