Trump Congratulates Putin On Election, Fails to Ask a Single Tough Question About…Anything
Photo courtesy of Getty
Politics
News
Donald Trump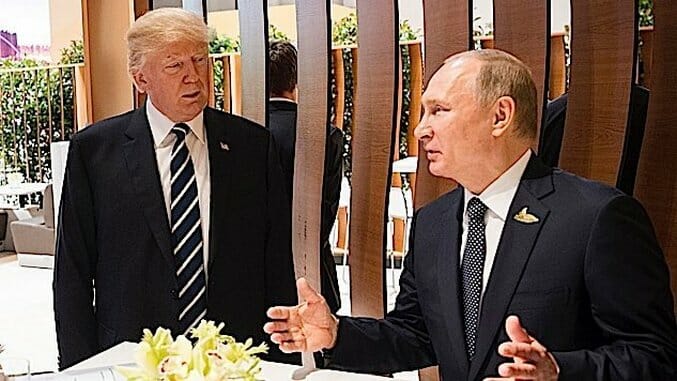 Donald Trump and Vladimir Putin hopped on a phone call Tuesday, and Trump used the opportunity to congratulate Putin on his re-election (he won in a rout after barring his main opponent, and there were still a ton of "irregularities"). Did he use the chance to grill the Russian president about his country messing with our election, or the allegations that they poisoned a former Russian spy and his daughter in the UK? Nope! The Times has the details:
Instead, in his phone call with Mr. Putin, the president focused on what the White House called "shared interests," including North Korea, Ukraine and the escalating arms race between the United States and Russia. He said he and Mr. Putin were likely to meet soon to discuss those issues.
But it was the justification for not asking any of the hard-edged questions that took the cake:
The White House said Tuesday it was not the place of the United States to question how other countries conduct their elections — a contention that runs counter to years of critical statements by presidents and other officials about elections in Russia and many other countries.
"We don't get to dictate how other countries operate," the press secretary, Sarah Huckabee Sanders, said. "We can only focus on the freeness and fairness of our elections."
God. Jim Carrey's painting didn't go far enough.
Among those who immediately criticized Trump was John McCain, who released the following statement: "An American president does not lead the free world by congratulating dictators on winning sham elections. And by doing so with Vladimir Putin, President Trump insulted every Russian citizen who was denied the right to vote in a free and fair election to determine their country's future, including the countless Russian patriots who have risked so much to protest and resist Putin's regime."