Hillary Clinton Knew Her Faith Adviser Was an Accused Sexual Harasser, and She Didn't Fire Him
Photo by Justin Sullivan/Getty
Politics
News
Hillary Clinton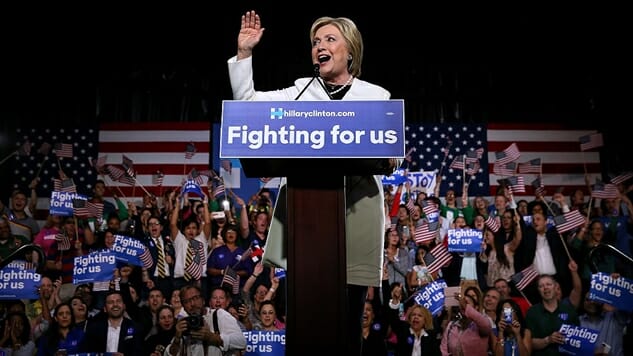 Maggie Haberman and Amy Chozik of the New York Times published another utterly depressing report today that we can add to the top of the #MeToo pile. Per the NYT:
A senior adviser to Hillary Clinton's 2008 presidential campaign who was accused of repeatedly sexually harassing a young subordinate was kept on the campaign at Mrs. Clinton's request, according to four people familiar with what took place.
Mrs. Clinton's campaign manager at the time recommended that she fire the adviser, Burns Strider. But Mrs. Clinton did not. Instead, Mr. Strider was docked several weeks of pay and ordered to undergo counseling, and the young woman was moved to a new job.
Mr. Strider, who was Mrs. Clinton's faith adviser, a co-founder of the American Values Network, and sent the candidate scripture readings every morning for months during the campaign, was hired five years later to lead an independent group that supported Mrs. Clinton's 2016 candidacy, Correct the Record, which was created by a close Clinton ally, David Brock.
He was fired after several months for workplace issues, including allegations that he harassed a young female aide, according to three people close to Correct the Record's management.
In a sense this is the real story. Not so much "Hillary Clinton Shielded a Predator" as "we, her associates and advisors, were totally complicit for years until we realized she will never be powerful again, and we'd still prefer you not name us because we'd like to work again" pic.twitter.com/i96GAechBd

— David Klion (@DavidKlion) January 26, 2018
This is another sobering reminder of the failure of identity politics. Just because someone is the same gender/sexual orientation/race as you doesn't automatically mean that they have your best interests at heart.
Jacob Weindling is a staff writer for Paste politics. Follow him on Twitter at @Jakeweindling.