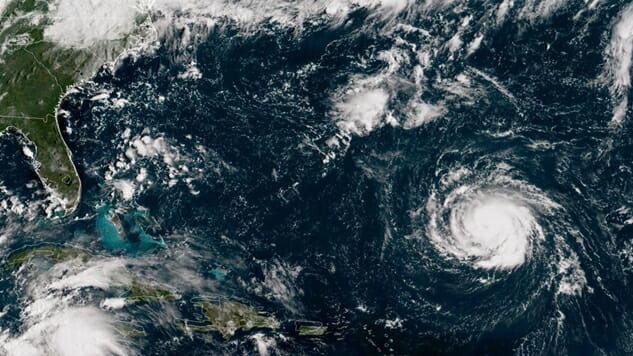 This isn't some guy on the internet sounding the alarm, this is our elected officials telling us that an incredibly dangerous hurricane is on its way, likely to the Carolinas.
UPDATE: Ahead of today's 2:30 press conference, SC Governor @HenryMcMaster announced to members of the SC legislature that he will order the evacuation of the entire coast of South Carolina, beginning at noon tomorrow. #HurricaneFlorence

— Meg Kinnard (@MegKinnardAP) September 10, 2018
If you're on the coast of the Atlantic Ocean, particularly in South Carolina, North Carolina or Virginia, you need to start preparing/evacuating now. Hurricane Florence was upgraded to a category 4 hurricane today (category 5 is the highest level), with maximum sustained winds around 130 mph. This is what the behemoth looks like from space.
Cameras outside the station captured views of Hurricane Florence in the Atlantic at 8:10 a.m. EDT Sept. 10. With winds of 115 miles an hour it could make landfall along the eastern seaboard of the U.S. late Thursday or early Friday. pic.twitter.com/DhEHhSeeDx

— Intl. Space Station (@Space_Station) September 10, 2018
Here are the projected paths for Florence to make landfall.
Updated EPS spghetti (12z) shows major Hurricane #Florence most likely making landfall in the Carolinas … centered upon the SC|NC border.
The core of strongest winds will extend 100-miles+ in diameter so coastline from Charleston to Cape Hatteras particularly under threat. pic.twitter.com/sHJl5I7FdE

— Ryan Maue | weathermodels.com (@RyanMaue) September 10, 2018
Florence is just one of four active hurricanes as of right now, as Hurricane Olivia is projected to make landfall in Hawaii this week as well.
There are currently 4 active hurricanes:

• Cat 1 Olivia: Forecast to weaken before nearing Hawaii
• Cat 4 Florence: Expected to approach Carolinas with 150 mph winds
• Cat 1 Isaac: Expected to reach Lesser Antilles this week
• Cat 2 Helene: No current threat to land pic.twitter.com/jenR7Agz3K

— NBC News (@NBCNews) September 10, 2018
I say "active" hurricanes because there are more storms out there that could mature into a hurricane. Marty Bahamonde, the Director of Disaster Operations at the Office of External Affairs at the Federal Emergency Management Agency (FEMA), tweeted out this harrowing image of all the storms stretching from the Pacific to the Atlantic that the government is tracking.
In 25 years @fema i have never seen a situation like this before. If you are in any of those paths, it is time to prepare yourself. pic.twitter.com/7XT3hYot6O

— Marty Bahamonde (@MartyJBahamonde) September 9, 2018
Climate change isn't some far-off problem we need to deal with in the future. It's already warping the world we used to inhabit. Larger hurricanes like what we saw last year in Houston, Florida and Puerto Rico are the new norm, and Hurricane Florence looks like it will continue that trend. As the Earth gets warmer and wetter thanks to human activity, it's literally like putting hurricane season on steroids. If you live in the southeastern United States, you need to devise an annual plan for hurricane season that is more robust than the one you had in years past, as it's clear that the governments and corporations of the world refuse to address the root cause of climate change: mankind's economic and political priorities.
UPDATE: Shortly after publishing, a new forecast came out, projecting Hurricane Florence to approach category 5 status as it makes its way towards North Carolina. Stay safe out there, folks.
NHC Update, 5pm:

Hurricane #Florence is now a 140mph Category 4 storm — and is expected to approach Category 5 strength over the next three days before landfall in North Carolina.

Very simply: This is shaping up to be one of the worst hurricanes in U.S. history. pic.twitter.com/oUdq7OaK4G

— Eric Holthaus (@EricHolthaus) September 10, 2018
Jacob Weindling is a staff writer for Paste politics. Follow him on Twitter at @Jakeweindling.