Trump's Allies Now Raising Money to "Find Dirt" on Journalists
Photo courtesy of Getty
Politics
Features
Media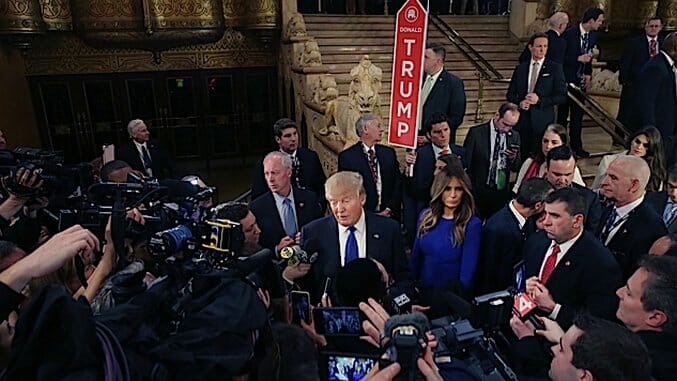 Axios reported Tuesday that allies of President Trump are apparently raising money for the express purpose of attacking journalists they don't like at outlets like the New York Times, Washington Post, Buzzfeed, and others. Axios got their hands on a "three-page fundraising pitch," and found the following:
Under "Primary Targets," the pitch lists: "CNN, MSNBC, all broadcast networks, NY Times, Washington Post, BuzzFeed, Huffington Post, and all others that routinely incorporate bias and misinformation in to their coverage. We will also track the reporters and editors of these organizations."
And make no mistake—this is about going after the individual reporters, often on personal levels:
The group claims it will slip damaging information about reporters and editors to "friendly media outlets," such as Breitbart, and traditional media, if possible. People involved in raising the funds include GOP consultant Arthur Schwartz and the "loose network" that the N.Y. Times reported last week is targeting journalists. The operations are to be run by undisclosed others.
This is right in line with the growing strategy from Trump's camp to essentially declare war on the media and social media alike, and to taint both institutions with an onslaught of bias accusations.