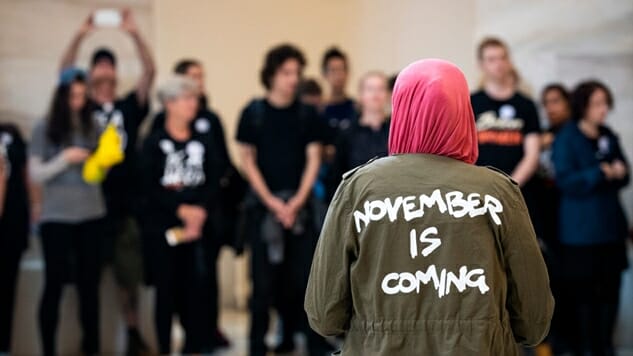 Rashida Tlaib has just won her election in Minnesota's 13th House district, and Minnesota's Ilhan Omar will almost certainly win in her state's fifth district. They will be the first Muslim women elected to the U.S. Congress, and Omar will be the first woman to wear a headscarf in either chamber.
Per Buzzfeed:
Their election would be a milestone in any year, but is especially symbolic as a rebuke to President Donald Trump's fearmongering about Islam and immigrants. Omar and Talib are among 100 or more Muslims who ran for office in 2018, an unprecedented surge in political engagement for a community targeted by policies intended to keep them on the sidelines.
These results were not unexpected, but that doesn't make them any less historical.
• Ilhan Omar: soon-to-be 1st Somali American in Congress
• Rashida Tlaib: soon-to-be 1st Palestinian American in Congress.
• Ibtihaj Muhammad: 1st U.S. Muslim woman to wear a hijab at the Olympics.

All Muslim women. All firsts. So much for "Islam oppresses women." pic.twitter.com/6YagJxHDpg

— Dr. Craig Considine (@CraigCons) August 15, 2018