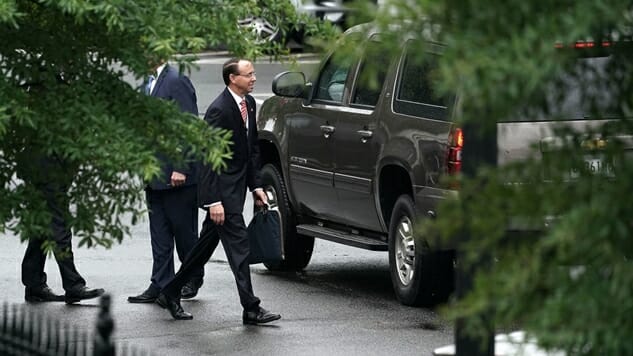 There's been a lot of madness over the last 96 hours regarding the man overseeing the Russia investigation. On Friday, Deputy Attorney General Rod Rosenstein was the star of a bizarre New York Times report that attributed the following allegations to "Several people [who] described the episodes in interviews over the past several months," who learned of this news thanks to being "briefed either on the events themselves or on memos written by F.B.I. officials, including Andrew G. McCabe, then the acting bureau director, that documented Mr. Rosenstein's actions and comments."
The deputy attorney general, Rod J. Rosenstein, suggested last year that he secretly record President Trump in the White House to expose the chaos consuming the administration, and he discussed recruiting cabinet members to invoke the 25th Amendment to remove Mr. Trump from office for being unfit.
Mr. Rosenstein made these suggestions in the spring of 2017 when Mr. Trump's firing of James B. Comey as F.B.I. director plunged the White House into turmoil. Over the ensuing days, the president divulged classified intelligence to Russians in the Oval Office, and revelations emerged that Mr. Trump had asked Mr. Comey to pledge loyalty and end an investigation into a senior aide.
Mr. Rosenstein was just two weeks into his job. He had begun overseeing the Russia investigation and played a key role in the president's dismissal of Mr. Comey by writing a memo critical of his handling of the Hillary Clinton email investigation. But Mr. Rosenstein was caught off guard when Mr. Trump cited the memo in the firing, and he began telling people that he feared he had been used.
This morning, Axios' Jonathan Swan reported that Rosenstein "verbally resigned to Chief of Staff John Kelly in anticipation of being fired by President Trump, according to a source with direct knowledge."
This afternoon, Vanity Fair's Gabriel Sherman reported that it was actually all a ruse, and that "according to a source briefed on Trump's thinking, Trump decided that firing Rosenstein would knock Kavanaugh out of the news, potentially saving his nomination and Republicans' chances for keeping the Senate. "The strategy was to try and do something really big," the source said. The leak about Rosenstein's resignation could have been the result, and it certainly had the desired effect of driving Kavanaugh out of the news for a few hours."
See how those stories are conflicting? One cites an act by Rosenstein while the other is Trump laying waste to the pages and screens of our major media institutions, then yelling "the Aristocrats!" in defense of some amorphous media strategy to knock the latest Brett Kavanaugh sexual misconduct revelations out of the news.
Sherman's report (or its intentional planting) is potentially corroborated by Sarah Huckabee Sanders saying that Rosenstein is going to the White House on Thursday—the same day as Christine Ford's testimony to the Senate. There's a lot of confusion around Rod Rosenstein and what all these reports mean, and they led to a Twitter fight beginning with the reporter at the heart of this confusion. Let history show that Axios' Jonathan Swan filed the first Rosenstein story today and later fired the first shot in its defense. As of this writing, Sherman has yet to respond.
This is such disgraceful bullshit. @gabrielsherman should be ashamed of himself and should stop doing stenography for Steve Bannon. Rosenstein offered his resignation to Kelly. We wrote "verbally resigned." Justice Dept isn't denying he offered his resignation. https://t.co/RHsNKuS0bH

— Jonathan Swan (@jonathanvswan) September 24, 2018
The Times' Maggie Haberman, who is notorious for quoting Trump as an anonymous source, decided to play a condescending and definitely not self-serving game of peacemaker.
Just a thought – perhaps everyone, including other journalists, should stop assuming in print that they know who people's sources are. https://t.co/GAPHw4BE54

— Maggie Haberman (@maggieNYT) September 24, 2018
Tossing that tweet into Twitter's search produces some good content from other members of the media.
Access journalists covering for access journalists while picking fights with access journalists for their access journalism is peak Twitter. https://t.co/4muzWcvpJs

— Alex Reimer (@AlexReimer1) September 24, 2018
which Trump leaked this take to you, blink twice for Barron https://t.co/htokQTvNEz

— Asawin Suebsaeng (@swin24) September 24, 2018
The truth of the matter is every reporter uses the same source. We call 1-800-HOT-TIPS and talk to a wizened old man by the name of Leo. He is a fickle man and sometimes turns reporters against each other for sport. https://t.co/EgUioDiIKF

— Paul McLeod (@pdmcleod) September 24, 2018
The Weekly Standard's Haley Byrd retweeted that last one, so you know that this is a true bipartisan roasting of reporters and their use of anonymous sources and their anonymous sources' use of them. This entire ordeal is insanely stupid, yet also an instructive example of how the outlets who report much of our Trump news operate. Sherman's anonymous sources are alleging that Swan's anonymous sources are planting Swan's story about Rosenstein "verbally resigning" to distract the media, and Swan is literally running to the top of the mountain and calling bullshit for all to hear. This would all be a lot easier to grasp if we had a sense of who these sources are.
P.S. Apropos of nothing, make sure you're registered to vote for this November's elections.
Jacob Weindling is a staff writer for Paste politics. Follow him on Twitter at @Jakeweindling.