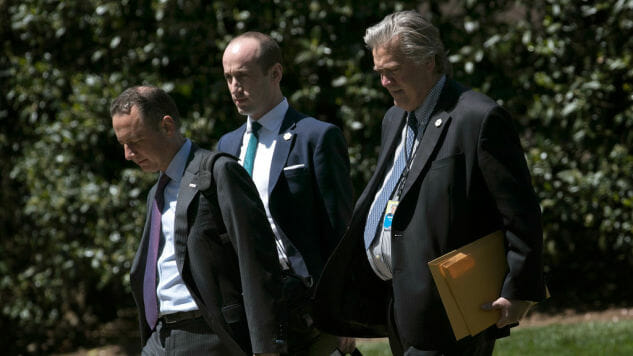 Trump's chief strategist Steve Bannon is out, say multiple online sources.
According to the Times:
President Trump has told senior aides that he has decided to remove Stephen K. Bannon, the embattled White House chief strategist who helped Mr. Trump win the 2016 election, according to two administration officials briefed on the discussion.
Reuters first reported that "A decision from President Donald Trump's Chief of Staff John Kelly is imminent on whether White House chief strategist Steve Bannon will keep his job, online news outlet Axios said on Friday."
The Drudge Report was the first site to break the news. No story was attached, merely a headline with a blue siren attached reading "Bannon Out At White House."
Jonathan Swan at Axios wrote in an article titled "White House review nears end: Officials expect Bannon firing" that the controversial strategist would soon depart from the White House:
A decision is imminent from White House chief of staff John Kelly on whether Steve Bannon will keep his job, according to administration officials with knowledge of the situation:
– Bannon, who has run afoul of Trump in the past, is now suspected by the president of leaking about his West Wing colleagues. And Trump resents the publicity Bannon has been getting as mastermind of the campaign.
– Many West Wing officials are now asking "when," not "if," Bannon goes.
– Chief of Staff General John Kelly has been reviewing Bannon's position.
– A recent deluge of media coverage of Bannon — including Bannon's explosive conversation with the American Prospect — have not escaped either the president's or Kelly's attention.
One White House source twists the knife: "His departure may seem turbulent in the media, but inside it will be very smooth. He has no projects or responsibilities to hand off."
Bannon's departure, if true, would not come as a surprise to the political and media class, who have been speculating about the length of his tenure for weeks. Bannon, a highly controversial power broker, was considered a risk to the Trump Administration, both for his outsize, influential personality (which threatened to eclipse Trump's own profile) and for his extremist views on American white nationalism. The first made him a psychological liability to Trump. The second aspect—Bannon's leadership of the alt-right—grew costlier as the White House began to suffer pushback from its endorsement of white supremacist politics following the tragedy in Charlottesville.
What precisely pushed Bannon out, besides general political expediency (and the ascendancy of the new Chief of Staff Kelly), may have been a story released recently where Bannon criticized certain Trump supporters. According to the Times:
In an interview published Wednesday by a liberal journalist, Mr. Bannon contradicted the president's position on North Korea, bad-mouthed his colleagues in the administration, vowed to oust a female diplomat at the State Department and mocked Trump officials who fear the consequences of radically changing trade policy, saying they are "wetting themselves." …
"There's no military solution, forget it," he said [of the North Korean threat]. "Until somebody solves the part of the equation that shows me that 10 million people in Seoul don't die in the first 30 minutes from conventional weapons, I don't know what you're talking about, there's no military solution here, they got us." Speaking on Tuesday, the same day that Mr. Trump was being assailed for his response to the Charlottesville protests, Mr. Bannon also dismissed the right-wing fringe as "a collection of clowns."
According to Axios, "Bannon is unfazed, according to friends and confidants."
That's readily apparent from his media appearances. He seems unburdened, giving on the record interviews to publications including the New York Times, where he's unapologetically defending Trump's controversial comments in the fallout from the racist carnage in Charlottesville.
CNBC reported that "U.S. equities rose on Friday after multiple reports said Steve Bannon, one of President Donald Trump's top advisors, was leaving the administration."
The details of Bannon's departure had not been confirmed at the time of this report.