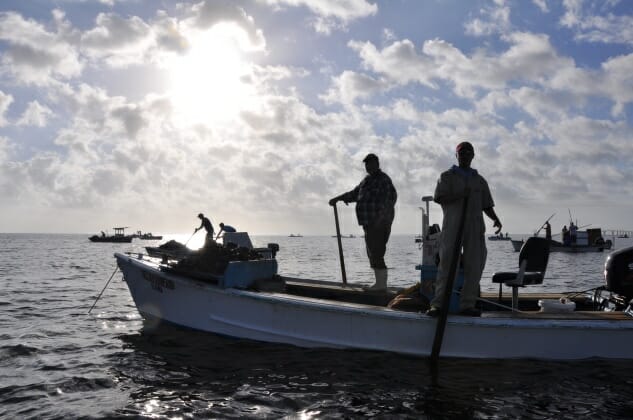 Often, when we talk about climate change, it seems like a far-off scenario. We talk in terms of saving the planet for future generations and predict disruptive sea level rise within the century. But the effects of climate change are already felt around the world; future changes will only intensify them.

Lobsters used to lurk in the waters of Long Island. But these days, New York fisherman have trouble finding any—while their peers 500 miles away in Maine are seeing bumper crops. Instead, the lobstermen of Long Island now catch more crabs and other shellfish—which, in turn, leaves crabbers further down the East Coast worried about the future of their own livelihoods.
Last week I wrote about how climate change is prompting a fish migration that will directly affect what's served—or not served—for dinner. But these rapid marine changes won't just affect our appetites; they also represent a sea change for the fisherman and communities that depend on the sea for jobs and income.

Fishing Regulations Struggle to Catch Up
Of course, catching new fish in your usual fishing haunt is trickier than just changing your bait. Regulations guide what you may catch and how much of it, usually state by state—and they aren't changing as fast as the environment is. John A. Manderson, a research biologist at the NOAA (the National Oceanic and Atmospheric Administration), noted that sea creatures are moving north 10 times faster than their land-based animals.
"Our ideas of property rights and laws are purely land-based," Manderson told The New York Times. "But the ocean is all about flux and turbulence and movement."
To get around these increasingly obsolete laws, some fishermen are catching fish further north and then traveling to areas where it is legal to bring large quantities to shore. Such slippery adherence to regulations sparked mackerel wars in the North Sea back in 2010, and the dispute wasn't settled for four years.
Furthermore, such an expensive round-about the law is not an option for everyone, especially those with smaller fishing operations.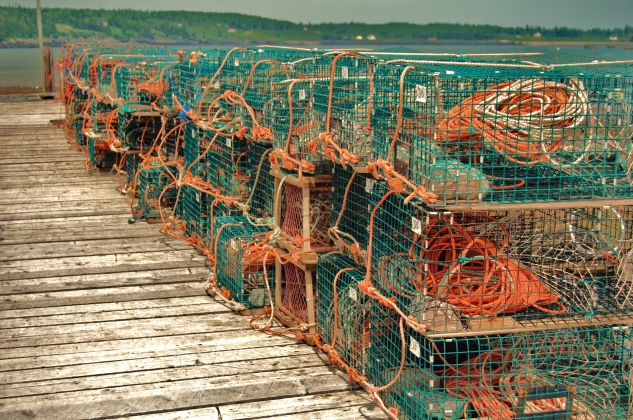 Photo: Sonja, CC-BY 2.0

A Sea Change for Fishermen
But the most devastating loss might be to the people who depend upon the sea for jobs.
A tiny town south of Chincoteague, Virginia, called Wachapreague, used to be known as the flounder capital of the world. Yet the town lost its moniker and the jobs—not to mention any tourism dollars—that came with it when the fish moved north to New Jersey and New York.
A striped bass tournament in Virginia Beach draws tourists and fishermen alike—but has less luck attracting its target catch. In 2013, a few hundred boats competed in the tournament—but a single striped bass took the bait.
These small towns in the U.S. are just one example of how dependent local economies can be on jobs and tourism. In the tropics, the situation will be even more dire. I wrote last week about how important fish is for food in many equatorial countries. But these countries also depend upon fish for jobs; the fish they don't eat are exported to other countries. What's more, many tropical destinations also depend upon their thriving marine life for tourism
Without a steady stream of exports and visitors, many already-fragile economies could collapse.
"We can't think about climate change and biodiversity without thinking about the impact it will have on people," said William Cheung, a leading researcher on fish migration.

The Upside
While there are many downsides to the effects of climate change on marine patterns, there are a few silver linings.
Fish movements can serve as a thermometer of sorts on how climate change affects oceans. Monitoring the water is not just about temperatures and salinity and so on; it's about documenting and predicting how these complex ecosystems interact and will interact moving forward. Following changes in marine ecosystems can give larger hints about what changes are occurring and what they mean.
"By understanding the rate at which things are changing," said Stewart Frusher, an associate professor at the Tasmanian Aquaculture and Fisheries Institute, "we can gain some understanding of how we can manage our marine resources."
Dr. Jim Reist, a research scientist working out of the science lab of Fisheries and Oceans Canada, has studied northern and arctic fisheries for more than three decades.
"Clearly the more we learn now, the better prepared we will be to address the changes that do in fact come our way," he said.
Top image: Mississippi-Alabama Sea Grant CC BY 2.0
Melody Schreiber is a freelance journalist based in Washington, DC.