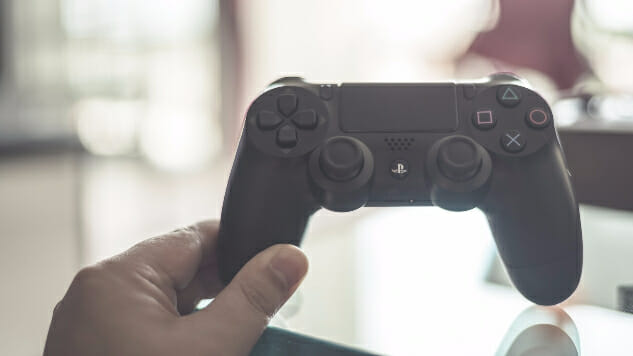 Depression makes it hard to focus. It makes it hard to think about long-term goals, or to concentrate on what you're doing in the moment. This is why people with depression often resent the well-meaning advice from loved ones to "get some exercise" or "try reading a good book" with depression, even these simple tasks can feel insurmountable.
In general, smartphones are making it harder for everyone just those suffering from depression—to concentrate on one thing at a time, or be present and focus on the task at hand. But researchers from the University of Washington and the University of California, San Francisco, have found a way to use the very smartphones that are killing the attention spans of the population at large to help people with depression retrain their brains to concentrate better.
Researchers have developed an unusual treatment to address these cognitive issues that come with depression at their source, through videogames. The proprietary technology works on a neurological level, targeting certain areas and enhancing the brain's ability to process multiple streams of information at once.
The first study randomized a group of older adults (60+) diagnosed with late-life depression to receive either traditional in-person therapy, or the new tablet-based treatment developed by Akili Interactive Labs called Project: EVO—an interactive program designed to improve focus and attention at a neurological level. People with late-life depression report especially high frequency of difficulty focusing.
The results of this first study, published in January in the journal Depression and Anxiety, showed that the group using Project: EVO showed improvement in their attention, as well as their overall mood. It's worth noting that most participants had never used a tablet before, or played a videogame, but compliance was more than 100% (with some people playing the game more than the five 20-minute sessions per week prescribed in the study guidelines).
"While EVO was not directly designed to treat depressive symptoms; we hypothesized that there may indeed be beneficial effects on these symptoms by improving cognitive issues with targeted treatment, and so far, the results are promising," said Joaquin A. Anguera, a University of California, San Francisco (UCSF), researcher in neurology and psychiatry, and the lead author on the study.
The technology is in the midst of several clinical trials for use in a range of cognitive disorders—including Alzheimer's, traumatic brain injury, and attention deficit hyperactivity disorder.
The second study testing the effectiveness of Project: EVO in the treatment of concentration lapses and depression included more than 600 people across the United States who were moderately or mildly depressed, and randomly gave them either Akili's Project: EVO, an app based on problem-solving therapy called iPST, or a placebo control. This study showed that people who were mildly depressed saw improvement regardless of which group they were in, including the placebo. But those with higher levels of depression showed more improvement with Project: EVO or iPST than with the placebo—showing that both app-based treatments have potential to treat symptoms of moderate depression.
Companies like Talkspace have already brought therapy to the internet—because so much app development these days seems to be focused on making sure people never have to leave their apartments again—so it's only logical that other areas of mental health research would enter the app-sphere as well. We spend so much time on our phones that they're changing the way we interact with the world—so why not use that for good?
Researchers from these studies stressed that the program should be used under clinical supervision to be most effective. And remember, this is a game specifically developed to influence neurological function, and not an excuse to play more videogames in general.
Top photo courtesy of kaicho20
Lilly Dancyger is Deputy Editor of Narratively, and a freelance journalist based in New York City.