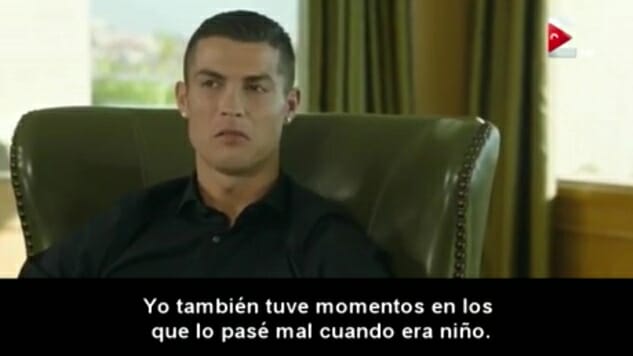 Those of us who were bullied as kids know some hard truths that not everyone else understands. First, literally anything that's part of who you are is fair game; if you got picked on for one thing in school, and you somehow took away that reason, bullies would just find something else. That's because bullying is, above all else, an exercise in power. And second, any source of strength or pride for you can be easily held up as a deficiency and mark you as a target. Because, again, it's about power.
With that in mind: per his dad, Cristiano Ronaldo's son is apparently getting hassled by his classmates because of his famous, Ballon d'Or-winning footballer pops.
The senior Ronaldo mentioned this somewhat off-handedly in an interview with Egyptian television. CR7 brought it up as an anecdote for how much his son is just like him— including how to deal with The Haters.
"There are people who sometimes say to him that 'there is another player who is better than your father', but he knows how to deal with that. He is a smart boy, like me. I often tell him 'be yourself and be polite.'I know that he will go through periods of adversity as there are jealous people out there, but I see him as a happy child."
On the one hand, it wouldn't be entirely out of character for Ronaldo to embellish a story like this in order to talk himself up to the press. On the other hand, kids can be pretty mean, and it's not that hard to picture the younger Ronaldo's classmates chanting "Messi" at him during recess.
Ronaldo also mentioned that he's nudging his kid ever-so-gently toward being a footballer when he grows up.
"Of course I would like it if he became a footballer. I know that it is a challenge and that it isn't easy, but he can be whatever he wants to be as I won't pressure him. I might be pushing him a little in the direction of becoming a footballer, but not to be a goalkeeper as I want him to be a forward!"
I wonder what his thing against goalkeepers is about.