English Football Clubs Are Teaming Up With Amnesty International To Honor Refugees This Weekend
Photo by Dave Thompson/Getty
Soccer
News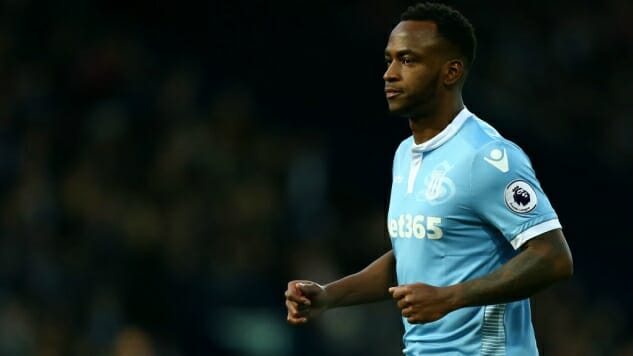 As sentiment toward refugees has turned hostile from both governments and private citizens, football has stood firm as an institution providing some measure of welcome and safe haven.
English football will reaffirm this commitment over the coming weekend. Clubs in the Premier League, the English Football League, and the FA Women's Super League will participate in Football Welcomes, an initiative to celebrate refugee footballers and fans organized by Amnesty International.
The dates this weekend correspond with the 80th anniversary of the arrival of Spanish refugees to the UK following the bombing of Guernica. A handful of the refugees who arrived in England as children grew up to become footballers and played for clubs such as Southampton, Wolverhampton Wanderers, Norwich City, and others. They were the first foreign refugees to play in English football.
Recent refugee stars in the English top flight include Stoke's Saido Berahino, Arsenal's Granit Xhaka, Watford's Valon Behrami, Liverpool's Dejan Lovren, and former Bolton Wanderers midfielder Fabrice Muamba. In Amnesty's press release, Berahino talked about how much the Football Welcomes initiative means to him.
"I'm proud to support Amnesty International's Football Welcomes initiative – it's an issue that is so close to my heart. I grew up in Burundi and lost my father in the Civil War there. We had to leave the country in the hope of a better life and although I was separated from my mother for two years, I eventually made it to the UK. I've been given a second chance in England. I'm so grateful for the support I've been given and the chance to turn your life around is something that every refugee deserves."
A few Premier League clubs, like Leicester and Hull, are organizing games for refugees and asylum-seekers through their community schemes. Other clubs like Southampton and Everton will be giving free match tickets to refugees.
Here's the running list of participating clubs, ranging from the Premier League to various nonleague divisions: AFC Wimbledon, Bath City, Blackburn Rovers, Brentford, Cambridge United, Colchester United, Everton, Huddersfield Town, Hull City, Leicester City, Newcastle United, Norwich City, Notts County, Oxford United, Plymouth Argyle, Preston North End, QPR, Sheffield United, Southampton, Stoke City, Sunderland, Watford, Wolverhampton Wanderers, Yorkshire St Pauli, and City of Liverpool FC.
Kate Allen, the director of Amnesty International in the UK, summed up why this initiative matters.
"Refugees have made an important contribution to this much-loved game and to their communities throughout the years. We are delighted that so many football clubs are embracing this. They have a key role to play in helping to promote respect, understanding and integration. Eighty years on from the bombing of Guernica in the Spanish Civil War, horrific violence is again forcing many people to flee their homes, leaving everything behind as they look for safety elsewhere. We're very pleased to be working with football clubs to help make refugees who have come to the UK feel welcome. This is the first year of Football Welcomes and we'd love it to become a key fixture in the football calendar for years to come."