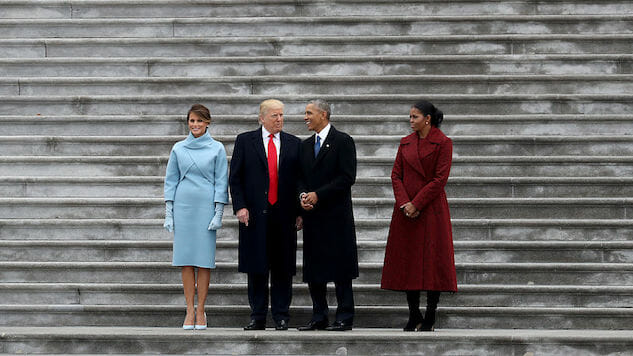 While we think the best fashion this past weekend was at the Women's March, inauguration wear is always one for the books—no matter who's being sworn in. For the 58th Presidential Inauguration, it was particularly interesting considering the ongoing controversy surrounding designers okay with dressing the Trump family, and those strongly against it. Below, we break down what pivotal players wore this past weekend.
Michelle Obama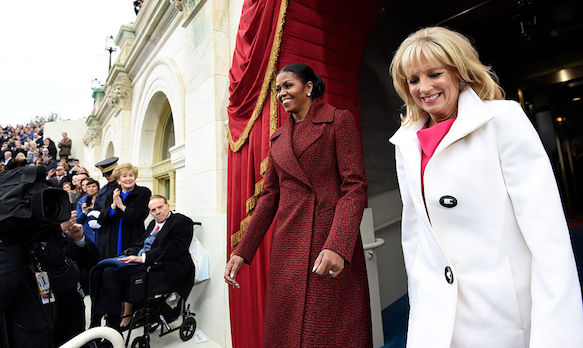 Photo via Pool/Getty Images
There's no doubt Michelle Obama will go down as one of the most stylish First Ladies in history. Always classic and stunning, she said goodbye to the White House in none other than Jason Wu, and looked fearless in the deep red tweed dress with matching overcoat. A go-to designer of hers, it was the second time she's donned Wu in recent weeks, also wearing a custom piece by him during her husband's farewell address.
Hillary Clinton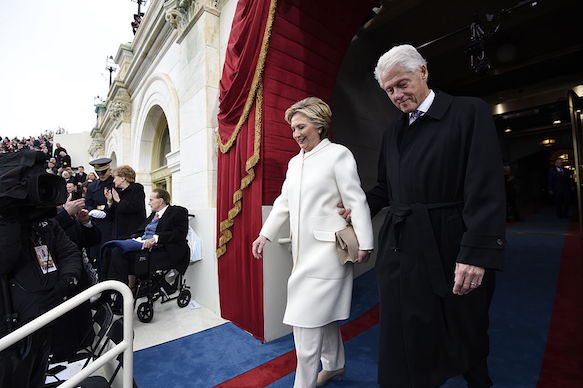 Photo via Pool/Getty Images
Oh, Hillary. While there's no way Friday's events were easy for Clinton, she showed up smiling in Ralph Lauren. A simple, white ensemble paired with neutral accessories, it was strong and maybe most importantly, true to Clinton's style. She also wore a white pantsuit by Lauren to accept the presidential nomination in July, making her inauguration decision seem like that much more of a statement.
Bernie Sanders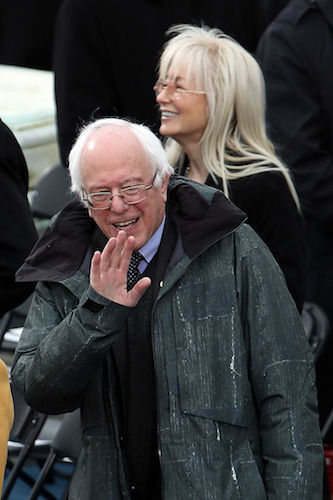 Photo via Drew Angerer/Getty Images
Much like Michelle and Hillary, Bernie Sanders took our hearts by storm this past weekend. Like, how great is it that the Vermont senator keeps making fashion headlines? The inspiration behind Balenciaga's Fall/Winter 2017 menswear collection, Sanders continued his stylish streak when he wore a Burton parka to the inauguration. Burton was especially fitting considering it's a Vermont-based snowboarding company, but retailing at $689.95, it's not something everyone can get their hands on. Regardless, we appreciated Sanders' practical, no frills approach to inauguration fashion.
Kellyanne Conway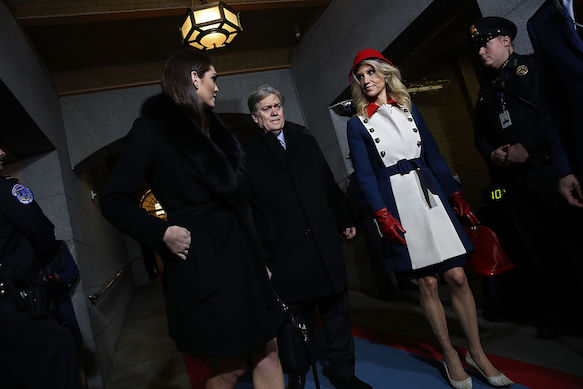 Photo via Win McNamee/Getty Images
The Kellyanne Conway thing was kind of weird, and she's getting a lot of beef for it. The Republican strategist, pollster and former campaign manager wore a red, white and blue Gucci coat to the inauguration, and that's controversial for two reasons. First, it was, of course, not made in the United States, but in Italy—something Obama, Clinton, Sanders and even Trump (which we'll get to) all took into account. Secondly, it retails at $3,600. That and she called it "Trump revolutionary wear." We'll just… leave the rest up to you.
Melania Trump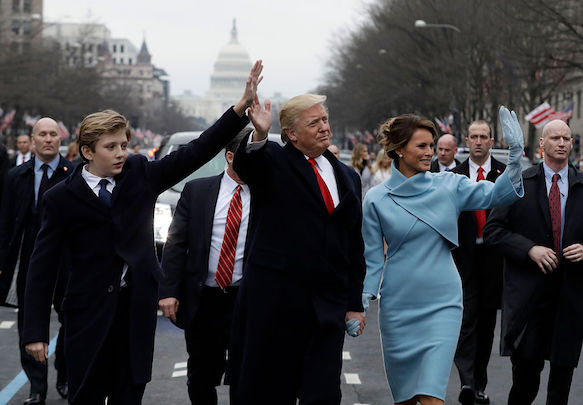 Photo via Pool/Getty Images
Undoubtedly, all eyes were on Melania Trump this past weekend, and the new First Lady went classic. She wore a light blue cashmere dress with matching bolero jacket, designed by Ralph Lauren. With Obama also donning Lauren, it's hard to say if it was a statement or simply considered. But inoffensive and soft, it channeled former First Lady Jacqueline Kennedy, someone Trump previously expressed she saw as a role model. To the inauguration ball, she wore an off-the-shoulder dress she designed with former Carolina Herrera creative director Herve Pierre.