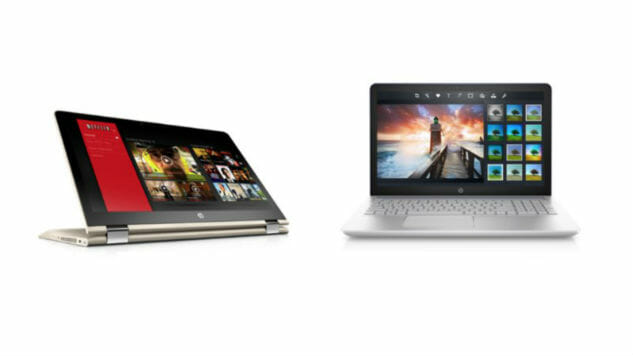 Even though classes are not even out for the summer, HP is already gearing for back-to-school with the launch of new notebooks targeted at students and home users. The new HP Pavilion Notebook and Pavilion x360 convertible are unveiled today as part of HP's focus on lifestyle trends and the company's broader push into capturing Gen Z users at the Coachella Music Festival in California.
Both the Pavilion and Pavilion x360 come with familiar elements introduced on the more upscale HP Spectre and Envy lines, like slimmer bezels that are part of HP's Micro Edge Display design, and more premium components, like metal finishes, USB Type-C ports, IR cameras for Windows Hello, Bang & Olufsen audio tuning and even inking and pen support on the convertible model.
HP claims that scaling allows the company to deliver the economic of higher end experiences to the Pavilion line without sacrificing quality. And this allows HP to satiate to meet the needs of its buyers, in particular Gen Z users, a demographic that demands more technology at a more affordable style.
In the consumer space, HP's Pavilion line will closely compete against rival Dell's Inspiron range and Lenovo's IdeaPad series. By porting elements from its premium offerings down to Pavilion, HP is hoping to deliver more value to shoppers. "Our job is to focus on the things that the customer most care about [to] deliver the best feature, price and value," said Mike Nash, HP VP of Consumer Experience and Portfolio Strategy. "[These products] are driving some real reinvention," Nash said of the back-to-school refresh.
HP Pavilion Notebook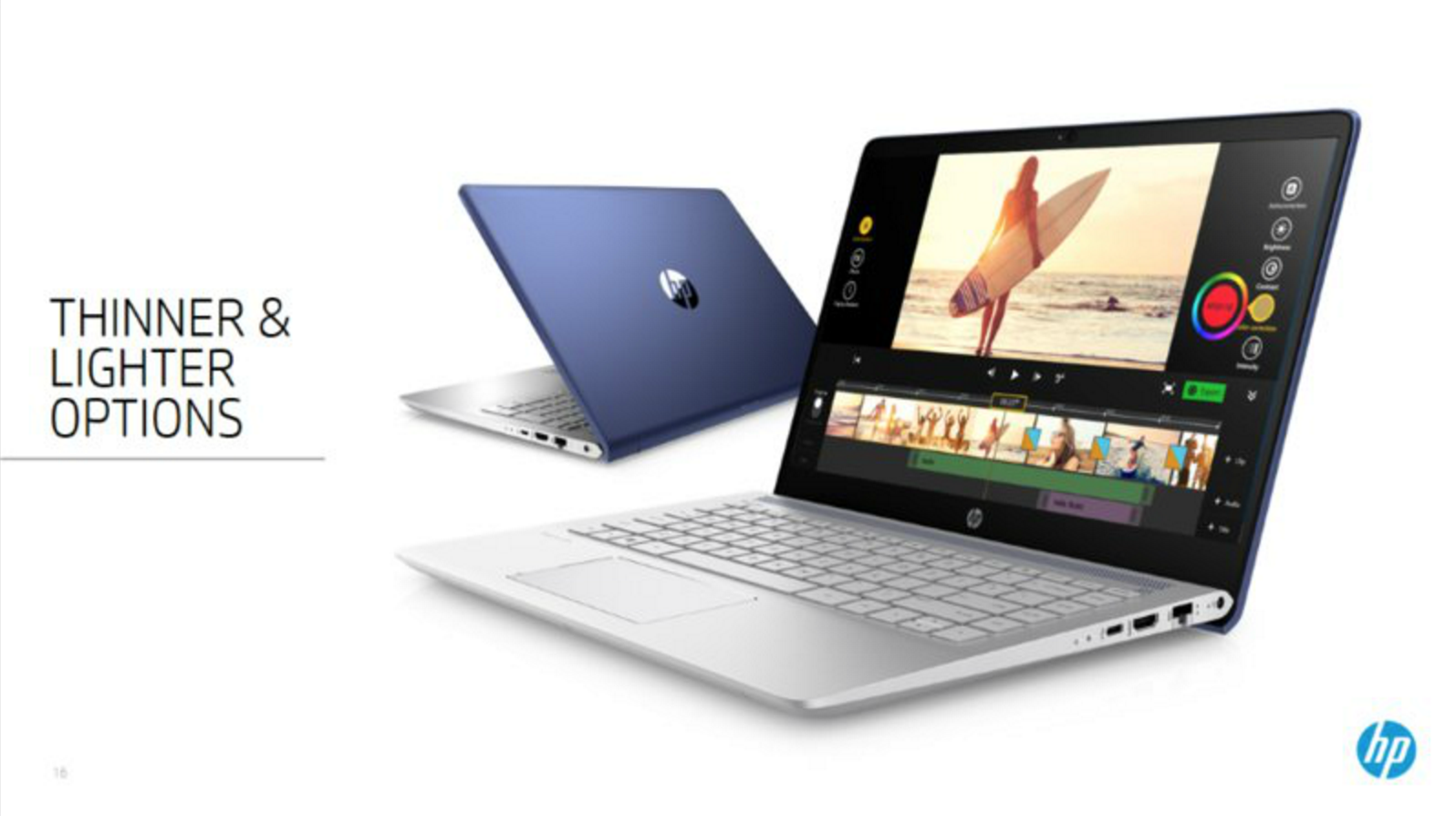 The Pavilion notebooks, available in 14-, 15.6-, and 17-inch screen sizes take on a more traditional laptop form factor. While these notebooks come with a touch of whimsical flare, with colors like blue, gold, silver, pink and red on the lid and inside the perforated speaker holes, they borrow elements from HP's Spectre and Envy line.
From last year's Envy, you'll find the lift hinge—when the laptop is opened, the bottom of the lid protrudes lower to elevate the backside of the keyboard deck up. This slope leads to a more ergonomic typing experience. And from this year's Spectre x360 notebooks, like the Spectre x360 15-inch and 13-inch variants that we recently reviewed, the bezels are also slimmer on this year's Pavilion. Nash claims that the side bezels have been reduced by as much as 52 percent compared to last year's models, and the Pavilion notebooks are also 12 percent slimmer this year due in part to the omission of optical disc drive, which is becoming increasingly rare on portables.
Unlike the premium Spectre x360, the Pavilion isn't an all metal-clad affair, but you're still getting a sturdy keyboard on this laptop. HP said that the keyboard deck is now finished in metal. Premium elements, like Bang & Olufsen tuning with HP Audio Boost for distortion-free music playback at higher volumes, have also trickled down to HP's more entry level notebook series.
As multipurpose systems, HP says you can configure the notebooks with as much power as needed. All configurations of the Pavilion notebook will be available through HP.com starting in either May or June, but retailers will stock different configurations that meet the demands of their customers. For performance, the Pavilion can be configured at the entry-level end with an Intel Celeron processor. You can also choose a 7th Generation Intel Core i3, i5 or i7 CPU, which should match the performance of the Spectre. Additionally, if you prefer AMD chips, you can choose AMD's E2 or A10 APUs.
Storage is also flexible on the Pavilion. Compared to the slim Spectre, the additional volume on the Pavlion means you can choose a hard drive for more capacity, solid state drive for speedy access to data or a combination of the two for added storage. As an all-purpose notebook, HP says that you can choose to add either Nvidia's GeForce 940MX or an AMD Radeon 530 graphics card. While these graphic options are entry-level, they'll help with basic gaming.
To keep you connected to accessories and peripherals, there are two USB Type-A ports, a single USB Type C 3.1 Gen 1 port, full-sized HDMI port and a media card slot. The notebook can be configured with an HD, FHD or FHD IPS display.
HP rates these notebooks with ten hour of battery life, but if you still find yourself carrying around the power brick, the built-in HP Fast Charge technology can quickly recharge your laptop when you're in a time crunch.
We'll have to wait for full pricing information, but a sample configuration with a Core i5 processor, 14-inch non-touch HD display, 12GB RAM and 1TB HDD comes in at $699.
HP Pavilion x360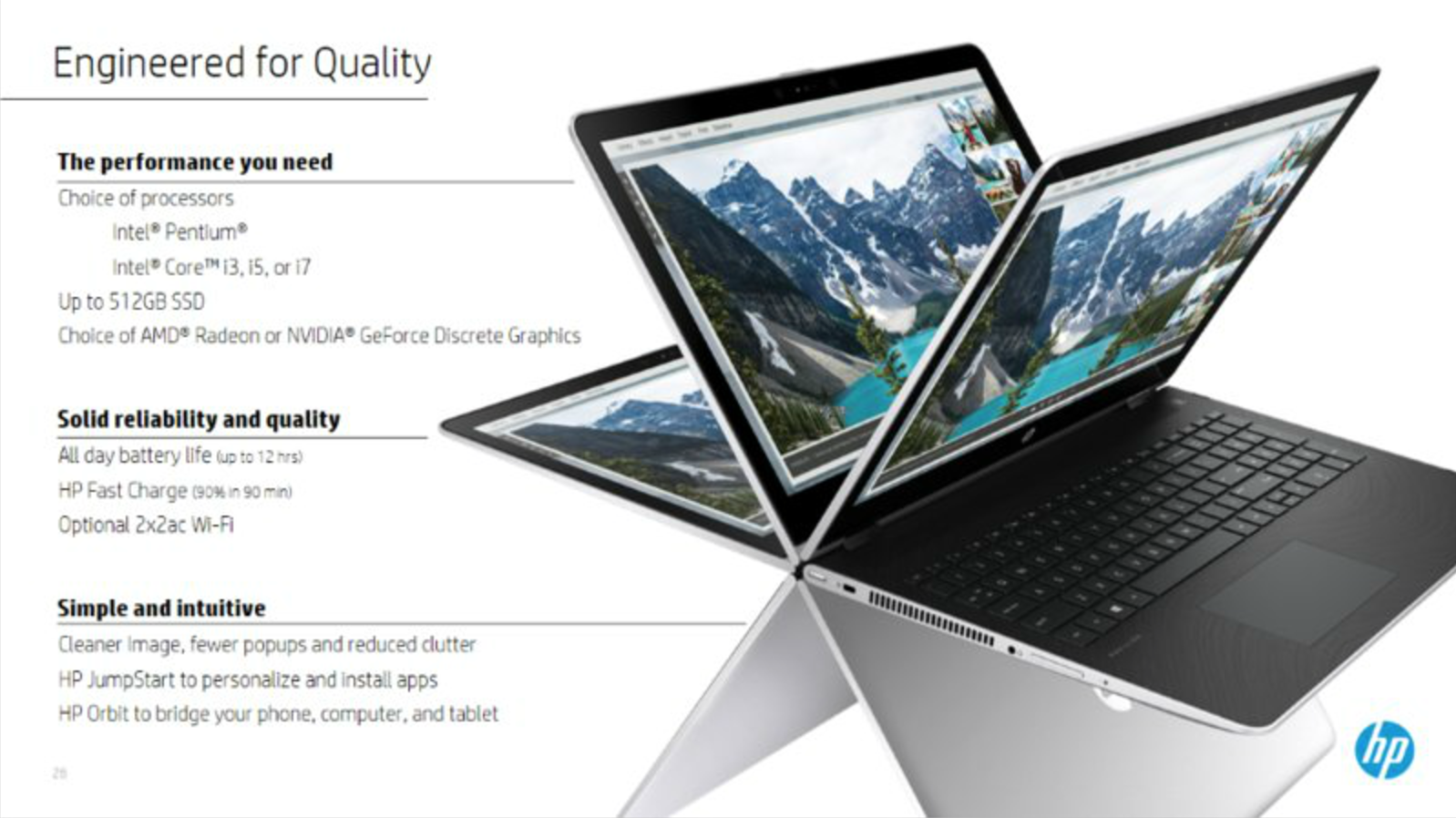 The Pavilion x360, as its name implies, is a convertible laptop with a 360-degree rotating hinge. With this model, you can use the Pavilion x360 as a laptop, as a tablet, in tent mode to present or show off the screen, with the keyboard facing down in media mode to consume content or with the screen and keyboard flat down in collaboration mode. The best part about HP's entry-level convertible is that it supports inking, and the same digital stylus that ships with the Spectre x360 is included in the box. Given that students make up the bulk of the Pavilion demographic, the included pen will be a welcomed added value for note-taking, which is better for memory retention than typing.
The Pavilion x360 will be available in 11.6-, 14- or 15.6-inch displays. Given that these are more budget-friendly configurations in HP's lineup, you won't get the same Micro Edge Display with minimal bezels on this year's attention-grabbing Spectre x360. With a healthy amount of bezel, which actually may help you grip and hold the device when used in tablet mode, the Pavilion x360 borrows a bit of its design from last year's Spectre x360, which comes with more sizeable bezels around the screen. Here, HP seems to be standardizing on the 14-inch screen option as the middle option for screen sizes, rather than the 13.3-inch size.
Available in Mineral Silver or Silk Gold colorways, the Pavilion convertibles also come with chrome-plated durable hinges. For the keyboard deck, you can choose a standard metal deck, like on this year's Pavilion notebooks, or one with a wood grain pattern that HP calls Strata. The inspiration for Strata comes from a cross-section of a stack of newspaper when you cut through the pile.
Like the Pavilion notebook from this year, you can configure the Pavilion x360 with as much performance as you need, with options for Intel Celeron, Core i3, Core i5 or Core i7 processors. Because there is less volume on the convertible model, Nash said that a dual drive option isn't available, with the solid state option maxing out at 512GB. HP claims that up to twelve hours of battery life is possible with the convertible, and it has optimized the software with less preloaded apps to give you a faster, more responsive computing experience with fewer pop-ups. Less bloatware means the system is also taxed less, which will help with HP's battery calculations.
Despite not being quite as slim as Spectre x360, the Pavilion x360 models are still slim and light. HP said that it was able to shave off the weight and thickness of the x360 models this year, compared to last year's configurations. The only Pavilion x360 that got heavier is the 14-inch model, and that's because it was compared to last year's 13-inch edition—HP went with a 14-inch display this year rather than a 13-inch panel.
The 11.6-inch model starts at just under three pounds, while the 14- and 15.6-inch models weigh 3.72 pounds and 4.69 pounds, respectively. Thickness starts at 19.2mm for the 11.6-inch model. The 15.6-inch model is 20.3mm thick. The two larger notebooks come with USB Type-C 3.1 Gen 1, and all three sizes come with two USB Type-A ports. As standard with HP products these days, you'll get Bang & Olufsen-tuned audio on the Pavilion x360.
Pricing starts as low as $399 for the 11.6-inch model with a Celeron processor, 500GB HDD, 4GB RAM and an HD touchscreen with pen included. The 14-inch configuration, for example, with the same storage, 6GB RAM, and a Core i3 processor starts at $499. You'll find the Pavilion x360 through HP and at retailers in the May through June timeframe, Nash said.