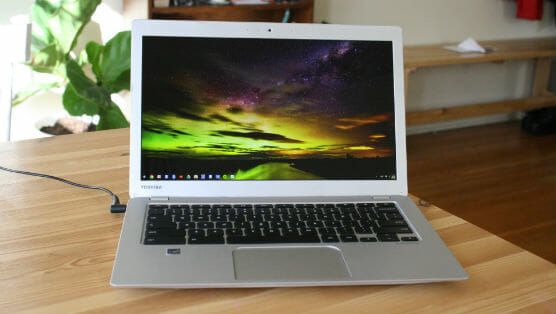 Small cheap laptops? I thought we'd all already decided that Netbooks weren't a particularly bright spot in the industry back in the late 2000s. Chromebooks have come a long way since their inception they've seemed to revive interest in the cheap laptop by offering a simple new OS, minimalist design, and fantastic price points. On top of that, Chromebooks have become known for great battery life due to their performance and software limitations.
Plenty of these Chromebooks have done a couple of these things well, but almost none have done them all. The Toshiba Chromebook 2 is the company's second shot at nailing the Chromebook formula and just may have found the right balance in terms of features, specs, and price point.
Let's start by digging into the new hardware on this laptop:
Hardware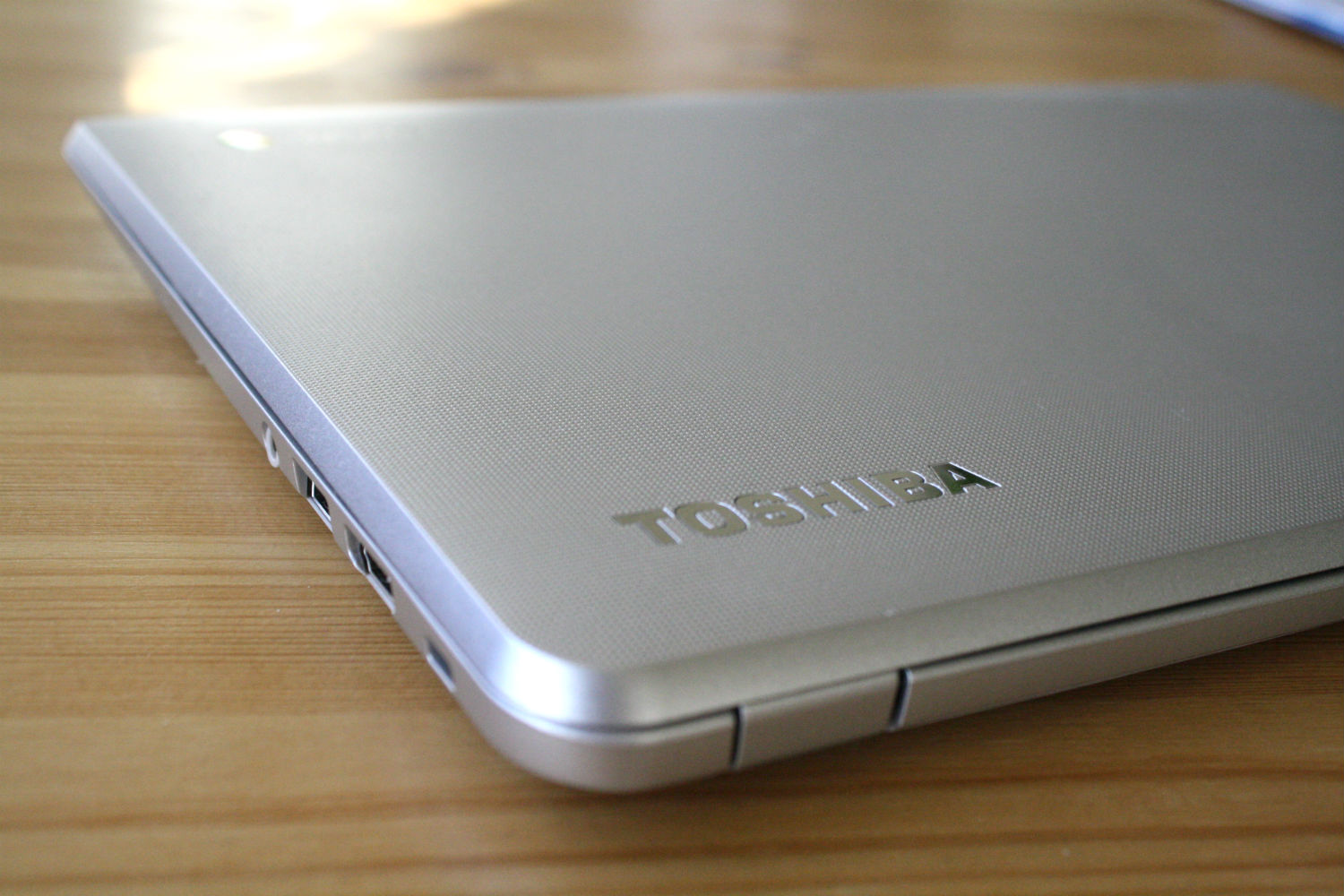 The original Toshiba Chromebook was impressively thin, but it suffered from having some questionable build quality and a pretty lackluster display. All that has changed with Toshiba's late-2014 Chromebook.
The original Toshiba Chromebook wasn't particularly chunky compared to a lot of other Chromebooks from both 2013 and 2014. However, Toshiba has taken that same design and slimmed it down in pretty much every way possible. The 13.3-inch display is the same size, but Toshiba has cut down on the bezels to make for an overall smaller laptop. Most importantly, Toshiba also cut down the weight and thickness here, bringing it down to a size that's closer to a 2014 Macbook Pro in comparison.
The body of the laptop is covered in a textured plastic material that isn't my favorite, but it gets the job done for what it is. There still has not been a Chromebook as eye-catching and unique as the original 11-inch HP Chromebook, but the Toshiba Chromebook 2 makes up for its modest looks with solid build quality and practical design. It won't leave fingerprints and dust all over your laptop like the matte plastic of other laptops and is fairly grippy for easy portability.
Unfortunately, the trackpad also has a slight texture on it, which means it'll take some getting used to coming from glass trackpads that are used on MacBooks and higher-end Windows machines. The larger size of the trackpad helps though and I found that I got fairly comfortable with it after 15 or 20 minutes and some sensitivity adjusting.
Let's get to the biggest upgrade of the Toshiba Chromebook 2: the display. It comes in two versions: the "Full HD" $329 model and "Standard HD" $249 model. The Full HD version has a really impressive 1080p IPS display with excellent color reproduction and viewing angles. This is one of the best displays that's ever been squeezed into a Chromebook—and in my book—that makes the higher price point definitely worth it. The 720p display on the Standard HD version isn't terrible thanks to the fact that is an IPS display, but as 1080p screens become more and more common in Chromebooks, you may find yourself regretting your purchase in six months or so. The tradeoff you do get with the Full HD model is 8-hour battery life, compared to the 11 hours you get out of the cheaper version.
Overall, there is a lot to like when it comes to the hardware and industrial design of the Toshiba Chromebook 2. It's thin, light, and has an excellent display—all really impressive feats when you consider the price point.
Software and Performance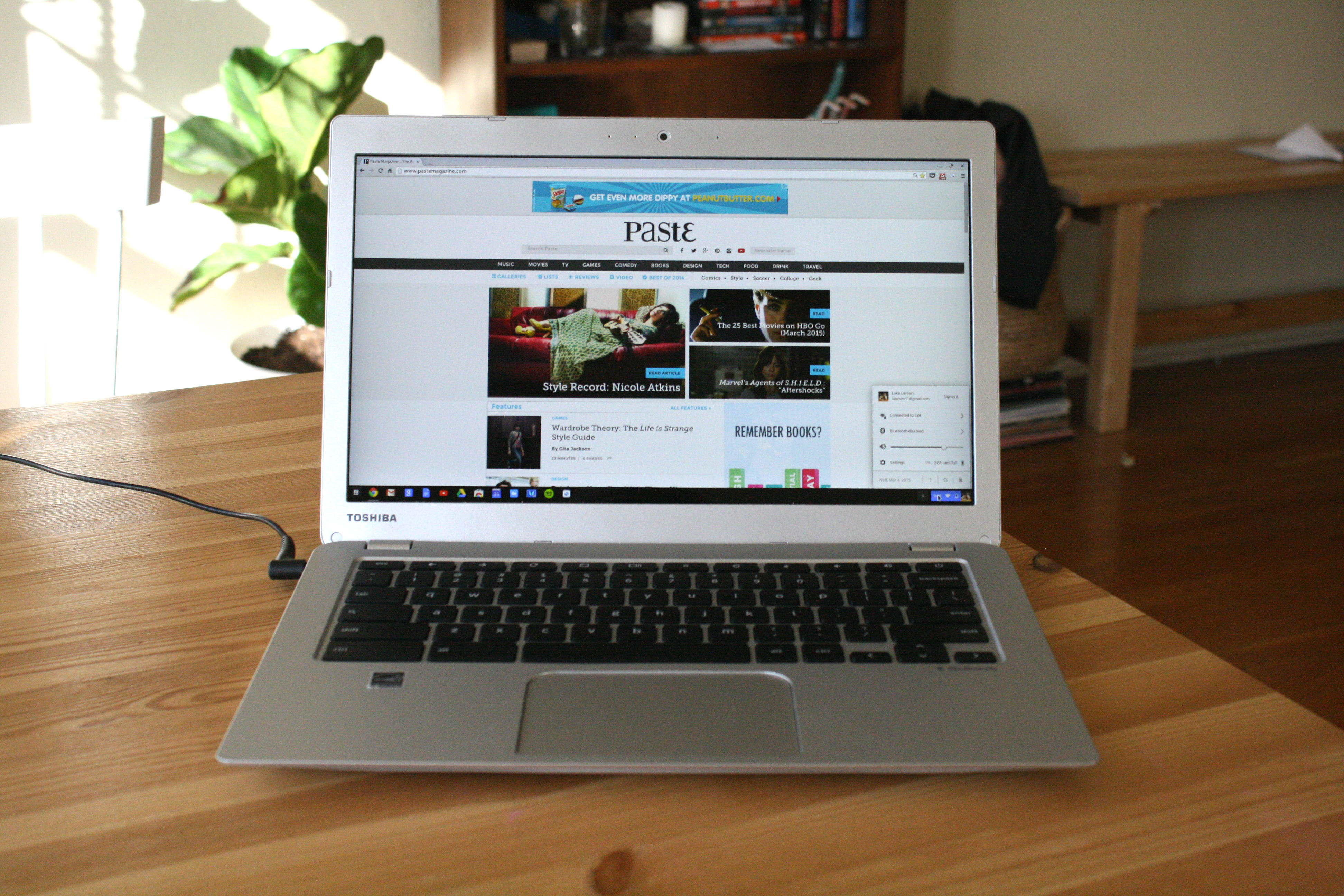 The Toshiba Chromebook 2 runs Chrome OS, Google's simple Linux-based operating system. If you've used a Chromebook before, there's nothing here that will surprise you—and that's a good thing. You've still got not much more than a Chrome browser at your disposal and very few customization options—but the last thing you want is a bunch of bloatware on a computer that is supposed to be minimalist.
Before the idea of limitations scares you away, I'd highly recommend taking a good honest look at your average laptop usage. If your average day consists of word processing, spreadsheets, Internet browsing, simple photo editing, Netflix, and Spotify—there aren't a lot of reasons to spend $1000 on a Macbook Pro or Windows Ultrabook. You might not be able to install some of your favorite apps with Chrome OS—and you definitely can't play any games outside of what's available in the Chrome Web Store—but you'd be surprised at what you can get by with the limitations in place.
While Chrome OS hasn't changed all that much in the past year, Google's web apps sure have. Whether it's Google Docs, Gmail, or even the Google search engine, there's never been a better time to be fully bought in on the Google ecosystem. Last year, all of its apps got a fresh coat of paint to match the new Material Design look of Android. What's more, there are even some great full-size apps now available in the Chrome Web Store such as Simplenote and Sunrise to flesh out the experience even more.
In terms of performance, the Chromebook 2 can pretty much handle anything you are allowed to throw at it, which is another great thing about the software limitations on this kind of device. It comes with an updated 2.5GHZ Intel Celeron processor and 4GB of RAM, which was a decent update from Toshiba's original Chromebook and makes for a pretty well-rounded machine. That's not to say it doesn't have its limitations in terms of how many tabs you can have open or how many different YouTube videos playing at the same time, but when it comes to what I'd normally do on a laptop even for work I never found myself having to alter my workflow to accommodate the laptop's performance.
I'm still waiting for Google to further integrate Android with Chrome OS, but even as it is, I'm constantly surprised at how much I can do with these computers.
Verdict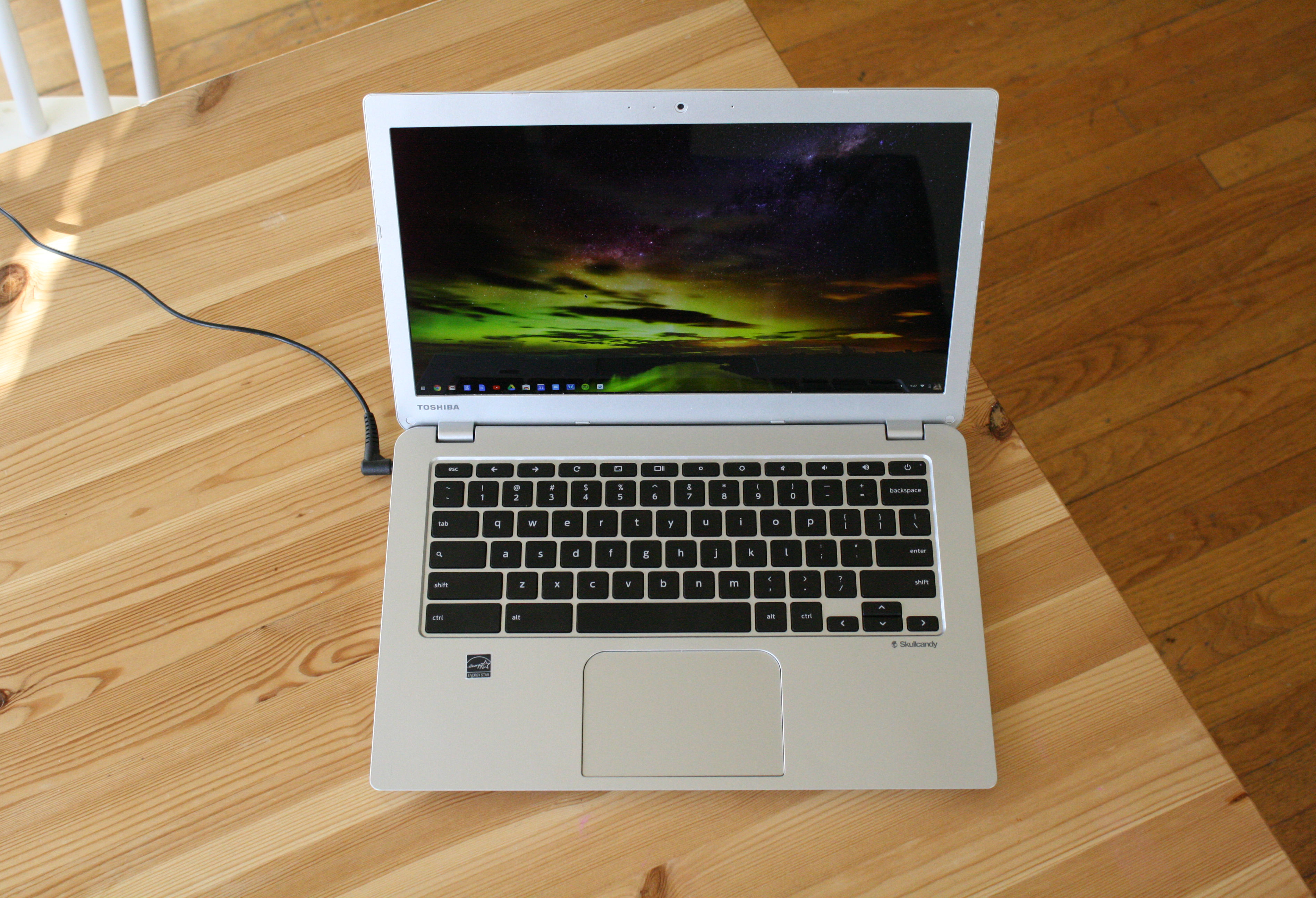 The Toshiba Chromebook 2 is the best Chromebook you could buy—that's what it comes down. It has a surprisingly high resolution display, gets impressive battery life, and has a pretty sleek profile too. It's a huge leap from the original Toshiba Chromebook and in my mind, further legitimizes Chromebooks as a serious threat to both cheap laptops and tablets on the market.
It's not perfect, but when it comes to laptops you can buy for under $350, the Full HD Toshiba Chromebook 2 is simply your best option. I wouldn't be surprised if that changes by the end of 2015, but as of now, Toshiba's Chromebook 2 is the easy frontrunner for this form factor.
Luke Larsen is the tech editor at Paste Magazine. You can follow him on Twitter at @lalarsen11.