The Eric Andre Show Finally Gets a Season 6 Premiere Date
Photo courtesy of Adult Swim
Comedy
News
Eric Andre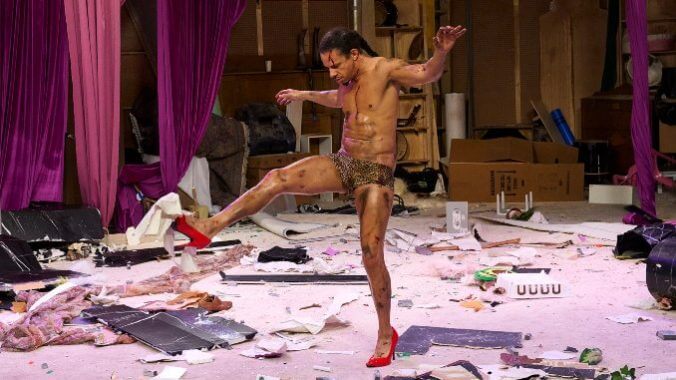 We've been deprived of Eric Andre's surreal comedy for far too long, but do not fret, friends. Adult Swim has finally announced that Season 6 of The Eric Andre Show will premiere on Sunday, June 4 at midnight.
There's been quite the gap between the debaucherous talk show's fifth season, released in 2020, and the sixth, but this one promises to be worth our while. (I mean, this is one of the few shows that survived the culling of Adult Swim's programming since Warner Bros. Discovery took over. I'm just happy it's returning.) We've gotten some insight into what the sixth season of The Eric Andre Show has in store, such as the fact that it'll "[invoke] the tantric swag of sex god Eros" as per a press release—whatever that means.
In the wake of comedian Hannibal Buress' departure, Andre co-hosts with a colorful cast: Felipe Esparza, Reese W, Krft Punk, and a new, enigmatic character known as the Fridge Keeper. Plenty more celebrity guests will be subjected to Andre's cruel whims, including Natasha Lyonne, Jaleel White, Blac Chyna, Jon Hamm, Raven-Symoné, Diplo, Daymond John, Meagan Good, Rico Nasty, Waka Flocka Flame, Tinashe, Cypress Hill, Lil Yachty, and more. Besides torturing rappers and movie stars, Andre and his motley crew also take to the streets for hijinks that apparently led to a record 30 phone calls to 911.
"The wait is finally over. We broke a lot of hearts, sets, and famous people's publicists to bring you our most chaotic season so far. We've barely recovered." Andre shares about Season 6.
If you're one of the lucky people heading over to SXSW this year, you'll have a chance to catch a sneak peek of the new season on Sunday, March 12 at Esther's Follies (more info here). Andre, Esparza, DJ Douggpound, Dan Curry, and Sandy Honig will all be taking part in the live comedy event.