Riding the ferry over to St. John, USVI from St. Thomas (the only way to arrive if you're not on your own boat or a charter), it's easy to have an out-of-body experience. You're riding into what looks like a postcard, illustrated with lush green mountains covered in pastel buildings, all surrounded by jewel-toned blue water.
In order to maximize your island time, keep this checklist in your back pocket so you know exactly what to do in between sunbathing and sleeping. Once you've checked these musts off your list, the island is yours to explore.
1. Chocolate Hole
With its narrow roads, open-air taxis and steep inclines, St. John's makeup isn't designed for driving. Set up camp in Chocolate Hole to minimize your commute without sacrificing stunning elevated views and proximity to downtown Cruz Bay.
2. Starfish Market and Starfish Gourmet & Wines
Starfish Market and Starfish Gourmet & Wines are two separate stores under the same ownership across a breezeway from each other. Start at the market, where prices are low if you avoid name brands, and fill up your basket with tropical fruits, jugs of water and lots of beach snacks. Pop in the shop next door for gourmet cheeses (the beach is better with Brie, right?) and cheap prices on all things alcohol.
3. Virgin Islands National Park
The island of St. John is, of course, a U.S. territory, so 60 percent of the land is preserved as part of the Virgin Islands National Park. Inside this park you will find a lush tropical rainforest, beaches that have been voted some of the most beautiful in the world, ruins of sugar cane plantations, snorkeling spots, and hiking trails. Needless to say, this is where most visitors spend the majority of their time, so start off by getting a lay of the land at the Park's Visitor Center, where you can view large maps and plan guided excursions.
4. Trunk Bay
Although many of the park's beaches are free, Trunk Bay (pictured above) costs $4 per person. However, since it has earned its spot among the top 10 most beautiful beaches in the world, we'll let it slide. Rent some snorkeling gear and spend the day exploring the bay's Underwater Trail, which is great for beginners because it safely U-turns back toward the beach and offers a lot of underwater color just a short swim from your towel. There's also a snack bar off the beach and a lifeguard on duty.
5. The Longboard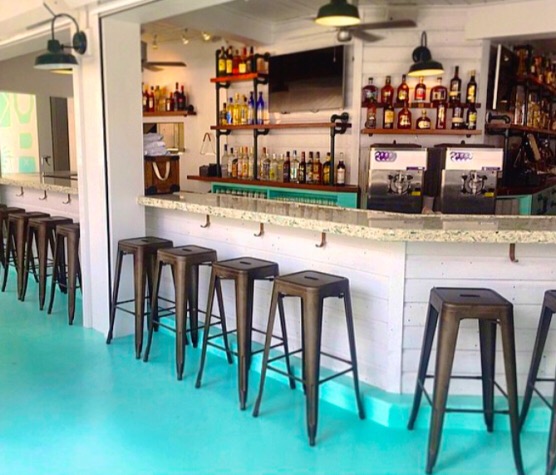 Photo courtesy of The Longboard
New Cruz Bay spot, The Longboard feels more refined than the typical island dive with a sophisticated nautical theme and lots of small plates—including an ahi tuna tower and street corn—to soak up strong Dark and Stormys. If you opt to stay for dinner, local seafood is the focus, which can be harder to find than you might imagine.
6. Maho Bay
After a day of underwater activity, try a different beach activity—nothing. Maho Bay is a tranquil beach with usually calm waters and a lack of crowds. There is plenty of shade and a gradual deepening of water, making it a great place to spend time with the little ones or to enjoy a book and beer from your cooler. The slip of land on Maho Bay isn't the widest beach, so plan to visit at low tide or you could be chasing your flip-flops as they float away with the surf.
7. High Tide
Linger a while at High Tide Bar & Grill on the tiny beach at Cruz Bay. There are plenty of bar stools and umbrella-covered tables, and a good mix of locals and tourists. Play it safe with their grilled mahi sandwich washed down by a painkiller—an island favorite made with rum, pineapple juice, orange juice and cream of coconut.
Stephanie Burt has been writing about food, art and travel long enough to have a one-up story for most cocktail parties. Don't get her started.