The remote Andaman and Nicobar archipelago carries a mysterious air. The unfamiliarity and inaccessibility of the islands have kept them a secret from tourists (however, it's been slowly gaining popularity ever since Marco Polo visited—legend has it). A Union Territory of India off its Eastern coast, the islands present a unique "foreignness" due to their proximity to Thailand and Myanmar to the East, and Indonesia and Malaysia to the south.
Of the 572 islands, only 30-something are inhabited, and less than 12 are open to tourists. They separate the Bay of Bengal from the Andaman Sea, arching north to south over nearly 500 miles. World class beaches with year-round warm waters, and coral reefs with a rich and diverse marine life abound. Rainforests provide habitats for flora and fauna unique to the islands. Add to that an active volcano, and these islands have it all.
The Nicobar Islands group is out of bounds for foreigners at present. Foreigners require Indian visas to visit the Andaman Islands. Some islands are accessible for day visits only.
By air, Chennai and Kolkata are the closest points, with several daily flights to Port Blair. Traveling by boat/ship is possible between these ports.
Do note, monsoon season is from May to October, and November to December.
1. The Best Islands
Havelock Island, a natural paradise of white beaches, rich coral reefs, true-blue waters and rain-fed forests, has the most popular beaches and watersports. Neil Island (pictured above) is a tiny sanctuary of unexplored reefs, biodiversity, beaches named after characters from the Ramayana (Laxmanpur), jungles, and tropical vegetation. Long Island, a modern village, has its own powerhouse, boat-building yard, secondary school, bank, wireless facilities, hospital, Forest Range office and police outpost. It's ideal for adventure tourism. Baratang Island shelters beaches, mangrove creeks, mud-volcanoes and limestone caves. Diglipur, with the archipelago's highest point Saddle Peak, provides an exhilarating experience for eco-conscious tourists. Kalpong, the Andaman's only river, flows here. Little Andaman Island touts itself as "the best surfing destination in India" and also boasts waterfalls, creeks, and elephant safaris. State-run passenger ferries commute between these islands.
2. Watersports
Diving in the Andamans is a unique experience, especially between December and April, when the coastal waters breed one of the richest coral reef ecosystems in the world. These are undamaged by humans and showcase clouds of colorful fish, sunken ships and underwater formations. Scuba diving is enjoyed especially in the clear waters around North Bay, Mahatma Gandhi Marine National Park, and Chidiya Tapu in Port Bair. Sea walking is an activity that doesn't need instruction or equipment; simply walk on the sea floor and enjoy beautiful corals and fish that swim around your feet. Snorkeling is popular around North Bay, Jolly Buoy, Mowhadhera Beach, and Elephanta Beach. Neil Island, Vijay Nagar and Laxmanpur beaches, Ross and Smith Islands, and Diglipur are sought-after spots. Water scooters, boats, and kayaks are widely available on the islands. Sport fishing is encouraged with a focus on sustainability and conservation—the fish are caught and released back into the ocean.
3. Beaches

Photo by Ankur P, CC-BY-SA
The archipelago is home to world-class beaches. Historic ruins, Technicolor fish, dramatic coral formations, turtle nesting-grounds, and vibrant sunsets provide added interest. Corbyn's Cove, a thin strip of bright sand in between tall palm trees and crystal clear water, is one of the closest to Port Blair's hotels, water/adventure sport centers, and Japanese bunkers—relics from the Second World War. Karmatang is a site for nesting turtles. A secluded haven with a neighboring park, it's ideal for beach parties and family groups. Laxmanpur (pictured above) on Neil Island is famous for its sunset views and shell-strewn, coral beaches. Time magazine named Radhanagar (Beach 7) on the western coast of Havelock the "Best Beach in Asia" in 2004. It's known for deserted silvery sands, even temperatures, and crystalline waters. The marine life, colorful reefs, emerald forests and endless horizons make it picturesque any time of day, but especially at sunset. The beach depicted on the 20 Rupee currency bill—North Bay—lies en route to Mount Harriet National Park.
4. Port Blair
With its bustling atmosphere (one of the only in the archipelago), the capital of the Andaman and Nicobar Islands is famously called "mini India." You can find Bengalis, Tamils, Telugus, Nicobarese and Burmese living in this city. There are plenty of hotels and restaurants in Port Blair, which is on South Andaman Island. Attractions include the Anthropological Museum, Chatham Saw Mill, and Aberdeen Bazaar.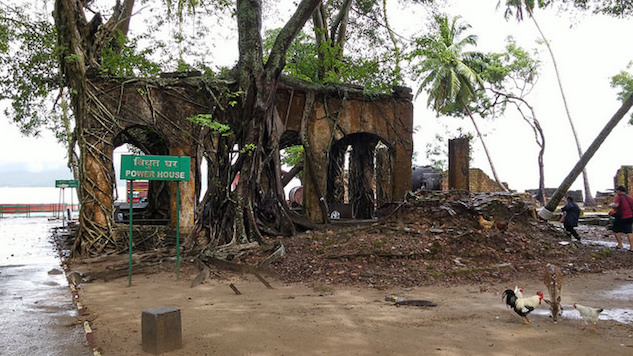 Photo by Ankur P, CC-BY-SA
5. Historical Sites
Relics of the archipelago's turbulent, millennia-old history of slave labor, British colonization and Japanese Occupation still exist. History buffs will feel at home at sites like Cellular Jail, Ross Island (pictured above), Viper Island, Hopetown and Mount Harriet.
6. Mahatma Gandhi National Park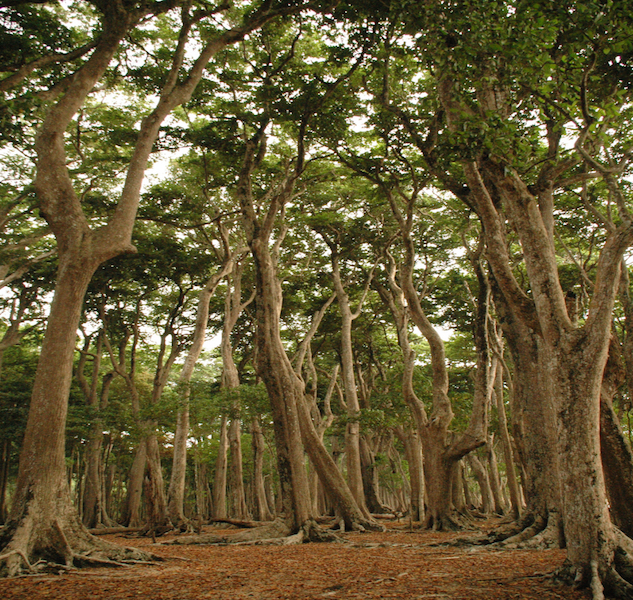 Photo by Kai Hendry, CC-BY
Wandoor is the embarkation point for the Mahatma Gandhi National Park—a marine park with mangrove creeks, tropical forests (pictured above), and reefs. The park provides a habitat for coral reefs, fish, starfish, manta rays, turtles, and parakeets.
7. Nightlife
An evening aboard Afloat, Andaman's only floating restaurant, makes a memorable experience. View Port Blair at night while cruising along the harbor with live music, drinks and a buffet dinner under stars and moonlight. Starting at the Phoenix Bay Jetty, the boat sails past Chatham Island, Viper Island and Haddo wharf. The daily Sound and Light Show at Cellular Jail brings alive the moving saga of India's heroic freedom struggle. A similar daily show at Ross Island depicts its history.
Bina Joseph is terminally bitten by the travel bug, and is always on the go, whether in actuality, in her mind, or in her armchair. She is passionate about seeing the world by " the roads less traveled," and has a white hot compulsion to take her readers with her.
Picture at top by Francois Decaillet, CC-BY-NC-ND