Florida is spoiled. By the late 1990s it had four different Disney theme parks, while Anaheim, the home of the original, was still stuck at one. That changed in 2001, when Disney's California Adventure opened next door to Disneyland. The early reviews were harsh, but with a slight course correction (and a billion dollars in improvements) the new park has become a worthwhile addition to the classic Disneyland experience.
The California theme might seem odd for a park based in California (why bother with a fake Hollywood when the real thing is right down the freeway?), but it's inspired some adorable architecture. Buena Vista Street feels as inviting as Disneyland's Main Street USA, only the ersatz 1890's midwestern vibe is replaced with cute approximations of Art Deco and Mission Revival Style. Elsewhere the park recreates a Victorian-era boardwalk, pays tribute to California's national parks, and houses a tribute to the state's aviation history in a fake aircraft hangar. There are also areas devoted to A Bug's Life and Cars, and the latter's cartoonish take on Route 66 is delightful.
If you're dropping $96 for a ticket, though, you're probably most interested in the rides. Here are the ten best attractions at California Adventure, based on a day I spent there in November 2014.
1. Soarin' Over California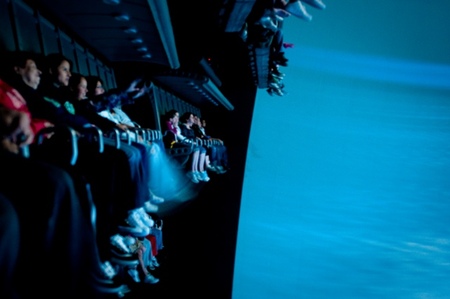 Soarin' Over California opened in 2001, along with the rest of the park, and it's already a Disney classic. It's essentially just an IMAX movie that flies you over notable parts of California, except you're sitting, with legs dangling, in seats that lift you up towards the screen and move slightly along with the images. You can't see anything except the screen, and the entire experience is a surprisingly powerful simulation of flying over California. They even pipe in appropriate smells, like oranges when you fly over groves and salty ocean scents over the Pacific. It's not a conventional thrill ride because your actual movements are minimal, but it's as thrilling as almost anything else found in a Disney park. And the long lines aren't even a drag because the hangar set features a lot of fascinating information about California's aviation history.
2. Radiator Springs Racers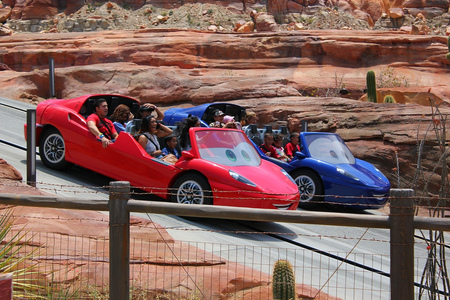 This ride does the improbable: It makes me want to watch Cars again. One of the newest rides at California Adventure, Radiator Springs Racers is both a classic Disney dark ride and an exciting thrill ride in the vein of Epcot's Test Track. It starts off like a Mr. Toad's Wild Ride set in the Cars world, with your car slowly taking sudden turns on tight curves on its way into Radiator Springs. Life-size recreations of Cars characters pop up and talk to you throughout, and they look amazing. They're real-life cartoon cars with animated eyes where the windshields should be. Eventually you enter a race, and you and another car full of park-goers burst into a quick sprint over short hills that feels a lot faster than it actually is. The movie has always felt like an outlier in the Pixar catalogue, at least from a quality perspective, but this ride makes Cars feel like a legitimate Disney classic.
3. Tower of Terror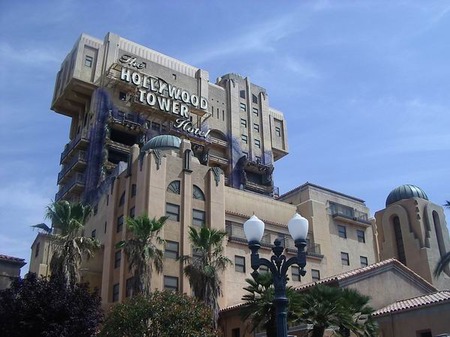 Tower of Terror is the most definitive proof of how important presentation is to a theme park ride. I can't stand free fall rides. There's nothing fun about going to the top of a junky metal tower just to fall right back down in a glorified freight elevator. Tower of Terror sucks you in by hiding its guts in a decrepit art deco hotel and grafting on a barely drawn Twilight Zone story. The art design on this ride is incredible, and although the California Adventure version lacks the jaw-dropping real-life recreation of the show's title sequence, it still masterfully builds up to that frightful plunge. It's not for everybody, of course—when I rode it last week there was a young girl, probably middle school aged, riding with a few members of her family. They were all wearing T shirts with their last name on it. She was sobbing hard after the ride, just totally inconsolable. A few hours later I sat next to one of her family members on another ride, and she was apparently still too afraid to ride anything else. Tower of Terror isn't just a snappy name, but an honest description of what you can expect from the ride.
4. California Screamin'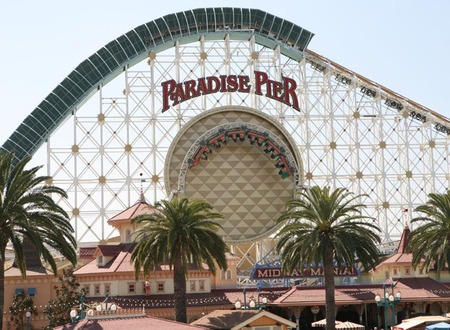 California Screamin' is a great rollercoaster, and an unusually intense one for a Disney park, with a propulsive start and a loop. In fact, other than the headrest speakers, not much about Screamin' feels like a Disney ride. It definitely fits the boardwalk theme of the Paradise Pier area, but that theme isn't specific enough to stand out as a Disney experience, even with Disney's typical attention to detail. You'll definitely love California Screamin' if you like rollercoasters, but you might wonder if you slipped into a Six Flags by accident.
5. Grizzly River Run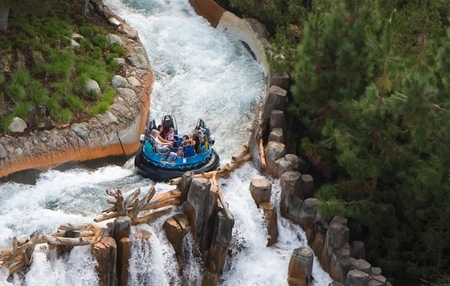 Maybe it wasn't smart to ride a river rapids ride in November. This is southern California, though—it shouldn't have been as cold as it was last week. The low temperature couldn't dissuade me, though, and that's good: Grizzly River Run is a step above the typical inner tube / whitewater ride. It has a back story about a ghost town that ties into California's mining past, and there's a bit of spin put on the raft that adds an extra degree of motion not always found on rides like this. It's probably best on a hot summer's day, but it was still fun on a cold November morning.
6. Mickey's Fun Wheel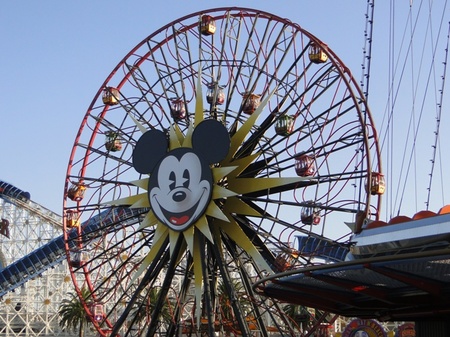 My wife doesn't understand how I can ride California Screamin' or Tower of Terror with no issues and then completely lose my mind with fear on a Ferris wheel. Those other rides are so fast-moving and so short that my fear of heights doesn't have time to kick in. Not so on Mickey's Fun Wheel, a ride I was positive would turn into a one way trip. And I was in one of the traditional gondolas that just lightly swayed when the wheel turned, and not one of the ones that slid and swung around an overhead rail. About halfway through the ride I had calmed down enough to realize how gorgeous the view is from the top, with all of California Adventure, much of Disneyland and parts of Anaheim in plain sight. I'm not a Ferris wheel convert now, or anything, but I fought through the fear and learned how to appreciate Mickey's Fun Wheel. It's also simply a beautiful structure, with the classic Mickey Mouse logo from 1930s cartoons at its center, and an extensive light system that changes colors at night. It's a classic carnival ride with Disney flair and a park landmark akin to a Disney castle or Epcot's sphere.
7. Toy Story Midway Mania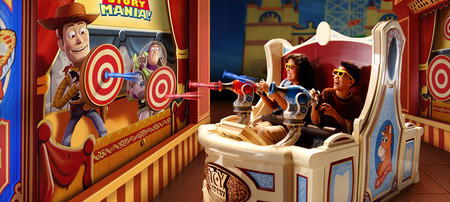 Midway Mania is a lot like the Buzz Lightyear ride at Disneyland and Magic Kingdom, where you travel in a car that swivels while playing little minigames set up throughout the ride. It mixes a few classic midway game types into the Toy Story theme, like a dart throw game with Wallace Shawn's dinosaur Rex or a shooting gallery featuring Woody. The Toy Story films are strong enough to support a great, classic dark ride without incorporating the games, but kids do seem to love playing their way through it, and perhaps it engages some adults who otherwise wouldn't care all that much. The best part of the ride comes before it even starts, courtesy of an audio-animatronic Mr. Potato Head that heckles people while they're waiting in line with some G-rated Don Rickles material.
8. Silly Symphony Swings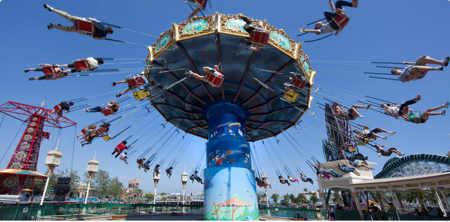 There's a pretty big drop in quality after those first seven attractions. There are a lot of classic boardwalk or carnival style rides in the Paradise Pier section of the park, and although those are fun they don't always have the uniqueness you expect from a Disney ride. The Silly Symphony Swings probably bridge that gap the best. It's a traditional wave swinger, where you sit in a chair attached to a tower with cables, and then spin around for a few minutes. It's based on one of the best classic Disney cartoons, "The Band Concert", where Donald Duck tries to crash a performance by Mickey's orchestra before a tornado sucks everybody up into the sky. The tower is painted with images from the cartoon and the ride blasts the William Tell Overture. These references are a game attempt to tie an otherwise simple and overly familiar ride into the Disney setting.
9. Golden Zephyr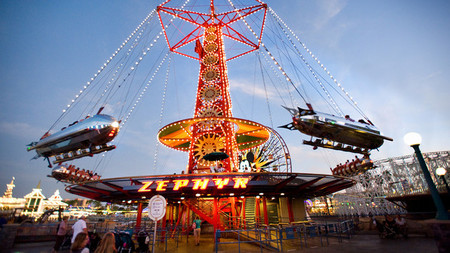 The Golden Zephyr might be the most generic attraction at any Disney park. It's another classically minded ride at Paradise Pier, a giant swing with rockets out of old sci-fi film serials that leisurely spin around for a few minutes. Every amusement park from the last century has had a ride exactly like this, and the Golden Zephyr isn't connected to any Disney cartoon or movie. And that's absolutely not a problem, as this ride is such a constant because it is always enjoyable. It's a soothing calm down spot for the dedicated thrill seeker, and has just the tiniest bit of danger for those too afraid to ride Tower of Terror or California Screamin'. It was my wife's favorite ride at the park. It isn't something to go out of your way for, but it's a nice, relaxing way to fill out your day.
10. Goofy's Sky School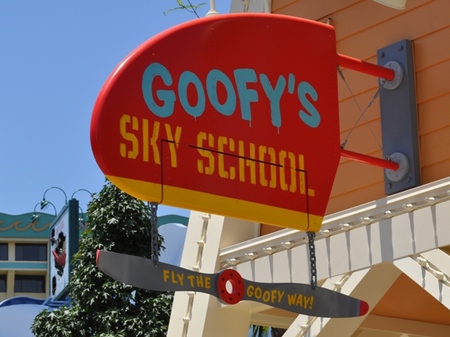 Okay, this is a stretch. California Adventure is a top-heavy place: the best rides are amazing, and totally justify the expense, and then there's a steep fall-off. There's a lot else to do there—there's an area based on A Bug's Life with a few good rides for young children, and a couple of similar smaller rides in Cars Land. There's a parachute-styled falling ride called Jumpin' Jellyfish, if you don't care for the elaborate fuss of Tower of Terror, for whatever reason. There's a middling dark ride based on Monsters, Inc., and a Little Mermaid dark ride that we really wanted to ride (and which would've made this list if it was up to Fantasyland's snuff) but that was closed every time we tried to ride it. (That was actually a recurring problem that day—stuff kept breaking down.) I'm saying that Goofy's Sky School, despite not being particularly fun or memorable, makes this list almost by default. It's what is known in the industry as a "wild mouse" coaster, meaning it's a small, short, child-friendly coaster that's built more on quick turns than huge drops or fast speeds. Goofy's Sky School is perched on top of a small building, and regularly tricks the rider into thinking the car is going to fly off the side and splat all over the concrete below. It jerks tight with a quick snap at every twist, and that wound up scaring me more than anything in California Screamin'. It's short, largely inoffensive, but thoroughly mediocre, and just more fodder to get you through the day after you've hit the best rides. I give it a small bonus for the loose connection to the great 1940 short "Goofy's Glider".
Garrett Martin edits Paste's games section and is almost embarrassingly fond of Disney parks.