Disneyland: The Godfather of Modern Theme Parks Celebrates Another Birthday
Main photo: Getty Images.
Travel
Features
Disneyland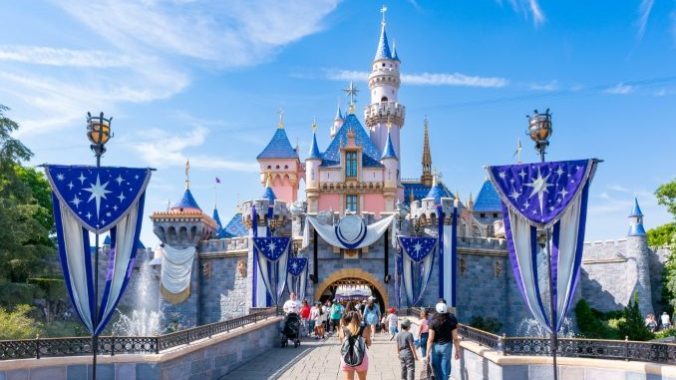 Originally published on July 17, 2015, on Disneyland's 60th anniversary.
I'm used to the Abominable Snowman. I see his mangy face once a year or so. This time something's changed, though. He's grown angrier, more restless. Instead of standing in a full-body pose like a fur-pelted Charles Atlas he reaches out at me as I careen past in my bobsled, his roars quickly fading behind me. The cavern full of shimmering crystals has disappeared, and a pile full of junk collected from around the mountain now rests near the peak. My short blast through the Matterhorn is familiar, echoing my previous trips down that mountain, but it's also something new and unexpected.
The Matterhorn is one of the attractions that's been upgraded this year in honor of Disneyland's 60th anniversary. Like the ride, the park itself is a powerful piece of nostalgia that's always slightly changing, updating as technology allows and the audience desires. It's that combination of the classic and the ever-changing that defines Disneyland on its 60th birthday.
When Disneyland opened on July 17, 1955, the Matterhorn did not yet exist. Admission was free. For rides or attractions you had to buy books full of tickets. Today you can experience all the park has to offer for a one-time, one-day fee of $99. (It costs a good bit more than that now in 2023.–Ed.)  There's a second theme park right next to Disneyland, Disney's California Adventure, which opened in 2001; it's also $99 a day, or $155 for a park hopper ticket, which lets you visit both parks on a single day. When I was a kid in Florida, my family of six would visit Walt Disney World in Orlando almost every year; today a family of six might consider selling a kid just to afford to get in. New Abominable Snowmen aren't cheap.
That opening day in 1955 was an infamous disaster, despite a live broadcast on ABC with guest hosts Art Linklater, Bob Cummings and Ronald Reagan. It was 101 degrees and a plumbing strike left the park without working water fountains. A gas leak closed over half the park, including all of Fantasyland, Frontierland and Adventureland. Initial reviews were scathing, but that didn't stop children watching that broadcast throughout the country from wanting to flock to Anaheim.
Those children are now our parents and our grandparents. When I'm in line today for Peter Pan's Flight or Mr. Toad's Wild Ride, two of the few attractions that have remained open since 1955, I'll find myself thinking of my mom as a young girl watching that telecast in a small town in North Carolina, wishing she could somehow visit California. Perhaps one day we'll be able to visit it together. Despite the expense, and despite the increasing reliance on corporate cross-promotion, you can still feel that connection to the past, to the youthful excitement of family members both here and gone. It's a combination of joy and loss, childhood innocence and adult remembrance, periodic bursts of fun that fade to wistfulness whenever the lines grow too long and I have time to think. Despite its upgrades and changes, time seems to stand still in Disneyland, the losses and turmoil of the outside world momentarily forgotten until the waiting gives my mind time to wander.
Dwelling on the past at Disneyland isn't an accident or a weird quirk of my own overly nostalgic brain. It's baked into the experience, as intentional as the gift shops regularly spaced out throughout the park. Although Disneyland has opened and closed many attractions throughout the years, and over the last couple of decades has taken to retrofitting preexisting rides to tie in to recently popular movies, it still purposefully cultivates a sense of tradition. You still enter through Main Street USA, a facsimile of a late 19th century Midwestern town center that's like a palimpsest of eras. It invokes not just the 1890s but the 1950s in which it was built, and in the individual's memory is linked to whatever year you first visited it. (For me, that would be the early 1980s, when I first saw the similar Disney World version of Main Street USA.) With forced perspective making the buildings look taller than they are, an archaic ice cream shop and penny arcade, a roaming barbershop quartet and marching band, Main Street calls back to a time that probably never really looked like this, a chronological forced perspective that ensures its own timelessness.
This tradition and nostalgia is why it can hurt when Disney decides to remove something we've come to love. I still mourn the loss of 20,000 Leagues Under the Sea at Disney World, and can't imagine going to an Epcot that doesn't have the now shuttered Maelstrom. One reason I prefer Disneyland today to the Orlando park that I went to regularly as a child is that Orlando ripped out Mr. Toad's Wild Ride in 1998, while it still survives in Anaheim. Some middle-aged Disneyland fans probably still hurt over the disappearance of Rocket to the Moon. It can feel like a betrayal when a beloved attraction is removed for good, especially since whatever new attraction replaces it will almost definitely be a tie-in to a recent movie or other Disney property.
Still, those changes quickly become a part of the tradition. Tomorrowland, born out of the space age love of science and the promise of the future, long ago ditched most notions of education in favor of science-fiction thrill rides. Anything that brought the unparalleled Space Mountain into existence can be forgiven, though. Despite numerous upgrades, Fantasyland still features most of the same attractions it did in the 1950s, from the opening day treats of Peter Pan, Mr. Toad and Snow White's Scary Adventures, to 1957's Alice in Wonderland dark ride and 1959's Matterhorn rollercoaster. Most have been noticeably updated, though, from the Matterhorn's new Abominable Snowman to the new digital effects in Peter Pan and Alice in Wonderland. Frontierland and Adventureland are barely recognizable from their original 1955 states, but the concepts remain the same, and later attractions such as Big Thunder Mountain Railroad and Splash Mountain are already decades old themselves.
Pirates of the Caribbean and Haunted Mansion were both over a decade away when the park opened in 1955, but they're as beloved and essential as any of the rides that remain from the opening day. There are children age 10 and under who have never known a Disneyland without Buzz Lightyear's Astro Blasters; to them that ride is as classic as the Mad Tea Party's spinning teacups, which have been making people sick since 1955.
Innovation and tradition, change and permanence, the ever-fluid past and unquenchable future: that contradiction is why Disneyland remains so powerful. That, and the fact that it's just a fun place to visit.
A few hours after facing down that Snowman I'm on a Doom Buggy lurching through the Haunted Mansion's attic. As we coast past the familiar black widow bride to the left I prepare myself for one of the main reasons I came to Disneyland this day. For a few seconds I stare at the legendary Hatbox Ghost, an apparition that presided in the Mansion when it opened in 1969 but was quickly removed due to technical mishaps. The Hatbox Ghost became one of the ride's most iconic features, despite disappearing for over forty years. With technology finally capable of properly recreating the effect of the ghost's head moving from his shoulders to the hatbox in his hand, Disney restored him for the 60th anniversary. We lock eyes and then lock eyes again, maybe five seconds of facetime with a ghost that's brand new but has haunted Disneyland since well before I was born. It's the past, present and future in one, a moment that could only happen at Disneyland.
Garrett Martin edits Paste's comedy and games sections.