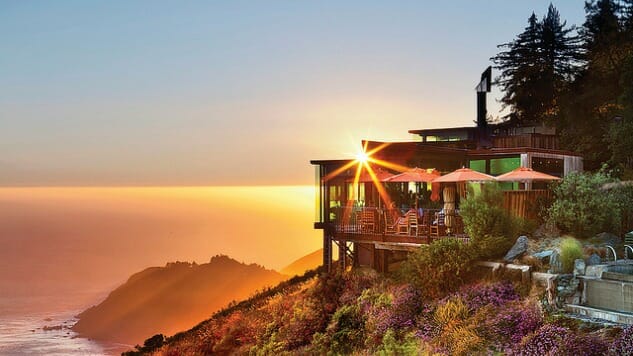 In April of 1958, Big Sur resident Nancy Hopkins wrote to a friend, "This is the land of laissez-faire, you know. You can't dream up anything that hasn't already been done."
The 90-mile stretch of rugged Pacific shoreline had, by then, become a well-documented recreation spot for artists and writers, among them Robinson Jeffers, Henry Miller and Lawrence Ferlinghetti. Bearded bohemian types had moved in, too, camping out on rocky beaches and beneath canopies of sequoia trees. These freethinkers and wandering naturalists sustained themselves on wild parties and fresh air. "Fill the pool with champagne and have a moonlight orgy," Hopkins wrote to her friend. "Big Sur will be very disappointed if you don't do something just a little bit insane."
More than half a century later, Big Sur remains a refuge for artistic, free-spirited types. Wayfaring kids still thumb along the region's twisting two-lane highway, and weekenders still pile into truck beds and sleep under the stars. Sure, the rents have increased, and luxury hotels attract a respectable, clean-shaven crowd, but Big Sur's few full-time residents preserve its creative heritage and gorgeous landscape, and they welcome travelers who come ready to be inspired.
Though Big Sur comprises a large swath of the central California coast, running from Hearst Castle in San Simeon north to the Carmel River in Monterey County, many of the best hiking, dining and sightseeing options are within several miles of Big Sur Village. If it's your first visit, base yourself in or near this rustic highway community.
Day One
Morning
Take your coffee on the outdoor terrace at Big Sur Bakery, a restaurant occupying a 1930s-era ranch house edged by redwoods. Locals line up early for the fresh-baked breads, pastries, jelly doughnuts and cookies, all of which have earned fanfare from national food critics. You can also select from a heartier menu of gourmet creations, such as wood-fired breakfast pizzas or polenta topped with a fried egg and shaved truffles.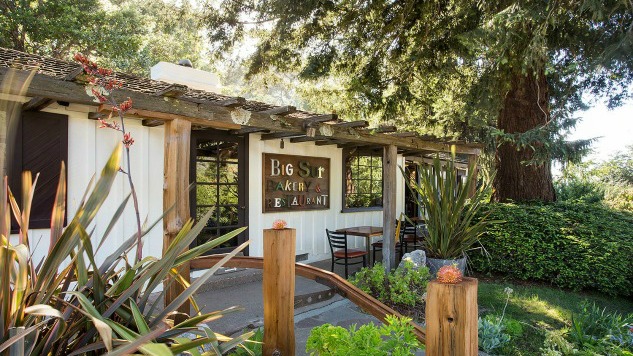 Photo courtesy of Kodiak Greenwood
A short drive north along California Highway 1 leads to Andrew Molera State Park, where you can walk off your morning meal on the Creamery Meadow Trail. The pleasant, mile-long trail crosses the Big Sur River, cuts through the grassy fields of the Big Sur Valley and ends at a driftwood-strewn beach favored by surfers. (Serious hikers should also consider the Molera Loop, a moderate, 8.8 mile trek combining three of the park's most scenic trails). Alternatively, head to the Point Sur Lighthouse, just a few hairpin turns beyond Andrew Molera State Park. Built on a rocky outcropping in 1889, the lighthouse is a prime location for whale watching and offers the kind of Pacific-shoreline views Big Sur is known for. Morning tours are at 10 a.m., Saturdays, Sundays and Wednesdays.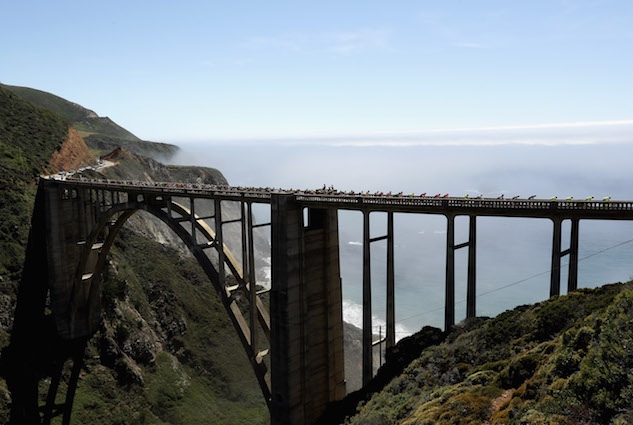 Photo by by Ezra Shaw/Getty
Jack Kerouac made the Bixby Bridge famous in his 1962 novel Big Sur, when he described a "thin white line of bridge a thousand unbridgeable sighs of height above the little woods." Though Kerouac fictionalized the name of the bridge in his book, his account of the grand and terrifying structure suspended between two towering bluffs left little room for interpretation. Today, Bixby draws plenty of literary fans and photographers seeking glimpses into the steep canyon and roaring surf it overlooks. You'll find the bridge about 11 miles north of Big Sur Village. Cross over and park in the turnouts on either side of the road to explore.
Afternoon
Lunch with the locals at Big Sur Taphouse, a rustic roadside bar and grill serving tacos, charcuterie and a wide selection of beers on tap. Walk through the adjoining convenience store to Big Sur Deli for homemade sandwiches, salads and other picnic-friendly fare, which you can carry out to your next stop: Pfeiffer Beach. One of the most photographed locations on the central coast, Pfeiffer Beach is home to stunning rock formations, including "the door," an arched opening in a sea stack that glows golden when the sun sets. The beach is also notable for its purple sand, which gets its color from quartz and garnet deposits. Follow Sycamore Canyon Road west through redwood forests and past a horse pasture (owned by one of the Beach Boys, according to local lore), to reach the parking area, which requires a fee per car. Once your feet enter the park, you can while away the better part of the afternoon here, wandering through the paths surrounding cliffs.
Evening
Before the sun sets, venture south to Nepenthe. Perched on a cliff overlooking the Pacific, at the base of the Santa Lucia Mountains, the restaurant claims one of Big Sur's most scenic and storied plots of land (Rita Hayworth and Orson Welles even owned it for a time). Nepenthe opened on the spot in the late 1940s and quickly became a destination for coastal travelers and a favorite dining and dancing spot for locals (Henry Miller is rumored to have arrived for dinner in his bathrobe). Tourists dominate the scene nowadays, and the food isn't worth the premium, so order from the wine list and claim a seat on the outdoor terrace. The Technicolor sunset views are the point.
Seasonal, locally sourced ingredients lead the chef's tasting menu at the Restaurant at Ventana, located about a mile north of Nepenthe on the eastern edge of Highway 1. Selections such as baby beet and strawberry salad, poached farm egg, and charred octopus set the pace for main course offerings like California white sea bass served with burnt-bread clam chowder and white asparagus, or pork tenderloin paired with sweet potato polenta.
Dark skies are half the appeal of Big Sur, so make time to stargaze. Adventuresome types can follow the footpath from the Restaurant at Ventana to the resort's private outdoor baths, which are unmanned and seldom crowded in the evenings. Rule followers can angle for a reservation at the Esalen Hot Springs for public night bathing from 1 to 3 a.m. Reservations are taken only by phone and must be made the same day, so call early. At Fernwood, also nearby, you can join locals for live music most Saturday nights.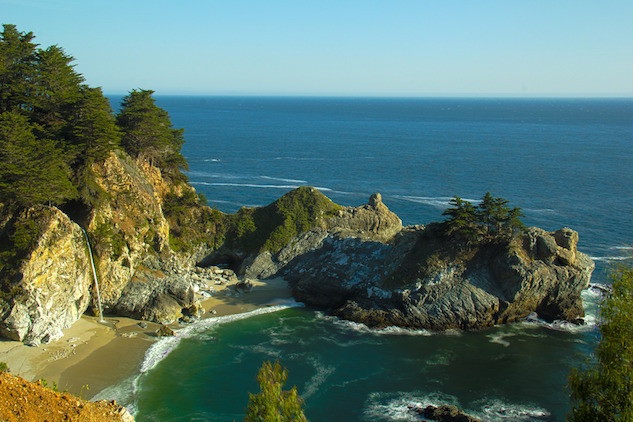 Day Two
Morning
Order coffee and a pastry to go at Big Sur Bakery before heading south for a morning hike. (More substantive menus can be found at the roadside inns in the village. Big Sur Roadhouse, Ripplewood, Deetjen's and the Big Sur River Inn begin serving breakfast at 8 a.m.).
With its redwood groves, steep mountain trails, granite cliffs and a beachfront waterfall, Julia Pfeiffer Burns State Park has all the natural hallmarks of California's central coast. The five-mile Ewoldsen Trail winds through dense forests, past a 60-foot waterfall and along a coastal ridge, making it an ideal loop for those seeking an active morning. A much shorter option is the Waterfall Overlook Trail, an easy stroll from the highway (no need to pay to park) along a cliff overlooking McWay Cove (pictured above). This small beach formed during a landslide in 1983 and features a waterfall that plunges 80 feet into the ocean below.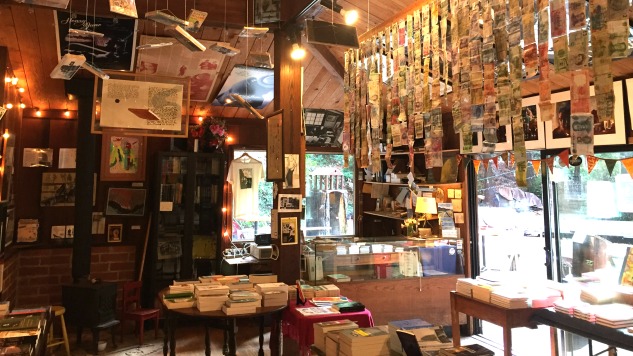 Photo courtesy of Caroline McCoy
Henry Miller hated memorials, but maybe he'd make an exception for the Henry Miller Library (pictured above). The nonprofit bookstore, cultural center and community gathering space is housed in the former cabin of Miller's best friend, Emil White. Browse the collection of art, artifacts and books by Miller and his contemporaries, thumb through the selection of novels Miller counted among his greatest influences, play a game of ping pong, and sip coffee on the lawn. Devote a few minutes to Miller's timeline of his life, which runs along the cabin walls and details his evolving perspectives, literary accomplishments and failed marriages with succinct charm and wit.
Afternoon
A quarter mile north of the Henry Miller Library, Nepenthe's Café Kevah is an excellent stop for an early-afternoon brunch. The outdoor restaurant sits on a terrace below Nepenthe and overlooks the Pacific. Like its parent restaurant, the views draw a touristy crowd, but the vibe at Kevah is laidback, and the brunch menu is strong and fairly priced. Choose from standards like eggs benedict and brioche French toast loaded with blueberry cream cheese. After brunch, be sure to walk below to The Phoenix, a gift shop opened by the original owners of Nepenthe in 1964. Inside you'll find art, jewelry, books, home décor and clothing from Big Sur and beyond.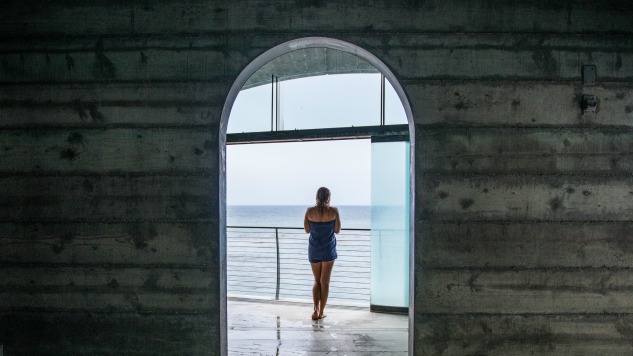 Photo courtesy of Ali Kaukas
In 1960s-era California, spiritual seekers, intellectuals, artists and flower children made their way to Big Sur for one reason: the Esalen Institute (pictured above). This new-wave wellness and learning center even inspired the far-out setting for Don Draper's Coca-Cola epiphany in the series finale of Mad Men. Esalen offers workshops and retreats in a broad range of disciplines, including art, writing, meditation, personal growth, dance, spirituality, bodywork and organic farming, most of which require a minimum of two days in residence. To sample the Esalen lifestyle in an afternoon, book a massage or healing arts session. Arrive up to an hour early to soak in the hot springs, which are divided into "silent" and "quiet" sections.
Evening
Arrive for dinner at the Post Ranch Inn's Sierra Mar restaurant in time to watch the sunset. The view from Big Sur's luxury resort rivals any you'll find in Monterey County, and it comes with a steep price tag. Go all in with chef John Cox's nine-course tasting menu, a series of dishes inspired by the Big Sur coast. Black mussels cooked in embers and served with native kelp, chilled heirloom tomato consommé garnished with spot prawns, and venison tenderloin served with wild local berries are a few of the seasonal dishes that have graced the menu. Add the wine pairings, which are selected from the restaurant's 2,600 varieties, because, at this point, why not?
Getting There
Fly to the Monterey Peninsula Airport and drive 30 miles south to reach Big Sur. San Luis Obispo is also an option. From that airport the drive to Big Sur is roughly 125 miles.
Where to Stay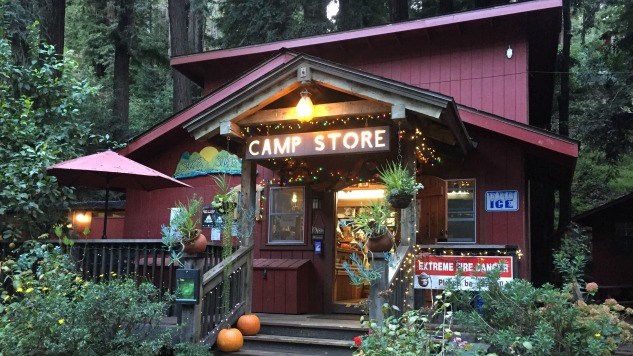 Photo courtesy of Caroline McCoy
With 34 tent and RV sites, as well as 12 cozy cabins, Riverside Campground & Cabins offers affordable lodging along the Big Sur River. Small bathhouses and a fully stocked camp supply store guarantee you'll get to know your fellow campers. Campsites start at $55; cabins start at $115.
Rustic charm and well-preserved 1930s craftsmanship earned Deetjen's Big Sur Inn a spot on the National Register of Historic Places in 1990. The inn's quaint cottages are free of televisions, telephones and wifi access, which is all the more reason to explore the on-site gardens and redwood forest. Rooms start at $105.
Lead photo courtesy of Caroline McCoy
Caroline McCoy is a writer and editor based in the U.S. and Berlin, Germany.