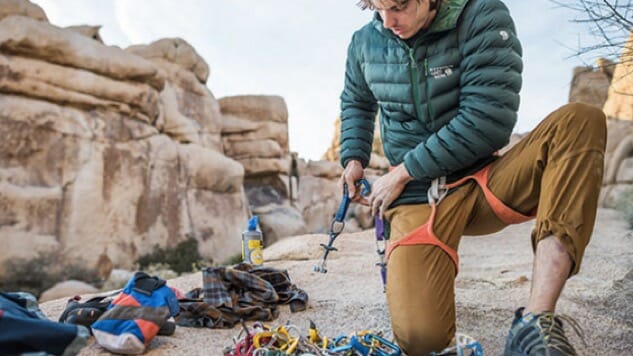 For a company that's close to celebrating its 25th anniversary, it might seem bold for outdoor and travel gear-maker Mountain Hardwear to radically rethink the way they're doing things. But in an industry already full of options (and with sites like Kickstarter leading to greater bloat and just the right amount of disruption), there's no wrong time to think about who you are and a brand. This became evident when I was discussing the status quo of Mountain Hardwear's products and identity with two designers while testing out some of the latest/greatest soft goods while skiing in Sun Valley.
The company traces its roots back to 1993, when a small band of outdoor industry folks decided to leave their jobs at a handful of high-profile apparel and equipment companies to start something that focused less on mass-appeal, dumbed-down products and more on high-performance, technical products that catered to serious alpine athletes. This pursuit drove innovation, lots of groundbreaking products, and a solid hand hold in the outdoor market. And many respects, they still garnish respect—you'll find more Mountain Hardwear expedition tents at Everest base camp or an Antarctic expedition than any other brand.
But the brand did lose some of its footing a few years after being acquired by Columbia Sportswear in 2003. This was around the time that Columbia started heavily investing on deep-dive research into new tech fabric construction. Over the years that followed, the mad scientists at Columbia did some truly innovative things: fabrics that dropped your body temperature as it absorbed your sweat, new waterproof/breathable fabrics to make light, comfortable hard shell jackets. Mountain Hardwear inherited much of that technology. Call it the corporate trickle-down theory. And the stuff worked well. But it was basically the same idea in a different wrapper—much like "shrinking and pinking" (the a tongue-in-cheek phrase to describe the practice of taking a men's piece of apparel, changing the color, and dropping the sizing) doesn't make it a product that's made for women.
Simply put, the company became rudderless for a while. A few ideas did resonate, like a tent design that boasts 180-degree views, but significant parts of the line felt static. For me and other people who'd become long-time advocates for the brand, it felt…disappointing.
But change is afoot. After a six-month search, John Christian Walbrecht signed on as president, effective last March. His resume reads like the wall of an REI Outlet—Fjallraven, Brunton, Hanway, Spyder—and under his leadership it's clear that the brand wants to return to what it once did: innovate and create products that will blow away the competition.
As lead product designer and recent hire Trent Bush told me, you know a product is successful if you don't realize it works. You shouldn't think about a zipper, but if you have to use two hands to get the pocket open, you do. And that means something is wrong. He should know: that first day in Sun Valley might have only been his fifth day on the job at Mountain Hardwear, but the guy launched the second-largest snowboard apparel company when he was in his teens, and he's never turned back.
Most of these new products won't hit for a few seasons; the production cycle typically runs about two years ahead of the current market. But he did offer a few glimpses into where they're going, including a sample of stretchable leather and discussions about reinventing their brand strategy. And his unbridled enthusiasm in every minute element of the design process was inspiring.
Another good sign that things are getting back on track is that some of the most recent products have been pretty grand—especially a few that we tested on the slopes this spring. Mountain Hardwear no longer has to use the same fabric technology developed by Columbia, and have worked with extreme athletes like Ueli Steck to offer insights into new product features. That's the guy who literally runs up 8,000-meter peaks, and the fast-and-light pack they developed for him a few years back garnished some tech features that are now in their current line. It should be noted, however, that his current status as a MH athlete is currently in flux; as Outside reported recently, the company recently dropped more than half of its athletes to pursue lesser-known ambassadors, another move that may signal a larger change in direction, one focused on establishing a more direct relationship with their clientele.

One of the more remarkable advances, slated for fall 2017, is the Stretch Down Jacket, a warm, insulated piece with stretch-welded seams (rather than stitching). It was too warm in Sun Valley to wear it in the field, but I acquired a sample at the Outdoor Retailer show last year, and tested it last winter. The thing packs some serious heat, but the stretchiness is one of the most nimble I've ever encountered in an insulated coat. The fit needs some work. At a slender 6'2" I typically wear large, but that size fit like a potato sack; the medium is snug, which makes the stretch not only remarkable, but essential. Bush, acknowledged this, explaining that they had used mannequins to dial the fit, but all that is changing.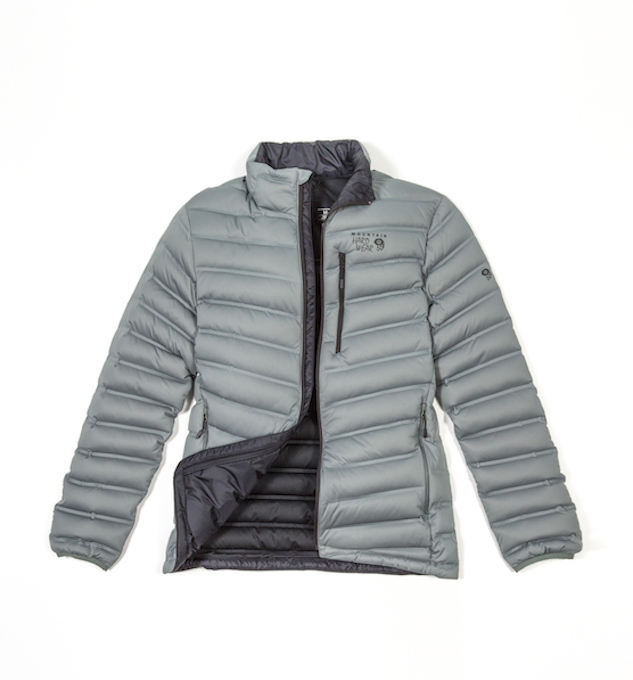 I also fell in love with the Micro Thermostatic Hybrid Jacket, which is in their current line. At first I thought it felt too thin, but it turned out to be the perfect mid-layer on those warm spring days on the slopes. Made of 20D nylon, the 40 grams of Thermal.Q insulation shrugs off the chill admirably without overheating. And it packs into its own pocket, so you can stash it in your pack and pull it out when it gets cold on the road—or on the plane or airport or wherever.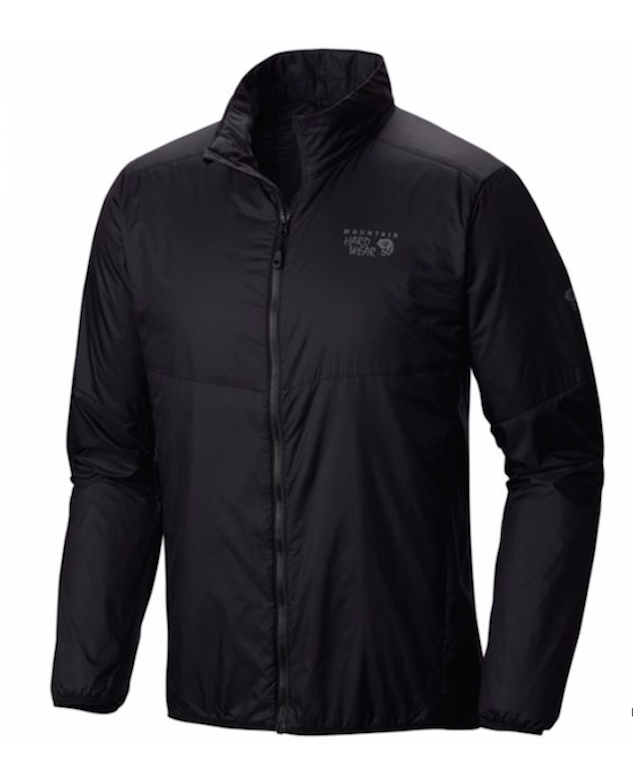 And travelers and commuters take note: their OutDry packs, which boast a fully waterproof main compartment, are tops. The 22-liter Drycommuter backpack was one my highlights from the last Outdoor Retailer, and comes out this fall.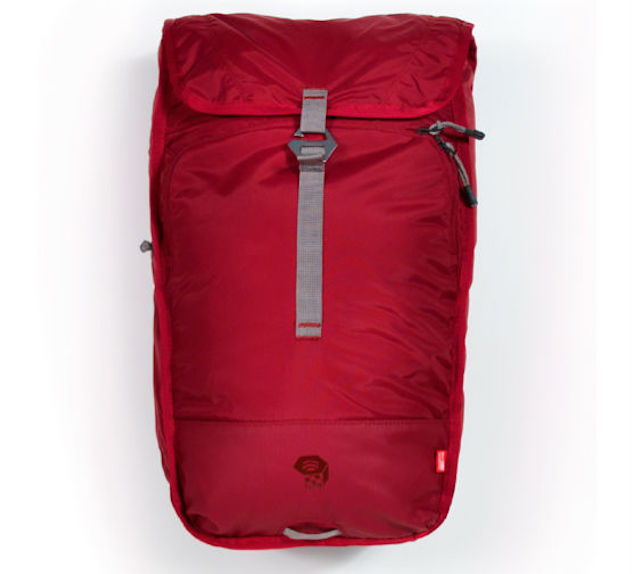 In keeping with an encouraging trend in less-traveled corners of the industry, Mountain Hardwear is also going to strive to make their products more fashionable. Waterproof lamination is never going to be the new black, but for a noticeable segment beyond the "ath-leisure" trend, it's welcome news, especially for active-minded travelers.
I look forward to seeing what they have up their sleeves.
It's nice to see them storming back.
Nathan Borchelt is a gear-obsessed travel writer and adventurer whose collection of shoes, backpacks, jackets, bags, and other "essential" detritus has long-outgrown his one-bedroom apartment (and his wife's patience).