Checklist Santa Fe: From Margaritas to George R.R. Martin
Photo below courtesy of Meow Wolf
Travel
Lists
Santa Fe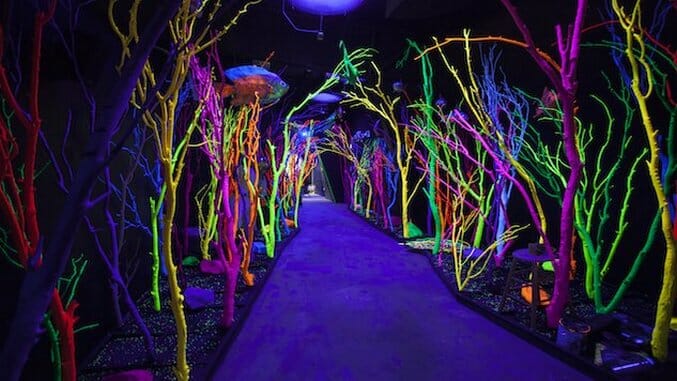 Santa Fe's tagline is "The City Different," and there's good reason for that. New Mexico's capital city has it all: a 400-plus-year history; a multicultural legacy with Spanish, Native American and Anglo influences; and adobe architecture. Its picturesque scenery has a longtime appeal with artists, and Santa Fe is considered to be the third largest art market in the country. It's also quite festive. As a Christmas tradition, farolitos light up parts of the city at night. Before that, on the Friday before Labor Day, The Burning of Zozobra says adios to bad memories by torching a giant marionette effigy. And of course, newcomers must try red chile and green chile in an attempt to put the heated debate to rest (or have a pairing of both known as "Christmas").
To find art, local flavor or serenity, here is what to do in Santa Fe.
1. Meow Wolf/House of Eternal Return
This Santa Fe art collective (pictured at top) centers on immersive art, creating interactive experiences with a focus on storytelling. Meow Wolf's masterpiece is "House of Eternal Return," a 20,000-square-foot installation at its multiuse arts complex in the Midtown Innovation District. Unveiled in March 2016, this attraction could be described as a fun house meets virtual realm. With a seemingly normal entrance through a Victorian home's front door, the layout goes from ordinary rooms to other worldly divisions. Meow Wolf's own journey has received backing from George R.R. Martin, a Santa Fe resident more known as the author of the book series that inspired HBO's Game of Thrones. Martin purchased and funded renovations of the complex (a former bowling alley) and is leasing the property to Meow Wolf.
2. Tomasita's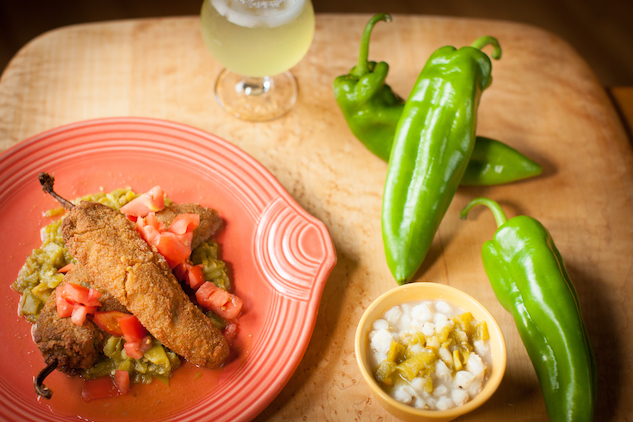 Photo by Story Portrait Media
This family-owned restaurant in the Santa Fe Railyard specializes in Northern New Mexican cuisine, including flautas and sopaipillas. Tomasita's lunch/dinner selection consists of various entrees, combos or daily plate specials. Try Monday's Tamale Blue Plate with red chile, a blue corn cheese enchilada with green chile, a beef taco, Spanish rice and refried beans. Or have a serving of tamales, tacos or enchiladas. Pair your meal with a margarita such as the Silver Coin, with Herradura Silver tequila and Cointreau. New Mexican and Mexican beers are also available. Be prepared to wait, as this place often gets packed and you can't make reservations.
3. Santa Fe Farmers Market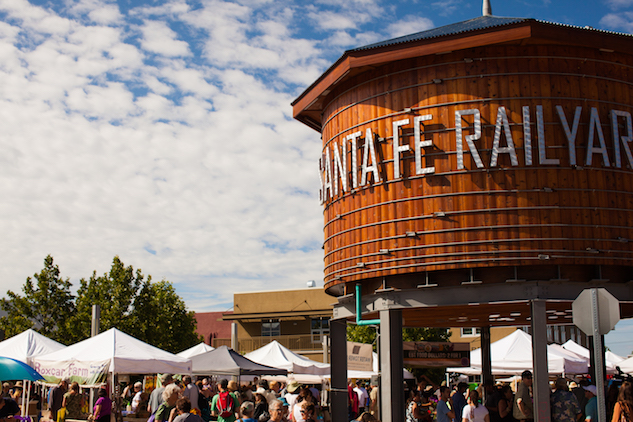 Photo by Story Portrait Media
Started by a handful of farmers who sold produce from the back of their trucks, the Santa Fe Farmers Market now incorporates more than 150 vendors representing 15 Northern New Mexico counties. The market is primarily open all year-round on Saturdays and then seasonally on Tuesdays and Wednesday evenings at the Santa Fe Railyard. Small farmers and growers offer plants/cut flowers, vegetables, fruits, herbs, honey, meats, eggs and handicrafts like chile wreaths. Bakeries, food vendors and restaurants sell prepared foods, and there's also a gift shop stocked with artisanal merchandise.
4. Georgia O'Keeffe Museum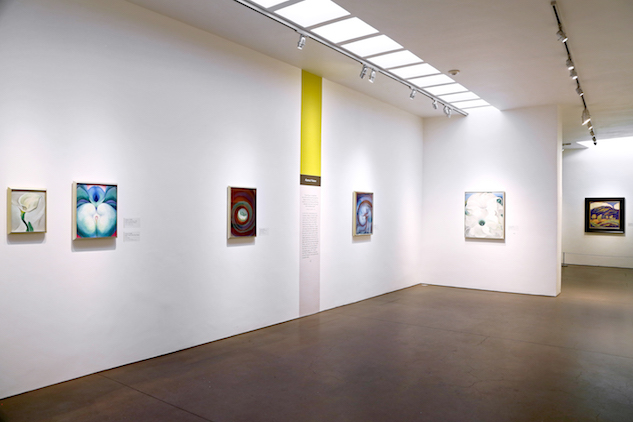 Photo by InSight Foto Inc./Georgia O'Keeffe Museum
Opened 11 years after Georgia O'Keeffe's death in 1986, this art museum delves into the life and career of the American Modernist painter and how New Mexico's desert landscape influenced her work. The Georgia O'Keeffe Museum's more than 3,000-piece collection includes oil and watercolor paintings, drawings and photographs, plus O'Keeffe's personal items. The gallery sometimes features exhibitions pairing her works with other contemporaries. Installations include her New York cityscapes and a display of original frames explaining how she was particular about designing correlated framing with her art. The museum also manages her two Northern New Mexico homes and studios (her house in Abiquiu can be toured), a research center and library, and other related collections.
5. Secreto Lounge
As a stop on Santa Fe's Margarita Trail, this cocktail bar at Hotel St. Francis offers a Smoked Sage Margarita, which involves the dried herb getting smoked in a glass. The rim is flavored with hickory smoked salt, and Azuñia Reposado Organic Tequila and lime juice are mixed in. Secreto Lounge's "Garden to Glass" program applies locally sourced herbs and produce toward cocktail recipes, with drinks changing seasonally. Look for The Agave Way, a medley of black grapes, New Mexico green chile, Espolón Reposado Tequila, lime juice and agave nectar. Local beers and New Mexican wines are also featured. Food orders switch up, too, but could include a range of burgers or tempura dusted chicken chicherrón, with a curry ranch and Cajun scented prickly pear barbecue sauce.
6. Canyon Road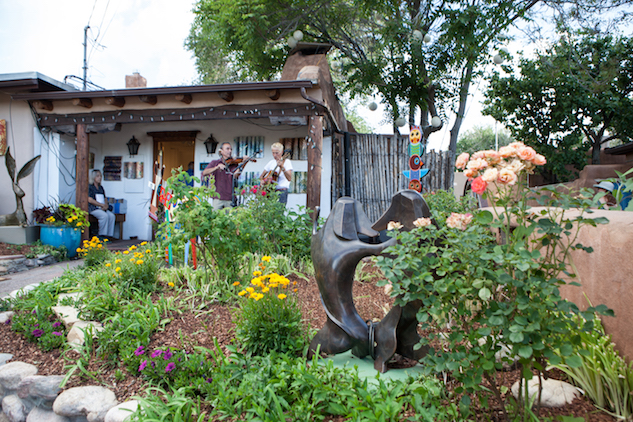 Photo by Story Portrait Media
In the 1920s, this half-mile district drew in artists looking for a place to live and work. Now, art galleries and studios are aligned along Canyon Road, with restaurants and boutiques mixed in. The Compound Restaurant is a fine dining establishment with a changing lunch/dinner menu that could include their handmade lobster carbonara or seared Pacific swordfish. Caffe Greco has a colorful interior, with its green chile cheeseburger being a favorite on the menu. Nearby Kakawa Chocolate House makes incredible chocolate elixirs based on recipes from historic periods such as Pre-Colombian or Colonial American; plus truffles, caramels and chili-flavored sweets. Canyon Road is also the site of an artist's festival every spring and a Farolito Walk on Christmas Eve.
7. Museum Hill
The four museums based at Museum Hill focus on Native American, folk or Spanish Colonial art. The Museum of International Folk Art houses decorative objects and media reflecting different backgrounds and heritages, with rotating exhibits such as one on Spanish flamenco. The Museum of Indian Arts & Culture educates visitors on the Native American culture of the Southwest through traditional pieces and contemporary art. There's also the Museum of Spanish Colonial Art and the Wheelwright Museum of the American Indian. Have lunch at the Museum Hill Cafe (try their smoked duck flautas). Nearby, The Journey's End is a massive outdoor sculpture of those who trekked along the Santa Fe Trail, and the Santa Fe Botanical Garden showcases the region's biodiversity.
8. New Mexico's History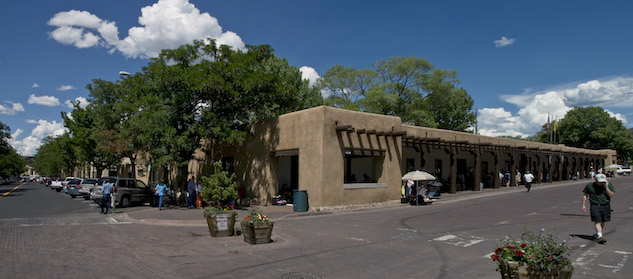 Photo by Blair Clark, Department of Cultural Affairs
Located on the Santa Fe Plaza, the New Mexico History Museum and Palace of the Governors are great sources of New Mexico's past. Built for Spain's seat of government and now as a museum and National Historic Landmark, the Palace of the Governors (pictured above) is the oldest continually used public building in the United States. This structure holds artifacts relating to different periods in Santa Fe's history, from Spanish colonization through gaining U.S. statehood. Across the way, the New Mexico History Museum delves into the state's heritage, with displays of objects and photographs following a timeline from its pre-colonial era to present day. Temporary exhibits are shown, too, such as a recent one delving into Northern New Mexico's car culture, with an emphasis on low riders.
9. Ten Thousand Waves
New Mexico is also viewed as a wellness destination, and this Japanese day spa and resort touts the therapeutics of thermal waters at its mountainside location. Guests at Ten Thousand Waves can go for a soak in various outdoor hot tubs, dip in a cold plunge pool or sit back and soak in a foot bath. Most water spots are coed, but there is a women's only communal bath. Different spa treatments and massages are available for booking. There's also an on-site izakaya restaurant specializing in small plates, and different lodging setups decorated with Japanese motifs.
---
Michele is a travel/lifestyle writer who got over her fears and picky eating habits to immerse herself in destinations as far as Fiji, to date. Her work has been featured on Yahoo Travel, ShermansTravel, Budget Travel and Epicure & Culture.