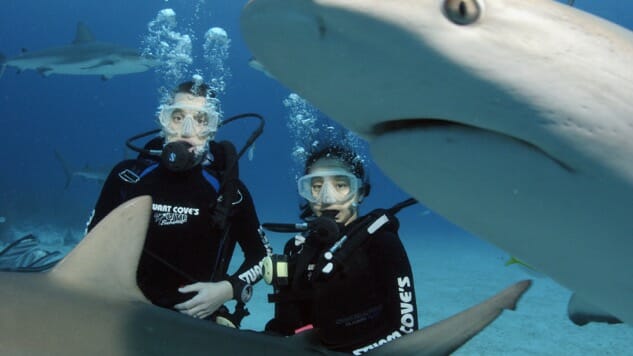 The movie Jaws traumatized me a young boy in the 1970s. Now as an adult, it was time to face my fears, but how many sharks are too many? I was about to find out.
It took me long enough, but I finally got my PADI dive certification at age 39 in Taganga, Colombia, and I intended to make full use of it when I visited Southeast Asia five months later. I dove off Koh Tao in Thailand and swam with manta rays off the Gili Islands in Indonesia, but all these underwater adventures were mere warm-ups to the big event in the shark-infested waters around Sipadan Island. I previously swam with sharks in the Galapagos Islands in Ecuador and Fernando de Noronha in Brazil, but those predators looked like minnows next to the giants roaming the Celebes Sea off Malaysian Borneo.
Sipadan, a 30-acre oceanic island in the Indo-Pacific basin, formed over thousands of years from living corals growing atop an extinct volcanic cone. Under the water, the island resembles a giant rock column shooting up nearly 2,000 feet from the seabed below. Many of the shear walls sit only 50 feet from the shore, creating stellar dive spots like the appropriately named Drop Off. The dozen or so main dive spots reportedly contain about 3,000 fish species and hundreds of coral species, but most people come to see the big fish, e.g., sharks, turtles and rays. Covered in rainforest, Sipadan became a bird sanctuary under British colonial rule, but today's main attraction is what swims below the shore, not what soars above it.
"I have seen other places like Sipadan, 45 years ago, but now no more," said legendary oceanographer Jacques Cousteau in the 1989 documentary Borneo: The Ghost of the Sea Turtle. "Now we have found an untouched piece of art."
Sipadan previously housed a few resorts, but they were relocated to nearby Mabul Island about a decade ago to protect the fragile ecosystem. A third spot is Kapalai Island—a small sandbank atop the Ligitan Reef—which houses some divers in a resort made up of little cabins on stilts above the water. The government limits Sipadan dive permits to 120 per day, and each dive company receives a certain number. I contacted various operators about a month before my proposed visit, and many were out of permits, while others required a dive in Mabul for each dive in Sipadan. I finally connected with Uncle Chang's Backpackers Resort, a lower-cost operator with hostel-like facilities on Mabul, that still had permits available. I booked six dives over two days entirely around Sipadan.
Coming in from Bali, Indonesia, I arrived late in Semporna, a city on the eastern edge of Sabah state, and a 30-minute boat ride to Mabul left a 7:30 a.m. the next morning. Upon arrival, I quickly stowed my stuff and started to get ready. I would be diving that day.
"You're going to see a bunch of turtles this morning" explained the dive master as the boat sped to our first dive spot.
We spent the first day northwest of the island at Turtle Cave, Drop Off and Barracuda Point. When I first dropped into the turquoise-colored water, I quickly gazed about, and it looked like I'd jumped straight into a fish tank.
Cousteau made Sipadan famous nearly 30 years ago with his documentary on the local sea turtles, and many large green and hawksbill turtles live and mate in the waters around the island. Expert divers can experience Turtle Cave (or Tomb), a limestone cave system about 70 feet down that contains skeletons of drowned turtles who lost their way inside. Sea turtles are an endangered species around the world, but these are some of the few waters in which they can be found in abundance.
As we explored the turtle-rich waters, we saw our fair share of sharks. Whale sharks, scalloped hammerhead sharks and manta rays reportedly visit the waters around the island, but our dive group mostly saw eagle rays and oversized reef sharks. During the second dive at Barracuda Point, however, I experienced a sight that made me completely forget about sharks.
Navigating the waters around Barracuda Point, my dive partner hit me on the shoulder and pointed ahead to an underwater mountain peak that stopped about 10 feet from the surface. All the divers from all the groups headed in that direction, and we followed. As we got closer, I looked through the greenish-blue waters in disbelief at what I had thought was a mountain. Before us, seemingly thousands of barracuda were swimming in circles creating a giant vortex maybe 50 feet high. The mountain transformed into a barracuda tornado, and our group spent the rest of the dive time fixated on this remarkable sight.
In 2012, CNN made a list of the Top 50 dive sites in the world, and Barracuda Point topped the list. "Fish stream along like traffic here, as if the streets of New Delhi have descended underwater," said the writer. "During these chaotic scenes, you may find yourself in the center of a giant barracuda tornado." Scuba Travel also put Barracuda Point at No. 1 on a similar list in June 2016.
"That was completely surreal," I said as we boarded the boat and prepared to switch tanks. The late teen manning the motor in the stern gave a knowing smile.
At night, the crew provided street cart-style food that won't delight any taste buds, and then the bar opened for business. As divers pounded cans of beer, a band set up on a makeshift stage with the young boat navigator set to handle vocals.
"There comes a time when we heed a certain call, when the world must come together as one," sang the navigator to open the set. The song sounded so familiar, but I couldn't place it just yet. "There are people dying and it's time to lend a hand to life, the greatest gift of all."
"No way," I thought to myself. "It can't be."
After a few more verses, the entire band broke into the chorus:
We are the world, we are the children.
We are the ones who make a brighter day so let's start giving.
The band opened the set with "We Are the World." For the young'uns out there, Michael Jackson and Lionel Richie (Nicole's dad) wrote this 1985 charity single performed by USA for Africa, an all-star group comprised of Jackson, Richie, Ray Charles, Bruce Springsteen, Willie Nelson, Billy Joel, Paul Simon, Stevie Wonder and several other artists.
After the surprise start, the band kicked up the energy with Chumbawamba's "I Get Knocked Down." Every single note was brutally off-key, but sitting on a rock 25 miles from Semporna, it was more than anyone could expect. Despite a heavy accent and limited English, the singer spent the next three hours banging out one English-language cover after another.
The next morning, our group set off for the east side of the island, and the most notable dive spot was South Point, a prime area for seeing large pelagic life forms. South Point sits right next to Turtle Patch, so turtles were in abundance again today, and so were the sharks. In fact, three large sharks swam right by me ignoring my presence like beautiful women in an exclusive nightclub. The reality is they were beautiful. Despite my fear of the pectoral-fin beasts, I found the sharks to be magnificent creatures to watch, and none made me feel nervous. That said, Sipadan itself is not entirely safe.
As Sipadan drew more and more divers, Indonesia and Philippines both made claims to it, requiring the International Court of Justice to confirm Malaysian ownership in late 2002. Territorial disputes, however, are not the only concerns. A Filipino separatist group kidnapped 21 people—10 tourists, 11 resort employees—from Sipadan in 2000. This past year, ransom-seeking pirates in nearby waters took three Indonesian fisherman in July and four Malaysians in April. In 2014, repeated incidents in the area led to the temporary suspension of tours to places like Sipadan, though a stronger military presence in tourist areas has since increased safety.
In the late afternoon on the second day, a boat took me and other divers back to Semporna, and I soon made my way up to Penang on the Malaysian mainland. Whether from pirates, sharks or barracuda, I never felt in danger, and Sipadan earned its place as my best ocean dive experience to date.
Photo: Dan Theurer, CC-BY
David Jenison is a Los Angeles native and the Content Editor of PROHBTD. He has covered entertainment, restaurants and travel for more than 20 years.