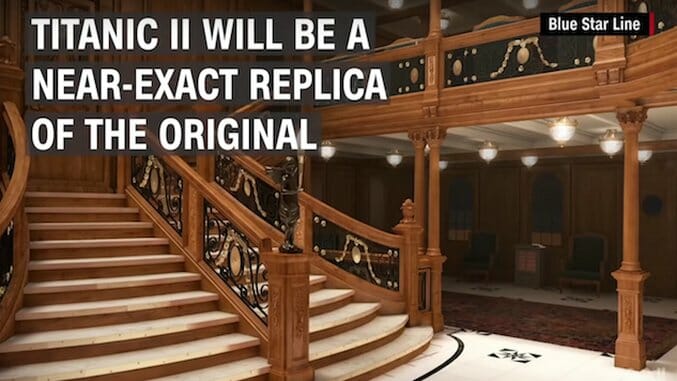 More than 100 years after sinking, the Titanic is coming back. Well, it's still technically at the bottom of the Atlantic, but an Australian billionaire has decided to recreate the luxurious line, mimicking nearly every detail, for journey from Jiangsu, China to Dubai.
Cleverly named Titanic II, the brainchild of Australian billionaire Clive Palmer—moderately
famous for the Jurassic Park-inspired dinosaur theme park that shut down last year—will be a near-exact replica of the vessel that sank in 1912. Just like the original, Titanic II will span 885 feet long, 173 meters tall, and weigh 40,000 tons. The nine floors will carry 2,400 passengers and 900 staff members in 840 cabins.
Skipping ahead to the ship's luxurious amenities, there'll be Turkish baths, an Edwardian Gym,a squash court and a small swimming pool. Let's just say this isn't your typical Carnival Cruise.
If it's anything like the real thing, First Class rooms will resemble the same rooms you saw Rose lounging in the film—though you may not be painted like a French Girl. Ornate fireplaces, marble sinks and the finest of oak paneling will all be included. Second Class cabins aim for cozy with a mahogany bunk bed and comfy sofa, and Third Class will be divided into gendered sections.
Thankfully, Titanic II won't follow the original ship's safety violations and will comply with current shipping regulations and technology, so, although The Marconi Room will look real, it won't actually be in use.
As of now, the exact date of Titanic II's maiden voyage is yet to be set—though we expect an April 10th sail date. And is there something odd about paying for a recreation that killed 1,517 people? Yeah, maybe. But once the date's confirmed, tickets will go on sale via Blue Star Line.
Tom is a travel writer, part-time hitchhiker, and he's currently trying to imitate Where in the World is Carmen Sandiego? but with more sunscreen and jorts.