Universal's Mario Kart Ride Isn't as Size-Restrictive as Reported, but Universal Still Has a Size Problem
Photo courtesy of Universal
Travel
Features
Universal Studios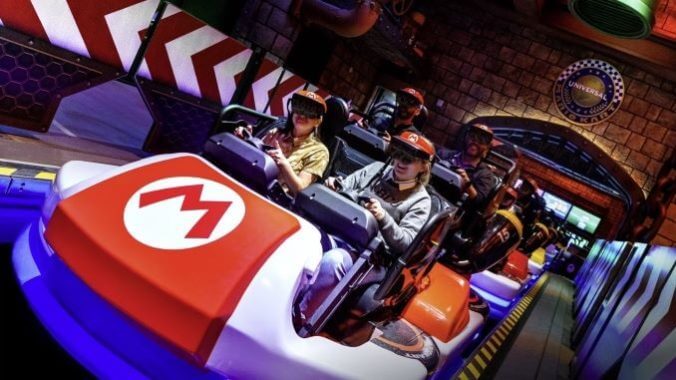 Last month, shortly before the opening of Super Nintendo World at Universal Studios Hollywood, a rash of articles claiming that people with a waistline bigger than 40 inches might not fit on the land's Mario Kart ride spread across the internet. Outlets as disparate as the AV Club, Business Insider, Gizmodo and People ran with the story, and although it was all based on a size restriction notice in Universal's official ride guidelines, it was still largely speculative. When these articles ran in late January and early February, few people had actually ridden Mario Kart: Bowser's Challenge yet and been able to put that size limit to the test.
I skipped out on that initial wave of hubbub because I wanted to see for myself how restrictive the ride was before I wrote about it. I'm significantly larger than a 40 (I'm not going to get specific, but, like, by a lot), and I had no problem fitting on the ride when I toured the land shortly before it opened. I totally expected not to fit, as Universal has a well-deserved reputation for building unnecessarily restrictive rides, but I had no problem getting the green light on the test seat at the start of the queue. (Also, that test seat is thankfully tucked away inside the queue building, so don't worry about any public embarrassment when you try it out.) And fitting on the ride vehicle itself was as quick and easy as the test seat.
If you're a bigger theme park fan you probably know some of the "tricks" you have to take to fit or make yourself more comfortable on tighter rides. Some rides have slightly larger seats at different spots on the ride vehicle, and that's true with Mario Kart; the back two seats in the four-seater cars are bigger than the front seats. Also you should push down on the lap bar as you sit down, trying to get it beneath your belly as much as you can. I didn't have to worry about that last step with Mario Kart, though, as I fit normally and comfortably without it.
Of course, I'm just one person. I have a friend who is several inches taller than me with a similarly shaped body and they weren't able to ride it. Height is just as important as weight when it comes to these kinds of size limitations, so if you're both big and tall you might miss out on Mario Kart. Given how mild the ride experience is (despite being based on an action-packed game about go kart racing, it's a slow-moving dark ride that's about as tame as anything at Fantasyland), it should be accessible to all but the most extreme body types, and it's a shame that isn't the case.
Still, that early uproar about the 40 inch size restriction ultimately turned out to be a big to-do about nothing. Obviously bodies come in all shapes and sizes, but I'd be surprised if all that many people between a 40 and my size couldn't fit. This was a (mostly) false alarm that could've been avoided if people had waited until the land was open to write about it, and if Universal hadn't been overly cautious and conservative in its ride guidelines.
As somebody who has written about Universal's lackluster track record with size issues before, it's frustrating and disappointing that this particular case got so much mainstream attention. Universal genuinely does have an established problem with making overly restrictive rides, and this kind of "boy who cried wolf" scenario could make people write off any similar complaints, no matter how warranted they are. The last new ride they opened at Universal Hollywood, based on The Secret Life of Pets movies, is another slow-moving dark ride made for all ages, and it's infamous for not accommodating bigger guests. (I can't ride that one.) Ride types that I almost always fit on at other parks, from dark rides to log flumes, can't accommodate me at Universal. Most of the Harry Potter rides are a tough fit, as well; the only two I've ever been able to ride are the family coaster Flight of the Hippogriff and Escape from Gringotts, which I can't fit on anymore after a recent, uh, growth spurt. Yes, Hagrid-sized people can't ride the Hagrid coaster. Obviously some of that is due to safety issues, and I wouldn't necessarily expect to fit on something as extreme as the Velocicoaster. But compare that to Universal's biggest competition: There's not a single ride at Disney World that I can't fit on, including their most extreme roller coasters. It's hard to visit a Universal theme park as a big person and not feel like the company just doesn't care to make its rides more accessible for us.
Given that history, it is a surprise that Mario Kart: Bowser's Challenge isn't nearly as restrictive as so many websites told us it was last month. I hope that fact doesn't discredit the very real and justified complaints about Universal's serious size problems, though. Universal needs to be less apathetic about this issue, and media outlets need to show a little more restraint and diligence when writing about it so that they don't undermine all the legitimate criticism.
---
Senior editor Garrett Martin writes about videogames, comedy, travel, theme parks, wrestling, and anything else that gets in his way. He's on Twitter @grmartin.