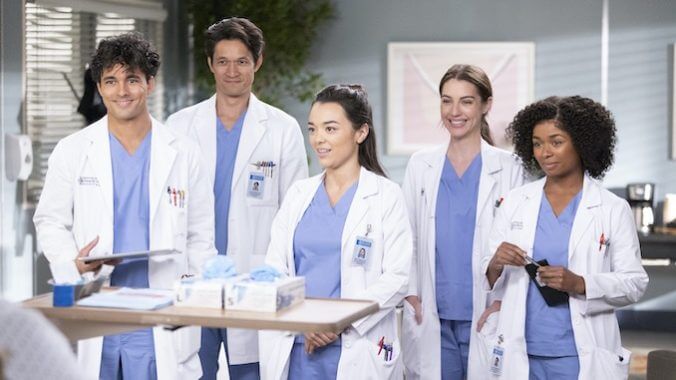 Per my extensive research (okay I spent like 15 minutes on Google), the following shows have had their series finale and been revived (defined as actors returning to reprise their roles) since March 27, 2005:
Veronica Mars
iCarly
Gilmore Girls
24
Prison Break
Heroes
Arrested Development
Will & Grace
Criminal Minds
Party Down
Dexter
And here, the following shows have had their series finale and been rebooted (same premise, brand new actors) since March 27, 2005:
Charmed
American Idol
Gossip Girl
Queer Eye
Why is March 27, 2005 so significant? I'm so glad you asked. That's the day ABC's Grey's Anatomy premiered almost 18 years ago. By my rough (and definitely not scientific) count, 16 (!!) shows have ended their run only to be rebooted or revived while Grey's Anatomy, now in its 19th season, has remained on the air. Your favorite show could never.
It occurred to me two weeks ago when Ellen Pompeo, who plays the angsty title character Meredith Grey, departed the series that Grey's Anatomy is living its reboot and its revival in real time. The show has been on for nearly two decades. Characters have come and gone and then come back again (Hi Teddy! Hi Addison!) Many, many (soooooo many) have departed the series in a body bag (McDreamy, McSteamy, George, Lexie, Dr. DeLuca… to name just a few of the devastating losses), others have departed completely bizarrely (Alex Karev's departure remains the weirdest hour of television ever), while a few have actually gotten happy endings (you go Cristina Yang).
Pompeo left the series that made her a star without even the slightest of bang: Quietly taking off to Boston and leaving Ben from Felicity in her wake. (I know Scott Speedman's character's name is Nick but he will always be Ben from Felicity to me. My dissertation comparing and contrasting Felicity moving across the country for Ben versus Meredith moving across the country away from Ben is clearly an essay for another time). Never a show to want Meredith to be too happy (I've lost count of how many times she's almost died), in her final surgery at Grey Sloan Memorial, Meredith lost a patient. "I thought for sure I was going to go out on a high," she says. Um, has she even been watching the series over the 18 years?
People love to make snarky comments about Grey's whenever a big event like Pompeo leaving the series occurs. Cue the litany of "Is that show still on" remarks. Yes, that show is still on and still going strong, thank you very much. Consider the evidence that Grey's Anatomy didn't even have to go off the air to be rebooted:
New class of interns: Over the years, Grey's Anatomy has had a revolving door of new interns weaving in and out of the seasons. But this year's crop felt different. To start, they joined the show as series regulars (even appearing in all the Season 19 promo art) and there are five of them, just like the original fab five back in 2005.  And you can almost draw a direct line from the new characters to the show's original ones. Cocky Dr. Benson Kwan (Harry Shum, Jr.) is the new Alex Karev (Justin Chambers). The competitive and self-assured Dr. Mika Yasuda (Midori Francis) is the new Christina Yang (Sandra Oh). Like Meredith Grey, Dr. Simone Griffith (Alexis Floyd) is dealing with a loved one with Alzheimer's disease. Dr. Lucas Adams (Niko Terho) is sweet like George (T.R. Knight) and also is Derek and Amelia's nephew. Jules Millin (Adelaide Kane) comes from a fractured childhood just like Izzy (Katherine Heigel).
Same setting, new characters: In a full circle moment, Lucas, Jules and Simone all move into Meredith Grey's house which, over the years, has housed many a character who has inexplicably chosen to live in a youth hostel-type situation. It literally took a fire to get Maggie (Kelly McCreary) and Amelia (Caterina Scorsone) to move out.
New Romance: Simone and Lucas are already embarking on an angst-filled romance. Last week they made out in the hospital elevator after Simone lost a patient. That's Grey's Anatomy love language. Next stop, a supply room closet or the on call room. Why have sex in a bed in your home when it can be at the hospital when anyone can walk in at any moment?
Legacy characters are there for continuation: Now that Pompeo has departed the series, the only two remaining original characters are Dr. Miranda Bailey (Chandra Wilson) and Dr. Richard Weber (James Pickens, Jr.). They are the matriarch and patriarch of the series, there to remind viewers of where the show has been and where it's going.
Voice Over Narration: Just like Kristen Bell returned to lend her narration to HBO Max's Gossip Girl reboot, Meredith's trademark pearls of wisdom were back last week, in the first new episode since Meredith left for Boston. So even though she's far away, her presence is still very much felt at Grey Sloan Memorial.
Envelope-Pushing Storylines: Grey's Anatomy has never shied away from difficult or controversial topics. The show tackled the COVID-19 pandemic head-on in its 17th season. The drama featured same-sex relationships and nonbinary and transgendered characters long before other series did. The show has had several abortion story lines over the seasons, but last week Jo (Camilla Luddington) performed an abortion on a character in real time in an accurate way. The patient's husband was on the phone with her the whole time, and the storyline was groundbreaking not just because of the detail shown, but also because of how straightforward and matter-of-fact the whole thing was.
The Show Can Still Break Our Hearts: In the first episode since Meredith left, Linc (Chris Carmack) performed knee surgery for a torn ACL on a 22-year-old Seattle Seahawks player Jermaine Talbott (guest star Catfish Jean) known as The Tank. The surgery goes well, but then the Tank develops a pulmonary embolism and dies despite Linc's efforts to save him. Linc is devastated as the press accuses him of killing Tank. The ability to make viewers care so deeply about a character we just met is Grey's Anatomy 101. Embroiling Linc in a devastating loss that may have legal repercussions is the AP Grey's Anatomy course. The more things change the more they stay the same.
Will Grey's be okay without its title character? I think so. If you've left the series, consider coming back for the reboot. On Grey's Anatomy it remains a beautiful day to save lives and it will feel like you never left.
---
Amy Amatangelo, the TV Gal®, is a Boston-based freelance writer and a member of the Television Critics Association. She wasn't allowed to watch much TV as a child and now her parents have to live with this as her career. You can follow her on Twitter (@AmyTVGal).
For all the latest TV news, reviews, lists and features, follow @Paste_TV.