AEW and TNT Extend Dynamite Through 2023, with a Second TV Show on the Way
Photo by Lee South, courtesy of AEW.
TV
News
All Elite Wrestling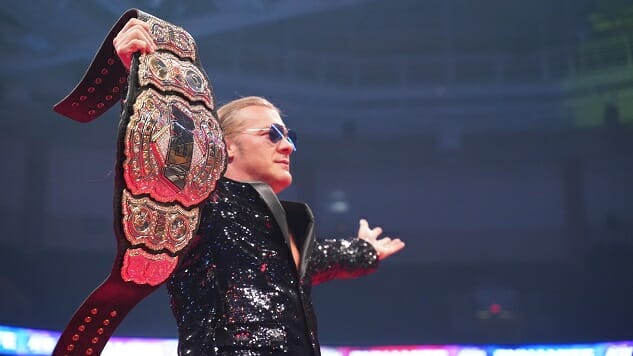 All Elite Wrestling and Warner Media announced some big news this afternoon. AEW Dynamite, the new wrestling league's flagship show, has been extended by TNT through 2023. Also a second AEW show has been greenlit for a Warner Media outlet. It's a massive vote of confidence for the fledgling wrestling promotion, which holds a special "Bash at the Beach" episode of its weekly TNT show tonight.
Warner Media's press release didn't disclose terms of the deal, but it did tout AEW's successes so far. Yes, it's a "top 20 new cable unscripted series." Yes, it has reached "nearly 32 million people across all platforms" since Dynamite debuted in October. It also averages over a million viewers a week when you factor in DVRs and does a better rating with the most important 18-49 demographic than other wrestling shows. It can't match the live ratings that WWE's two major shows, Raw and Smackdown, get, but Dynamite has beaten its direct competition, WWE's NXT program on USA, almost every week since they started going head-to-head against each other.
Dave Meltzer of the Wrestling Observer revealed some more terms of the deal. Warner will be paying a little bit less than $45 million a year for the show, with the full four-year package weighing in at $175 million. Warner will also have an option to renew in 2024 at an increased rate. The second Warner program that's been greenlit will be an hour, and will taped on Wednesday nights before or after the live Dynamite program. It's not yet known which Warner channel the new show will air on. AEW already tapes matches on Wednesday for an online-only show called AEW Dark; that will continue to air on YouTube and the new TV show will be something else.
AEW, whose top stars include Chris Jericho, Cody Rhodes, Jon Moxley (the former Dean Ambrose), Kenny Omega, and more, has been a hit with wrestling fans because of its combination of the old and the new. Unlike WWE, it lets wrestlers have freedom in how they deliver their promos, not forcing them to remember and recite scripts crafted by a room full of writers. It also features some of the most cutting edge wrestling you'll see on TV today, with wrestlers like Omega, the Young Bucks, Pentagon Jr., Fenix, and many more showing off the kind of blazingly fast, daredevil style that made them all such huge draws in independent promotions and internationally over the last few years.
Tony Khan, AEW's president and CEO, obviously has nothing but praise for his TV partner in the press release. "When we launched AEW one year ago, we wanted to start a revolution that would disrupt the wrestling business, but everyone said that it would take a strong weekly television partner to make AEW real in the eyes of everyone – above all, the fans," he's quoted as saying. "What virtually no one realized at the time was Kevin Reilly and TNT were committed to this very same movement from Day One, and their belief in us made it possible for AEW to think and act big from the start. Here we are, only three months into Wednesday Night Dynamite, and now we've been extended through 2023! We're now making the ultimate statement that the team of AEW and TNT is here to stay and to bring fans more of the great wrestling that the fans demand and deserve."
For more on All Elite Wrestling, watch our interview with AEW wrestler and Executive Vice President Cody Rhodes.