When it comes to streaming anime, there are much better options than Netflix. Crunchyroll is heavily focused on anime and often streams subtitled series shortly after they air in Japan. Meanwhile, Hulu is home to the Neon Alley channel, which features a lot of what you can find on Netflix and then some. It's also where TMS Entertainment streams its offerings, including classics like The Rose of Versailles and Lupin the 3rd. Still, Netflix subscribers have access to some really good time-sucks. A few of the shows from Paste's 2013 list, like Samurai Champloo and Mushi-Shi, are still available for streaming, but 10 of these anime programs are brand new to the list.
12. Psycho-Pass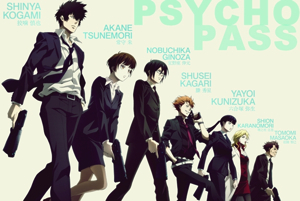 Year: 2012
If you're a sci-fi junkie, click on Psycho-Pass and scroll through the episodes. The plot has a similarity to Minority Report in that it imagines a future where law enforcement intervenes before the crime actually happens. In Psycho-Pass, this is possible because of technology that determines whether or not someone is capable of committing a crime, allowing the police to eliminate potential criminals. In an age where public safety and civil liberties seem to be at odds with each other, this is an incredibly relevant anime. A second season was released in Japan last year, but hasn't made it to Netflix yet.
11. Nana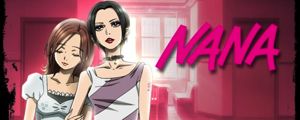 Year: 2006
Creator: Ai Yazawa
The manga is really the best way to go when it comes to Nana, but the anime is worthy of your time too. Unlike a lot of the anime series that become possible in the U.S., there's no sci-fi or fantasy-style action in Nana. It's a comedy-drama about two young women with the same name, but vastly different personalities. One is determined to make it as a rock star. The other is unsure of what she wants in life. They meet each other by chance on a train and, in another weird twist of fate, become roommates after they relocate to Tokyo. The series recalls their lives before they both moved to the big city and follows them as their friendship evolves. It's a very touching and compelling story about the struggles that these young women encounter as they try to live life on their own terms.
10. Attack on Titan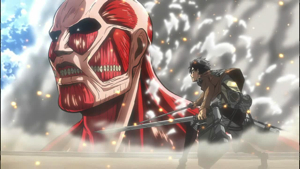 Year: 2013
Creator: Hajime Isayama
Attack on Titan is the hit anime of recent years, one that's managed to suck in a lot of fans who aren't necessarily anime watchers. The premise is fairly simple, a village faces a threat from giants and a team of crack fighters must step up for a near impossible battle. This is no ordinary David and Goliath story, though. There is a serious twist in this frightening battle. The story is engaging from the start, but once the reveal comes, you'll understand why people are so obsessed with Attack on Titan.
9. Bleach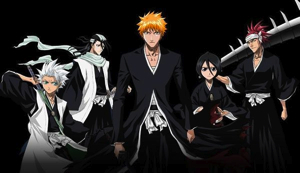 Year: 2005
Creator: Tite Kubo
Sometime after Cowboy Bebop and well before Attack on Titan, Bleach was the runaway hit anime series in the U.S. For years, you couldn't go to an anime convention without seeing throngs of people in Soul Reaper robes. On the off-chance that you never caught this show, head over to Netflix and see what happens when a high schooler inadvertently ends up filling in as a Soul Reaper, someone who links together the worlds of the living and the dead. The action becomes more heated when said teenager's friends start exhibiting unusual abilities that help them deal with supernatural forces.
8. Mushi-shi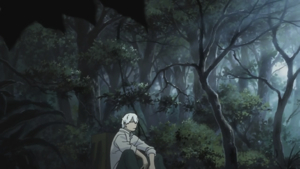 Year: 2005
Creator: Yuki Urushibara
In contrast to almost all other television anime, Mushi-Shi trades frenetic action and slapstick comedy in for a languorous, thoughtful tone. Feeling at times like it was made by a more adult-centric Hayao Miyazaki, the almost plotless show drifts through scenic worlds and places emphasis on atmosphere and theme. While certainly an acquired taste, the show's maturity makes it stand out amongst a sea of anime targeted at adolescents.—Sean Gandert
7. Eureka Seven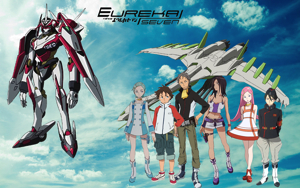 Year: 2005
Creator: Tomoki Kyoda
The music geek in me can't resist Eureka Seven, where the references to song titles and musicians are plenty. For starters, the protagonist, Renton, is the son of a hero named Adrock, who, in this instance, is not a Beastie Boy. More than that, though, Eureka Seven was an incredibly hip sci-fi series for its time, where giant robots and surfboards meet. In other respects, though, it's a fairly conventional story, where a young boy with a tragic family history is discouraged from pursuing his dreams. Consequently, he's bored and filled with angst until an unusual turn of events thrust him into hero mode.
6. Fullmetal Alchemist: Brotherhood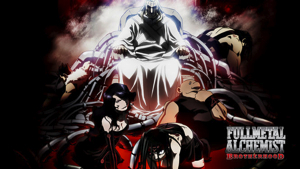 Year: 2010
Back in 2013, Fullmetal Alchemist made the list of top anime series on Netflix. That's still available via streaming, but, now, we're suggesting that you add Brotherhood to your queue as well. This is a reboot rather than a sequel and it's one that aims closer to the manga source material. The essence of the story is that two boys attempt to bring their mother back from the dead and, in the process, lose huge chunks of their physical selves. That leads them on the road in search of The Philosopher's Stone.
5. Puella Magi Madoka Magica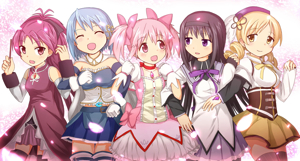 Year: 2011
Creator: Akiyuki Shinbo
Known amongst fans simply as Madoka, which is also the name of the show's lead character, this dark tale focuses "magical girls," the anime fan lingo for young women with superheroic powers. However, this is not your average heroes-save-the-day show. In fact, it can be quite tragic. Madoka focuses on the turmoil that unfolds when the girls sacrifice more than they expect taking on their roles and world-savers. Meanwhile, one girl struggles to decide whether or not she too should agree to enter the magical girl life. With only 12 episodes, this is a perfect series for a one-day marathon. Make sure to check out the related films, also on Netflix, when you're done.
4. Samurai Champloo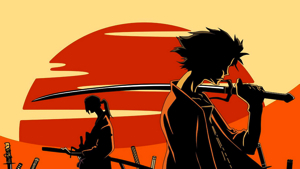 Year: 2004
Creator: Shinichiro Watanabe
While the show never reaches the heights of Shinchiro Watanabe's masterpieces Macross Plus and Cowboy Bebop, Samurai Champloo still has its creator's magic touch. Its set-up, following the adventures of an Odd Couple-esque pairing of samurais, may be a bit cliched. However, Watanabe's voice and impressive style always rises above the material and its takes on classic stories are beautifully realized. A wonderful introduction to anime for the curious.—S.G.
3. Gurren Lagann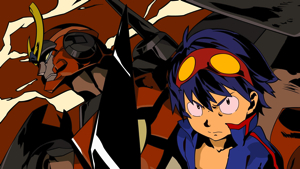 Year: 2007
Creator: Kazuki Nakashima
Anime studio Gainax mastered the art of the giant robot-heavy action series. Back in the 1990s, they were responsible for the now-classic franchise Neon Genesis Evangelion. Around the turn of the century, they hit big again with the bizarre action-comedy FLCL. Unfortunately, neither of those is currently streaming on Netflix. However, Gurren Lagann, the studio's 2007 series, is and you should watch it. The adventures start underground when Simon, a young teen in an earthquake-plagued community, discovers unusual technology. Along with his overconfident pal Kamina and a brave, young woman named Yoko, Simon embarks on an adventure.
2. InuYasha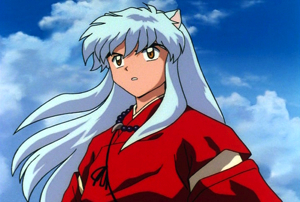 Year: 2001
Creator: Rumiko Takahashi
A demon-heavy time-travel saga, InuYasha is a beloved, and lengthy, series based on the manga by Rumiko Takahashi (Ranma 1/2, Urusei Yatsura). Kagome Higurashi's life takes a weird turn when the teenager falls down a well and ends up in the Warring States period of Japan, where she encounters half-demon Inuyasha. As she goes back and forth between the modern world and the past, Kagome learns a lot about who she is while encountering a host of unusual characters and some frightening battles. InuYasha mixes a lot of different elements, from its beginning as a Wonderland-style adventure through its evolution as a romantic comedy-meets-action series.
1. Death Note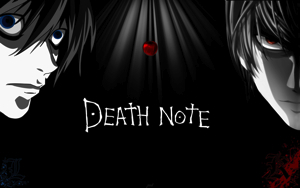 Year: 2006
Creators: Tsugumi Ohba, Takeshi Obata
This supernatural thriller is a must-see for anyone with a passing interest in anime. In Death Note, a student named Light Yagami comes into possession of a notebook with the power to bring death upon anyone whose name is written in it. Light decides to use this book for what he thinks is a great purpose—ridding the world of terrible people—but his actions have consequences. If you're a Dexter fan, you will probably get sucked into Death Note quickly. Even if you aren't, this cat-and-mouse series is highly addictive.