BoJack Horseman's Series Finale Is Perfect Messy Beauty
The Netflix comedy doesn't have any easy answers, nor should it.
Photo Courtesy of Netflix
TV
Features
BoJack Horseman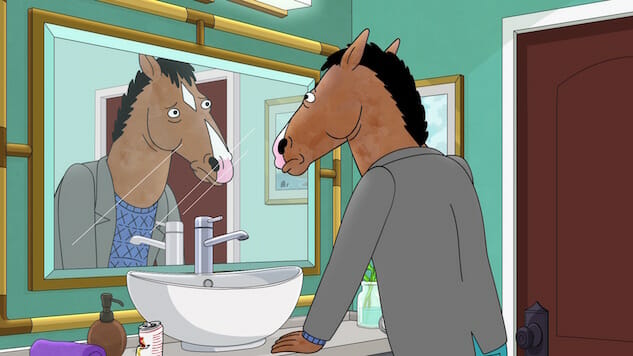 [Note: Spoilers follow for BoJack Horseman through the series finale.]
It's time to say goodbye to Netflix's BoJack Horseman, and wow, what wacky adventures we've had with this cartoon horse, huh? So many shenanigans! Like the time he stole the D from the Hollywood sign, and the time he and his pals snuck into the Nixon Presidential Library to shoot a scene for a movie, and the time he nearly slept with the 17-year-old daughter of a longtime friend, and took a young woman on a bender that led to her dying of a heroin overdose, and traumatized his co-star by choking her on set while high out of his mind…
Watching and loving this show about the misdeeds of a former sitcom star who happens to be a cartoon horse has never been an easy experience. The animal puns, the clever rhymes, the savage moments of Hollywood satire—they've always been this show's brightly-colored surface, a seductive cover for one of TV's most raw shows about isolation and loneliness, and how those things can feed the darkness within us all.
Like all stories which set out to examine the morality of mortality, the ending was always going to be essential to really judging the series as a whole (which is why the choice to split the final season into two parts; was so frustrating). BoJack dying would have been easy. BoJack finding real redemption would have been easy. But BoJack Horseman has never been a show about the easy path—and when a character tries to take the easy path, it's always a cautionary tale. So it's to creator Raphael Bob-Waksberg's credit that the series chooses an ending that feels incomplete, that brings with it some catharsis but plenty of untied threads. It's a bit of a mess, but a mess that feels awfully appropriate.
When the second half of the season begins, a sober BoJack is hoping for yet another fresh start as a professor at Wesleyan, with the mantra of "acting is about leaving everything behind and becoming something new." But while he actually proves to be a pretty good teacher, that fresh start proves to be shortlived, because the first eight episodes of Season 6 were all about teeing up what has always been a relatively unavoidable comuppance for BoJack — one clearly inspired by the waves of stories about Bad Men that have made us look differently at formerly beloved media figures, from the undeniably grotesque like Harvey Weinstein to the "questionable" like Morgan Freeman or James Franco.
Thus, the final episodes first focus on putting BoJack on trial in the court of public opinion, which is of course a pretty unforgiving place: a print exposé followed by one very good TV interview and one very bad TV interview end up revealing some (but not all) of BoJack's ugliest moments to the world, eventually leading to the horse from Horsin' Around abandoning his sobriety and maybe, for once, hitting real true rock bottom.
Like many seasons of BoJack, the penultimate episode of Season 6 is the really heavy one. The actual finale, "Nice While It Lasted," isn't exactly a romp, but it doesn't feature a bleak confrontation with the uncertainty of the afterlife. "The View from Halfway Down," a sequel to BoJack's Season 5 hallucination (even bringing back the Elijah Aron and Jesse Novak-penned "Don't Stop Dancing 'Til The Curtains Fall"), is so close to All That Jazz that it's shocking the often self-referential writing didn't namedrop it—though there are two good reasons why it doesn't. First, Bob Fosse's "Bye Bye Life" finale is a celebration for his irredeemable protagonist, not a far more bittersweet confrontation of his mortality. Secondly, Joe Gideon dies at the end of All That Jazz, and BoJack, miraculously, lives.
The question of whether or not BoJack can be redeemed is no longer a real question. However, unlike, say, the recent final season of The Affair, which also found itself examining ultimately "canceled" protagonist Noah Solloway for seasons of mistreating women, BoJack doesn't ignore the reality that we now face in 2020: That real cancellation rarely lasts. Sometimes, it's because people love a comeback story. Sometimes, it's because people do sometimes achieve real growth.
Especially given what came before, the final end of BoJack's story isn't that intense an ending: One bad night, one near-death experience, and finally some consequences he can't truly avoid. As far as we know, he has yet to reconnect with his half-sister; the relationships he never valued as much as he should have are in tatters. (Princess Caroline might have gotten him out of jail to attend her wedding, but when she calmly tells him that if he needs future representation, she can "recommend some excellent people" says it all.)
When a Netflix series ends, the why of that decision sometimes feels nebulous, but despite the loose ends there's a finality to these final episodes that is much appreciated: This was a clearly planned conclusion for the series, with an expanded order of episodes in the final season to help the writers finish telling this story.
That said, ever since I finished watching the finale, I've been trying to figure out if the ending came too soon and if there was another season of story left in this show. There are, after all, characters who feel shortchanged to some degree by the final episodes, which aren't just focused on BoJack, with other characters largely only seen through his specific prism. BoJack gets some degree of emotional closure with Todd, Princess Caroline, and Diane. But there are plenty of others, most especially Hollyhock, who feel a little lost.
But there's perfection in those imperfections, a bravery in leaving behind some mess. And that's really the thing: when a show like this ends, the question often becomes what did it leave behind? In the case of BoJack, it won't be hard to remember the punnery and wit, the beautiful art design, or Character Actress Margo Martindale. But hopefully, its lasting legacy is the way it changed how we approach the genre of animation, and how it challenged us to really, really look at ourselves—to see the ugliness within, as well as the beauty, and acknowledge them as two sides of the same coin.
---
Liz Shannon Miller is a Los Angeles-based writer and editor, and has been talking about television on the Internet since the very beginnings of the Internet. She recently spent five years as TV Editor at Indiewire, and her work has also been published by The New York Times, Vulture, Variety, the AV Club, the Hollywood Reporter, IGN, The Verge, and Thought Catalog. She is also a produced playwright, a host of podcasts, and a repository of "X-Files" trivia. Follow her on Twitter at @lizlet.
For all the latest TV news, reviews, lists and features, follow @Paste_TV.