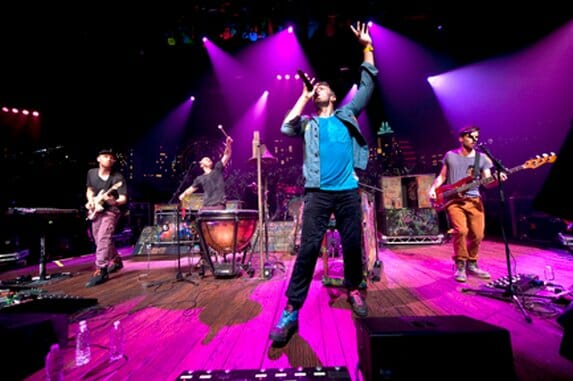 Once again, the networks will be broadcasting their typical New Year's Eve fare—movie marathons, cooking show marathons and, of course, Times Square marathons (including the we're-still-so-cool-we-can-leave-off-the-G Dick Clark's New Year's Rockin' Eve). But, thanks to PBS, there's now a welcome option. For the first time in its 36-year history, Austin City Limits hosts a New Year's Eve concert, with Coldplay being the one and only performers during the 90-minute special. The band gives its usual soaring and convincingly earnest performance with Chris Martin singing his little angst-filled heart out on songs like "Yellow" and "The Scientist."
It's just one of many "firsts" this season for the longest-running live music series on television. Earlier this year the show left its home in Studio 6A at The University of Texas for the roomier and more technologically advanced Austin City Limits at the Moody Theater in downtown Austin. Executive producer Terry Lickona felt that Coldplay was perfect for the New Year's celebration. "It'll be a great way to kick off 2012!" The band even brings their own multi-colored neon stage set supported by the infamous Austin skyline backdrop.
Many of the show's tunes are from the band's new album, Mylo Xyloto. Martin gives a sort of fuzzy wuzzy description of its title: "We just wanted to give ourselves a fresh start…okay, let's invent some words." But it's the band's standard, reliable show that attracts fans, even though, as guitarist Jonny Buckland puts it, "We are not the best musicians in the world by any stretch of the imagination." However, a Coldplay performance is always infectious, and the tight band relationship is evident on stage and in the pre-show interviews. "We feel very lucky to have each other," says Buckland. "If that changed, we would stop," confirms Martin. "We'd have to. 100 percent."
Their closeness lures the audience into their intimate circle, even while this particular show feels bigger than the average ACL program. It is partly because of the "largeness" of the band's performance, but also because of the audience's participation and the wide shots of same as they sing along with Coldplay's now-established catalog. On "Viva La Vida" for example, Martin simply plays a few notes, and the crowd immediately sings its contagious incantation.
So uncork the champagne and turn up the TV. How often do you get to ring in the New Year with Coldplay leading the countdown?
Coldplay New Year's Eve will air on PBS tonight at 11 p.m. EST/PST and stream online at pbs.org.