Downton Abbey Movie Sequel Set for Christmas 2021 with Original Cast Returning
Photo Courtesy of Focus Features
Movies
News
downtown abbey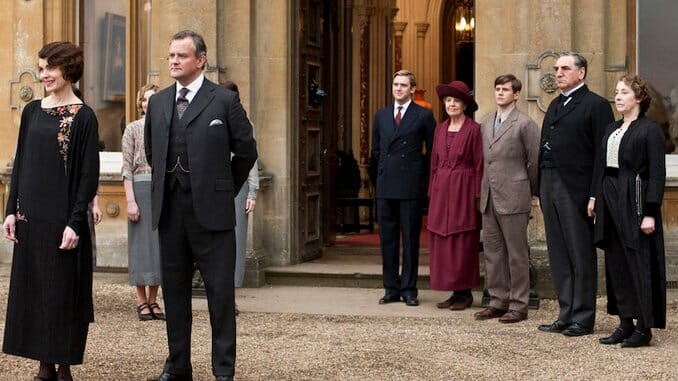 We won't get an Avengers team-up in 2021, but we will get a Downton Abbey movie sequel, which is pretty much the same thing for fans of period pieces and Anglophiles in general. The juggernaut TV series' first film follow-up premiered in September of 2019, and was a joyous reunion for our favorite characters. It was fun, silly, emotional, impeccably clothed—basically, all of the hallmarks of what made Downton (for the most part) such a satisfying watch.
According to Variety, the movie sequel (currently called "Downton Abbey 2") will have a theatrical release on Christmas of 2021. Creator Julian Fellowes will again pen the story, with Simon Curtis (My Week with Marilyn) directing. There's no sense of what the story might entail this time, but we do know there will be a bevy of new cast members, including Hugh Dancy (Hannibal), Laura Haddock (Guardians of the Galaxy), Nathalie Baye (Catch Me If You Can) and Dominic West (The Wire). And really, does the plot matter? To quote Barrow, "like it or lump it."
Producer Gareth Neame of Carnival Films said of the project, "After a very challenging year with so many of us separated from family and friends, it is a huge comfort to think that better times are ahead and that next Christmas we will be reunited with the much beloved characters of Downton Abbey."
Focus Features chairman Peter Kujawski also commented that, "There's no place like home for the holidays, and we can't imagine a better gift than getting to reunite with Julian, Gareth, and the entire Downton family in 2021 to bring the Crawley's back home for their fans."
---
Allison Keene is the TV Editor of
 Paste Magazine.
For more television talk, pop culture chat and general japery, you can follow her @keeneTV