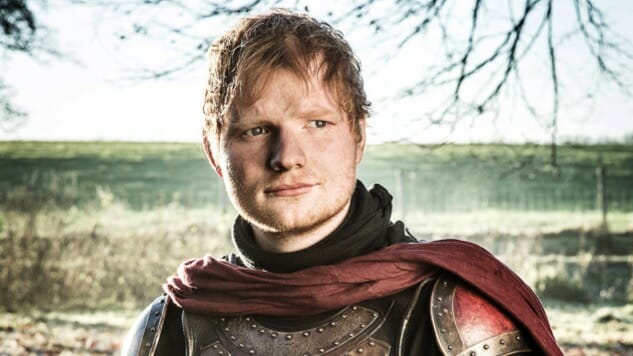 Game of Thrones recently returned to TV for the first time in over a year, and the show's season seven premiere, "Dragonstone," has been the talk of the interwebs all week long. One particularly noteworthy element of the episode was a cameo from famed pop singer-songwriter Ed Sheeran, whose brief (if conspicuous) appearance on the show drew so much vitriol from fans online that Sheeran actually quit Twitter.
"Dragonstone" director Jeremy Podeswa, however, spoke out in defense of Sheeran's cameo on Tuesday, telling Newsweek, "I think Ed did a lovely job—he's a lovely actor and a lovely person." Podeswa reasoned that viewers were likely upset by Sheeran's appearance simply because of his star power—that they were "bringing so much of his [superstar] presence into the thing."
"He was appropriate for the part because he needed to sing," the director argued. "If people didn't know who Ed was, they wouldn't have thought about it twice. The hoo-ha seems to be from things that are outside of the world of the show. In the world of the show he did a lovely job, and he looks like he belongs in that world." Podeswa has a point there, actually—Sheeran does have a certain Westerosi look about him.
Lastly, Podeswa pointed out that Sheeran is "a gigantic fan of the show" and said he felt for the singer in the wake of the backlash. "The only thing I don't feel great about is that Ed is such a lovely guy and really genuine and down to earth," the director said. "He came into this with only lovely intentions to come and do a good job and sing well. So I think that's the only drag."
For his part, Sheeran seems relatively unfazed by all this. Though the musician did temporarily delete his Twitter—the bio has since been changed to reflect that he "[doesn't] use this anymore"—he maintains that was already the plan before he was deluged by angry Game of Thrones fans. "I came off Twitter Coz I was always intending to come off Twitter, had nothing to do with what people said about my game of thrones cameo, because I am in game of thrones, why the hell would I worry what people thought about that," Sheeran wrote in an Instagram post. "It's clearly fuckin' awesome. Timing was just a coincidence, but believe what you want. "
Podeswa will return to direct the show's season seven finale, making that his sixth episode of the series—the HBO veteran also directed "Kill the Boy" and "Unbowed, Unbent, Unbroken" in 2015, and "The Red Woman" and "Home" in 2016. The Podeswa-helmed "Dragonstone" was HBO's most-watched season premiere of all time.
Watch Sheeran's "Dragonstone" cameo here, and find our review of the season premiere here. Game of Thrones returns with this Sunday, July 23, with another new episode: "Stormborn," directed by Mark Mylod. Watch a preview below.