Prepare Yourself for the Final Episode of Game of Thrones with HBO's New Photos
Photo via HBO
TV
News
Game of Thrones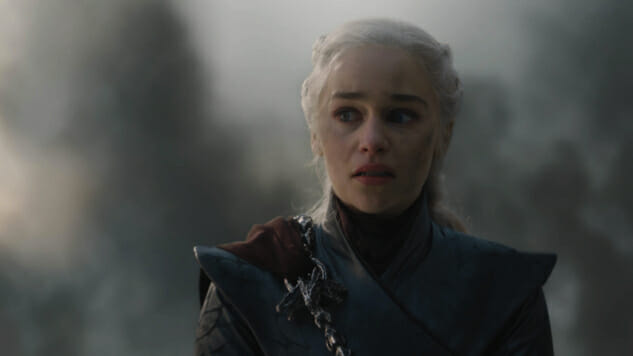 The series finale of Game of Thrones is close at hand, which comes as either an enormous bummer or a badly needed relief, depending on your stance on the ubiquitous HBO blockbuster's last season. Critical opinions have varied wildly across the pop-culture-verse, with David Benioff and D.B. Weiss shouldering the bulk of the blame for the narrative shortcuts taken in the show's truncated endgame, but one thing is certain: Game of Thrones is going to leave quite a void behind, and its finale, whether you're longing for that last cut to credits or not, represents the end of an era.
As befitting the momentousness of this weekend's forthcoming, 80-minute series finale, we're here to share HBO's first-look photos from the episode—the last time we'll ever get to do so. These photos never reveal much, and this batch—a set of only two (compared to the usual half dozen or so), as HBO is unsurprisingly opting to show us as little of the Benioff- and Weiss-directed finale as possible—is no exception. All we're made privy to is the newly crowned Mad Queen Daenerys (Emilia Clarke) overlooking what's left of King's Landing, and an utterly defeated Tyrion (Peter Dinklage), whose misplaced faith in Dany resulted in the violent deaths of thousands.
"The Bells" was a bitter pill to swallow regardless of if you felt its plot developments were well-delivered, but the penultimate episode of the series attracted a record 18.4 million viewers, handily topping the previous record of 17.8 million set by "The Long Night." (Both episodes were directed by Emmy winner Miguel Sapochnik, who will all but certainly be remembered as the best director in the series' history.) We have to imagine that record will be broken yet again come Sunday, May 19, when the final Game of Thrones episode airs at 9 p.m. on HBO.
Preview the series finale below.