These New Game of Thrones Photos Reveal Absolutely Nothing About Season Eight
But you're going to look at them anyway, aren't you?
Photos by Helen Sloane/HBO
TV
News
Game of Thrones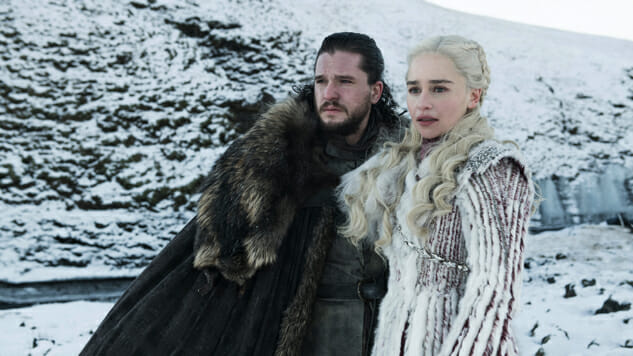 HBO is playing the final season of Game of Thrones insanely close to its collective chest, but they're still obliged to hype the damn thing. That's why a new batch of photos from the show's eighth installment, unveiled Wednesday ahead of the epic's April 14 return, are about as revealing as a nun's (or septa's, for you true Thrones geeks) habit.
That shot up top of Jon Snow (Kit Harington) and Daenerys Targaryen (Emilia Clarke) is actually the most interesting one, by virtue of the fact that they're both clearly looking at something in it—the ruins of Eastwatch and the Wall, perhaps? The others, which you can see down below, are maddeningly inscrutable. Beyond one of Cersei wearing some badass royal armor (a wartime queen, that one), the photos essentially just say, "Remember these characters? Of course you do. And you're gonna watch 'em all die, too. We're HBO and we own you. Bark like a dog."
See for yourself down below—or don't! You can avert your eyes at any moment! Be free!—and brush up on everything we know about Game of Thrones' grand finale so far right here.