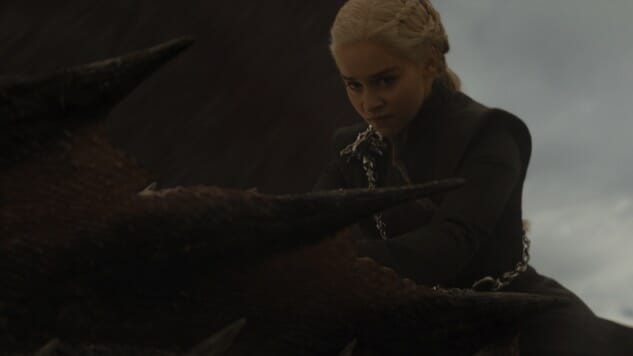 At this point, HBO leaks are a fact of life, like the sky being blue and our president being a pile of human garbage. And for the second time this month, a Game of Thrones episode has been released online ahead of its air date. An HBO Europe spokesperson acknowledged the leak in a statement, per THR, describing it as "brief":
We have learned that the upcoming episode of Game of Thrones was accidentally posted for a brief time on the HBO Nordic and HBO Espana platforms. The error appears to have originated with a third-party vendor and the episode was removed as soon as it was recognized. This is not connected to the recent cyber incident at HBO in the U.S.
Despite HBO's insistence that the leak was contained, THR points out that the unaired episode appears to have spread widely across the web, with various Redditors and torrent site users describing the leak as high-quality and nearly complete, except for the show's closing credits.
The fourth episode of Game of Thrones' current seventh season, titled "The Spoils of War," was also leaked online earlier this month. Star India, HBO's Indian distribution partner, contracted a company called Prime Focus Technologies to manage their data—current and former employees of PFT stole and distributed the episode, per THR, resulting in four arrests so far.
Unbelievably, neither of these leaks are connected to HBO's ongoing hack crisis, in which hackers claimed to have stolen 1.5 terabytes of the network's proprietary data. The hacker(s) most recently leaked forthcoming episodes of HBO's new season of Curb Your Enthusiasm, along with episodes of Insecure, Ballers, Barry and The Deuce. HBO reportedly offered the hacker(s) a $250,000 bounty payment in an email that—you guessed it—the hacker(s) then leaked.
The episode, titled "Death Is the Enemy," airs on HBO this Sunday, Aug. 20 at 9 p.m. EDT. You can preview the episode here, assuming you haven't already seen it.