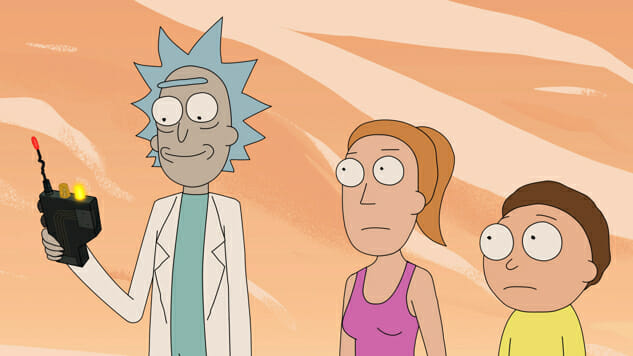 Here in Paste's home state of Georgia, it feels like spring has long since passed—we skipped straight from frigid weather to the dog days of summer, despite the fact that latter season has yet to officially begin. It does in June, though, and with it comes a fresh crop of streaming movies and shows on Hulu. Here are the most noteworthy additions we're seeing.
We'll begin our breakdown on the TV side, with what is arguably Hulu's most exciting June addition of all: The third season of Adult Swim's Rick and Morty, one of the most obnoxiously (yet rightfully) acclaimed animated series on TV. The sci-fi comedy from Dan Harmon and Justin Roiland centers on its titular duo, sociopathic scientist Rick Sanchez (voiced by Roiland) and his somewhat dimwitted, morally upstanding grandson Morty (also voiced by Roiland), as they embark on all sorts of dimension-hopping adventures that manage to be both mind-bending and gut-busting with stunning regularity. The beloved show's complete third season hits Hulu on June 23, so be sure to peruse our ranking of its episodes and if you have yet to dabble in Rick and Morty, take advantage of this chance to see what all the hype is about. Other television additions of note include two Hulu exclusives: the season two pre-premiere of Freeform's The Bold Type on June 5 and a cavalcade of Viceland series—15, to be precise, including Fuck, That's Delicious, Gaycation and What Would Diplo Do?—streaming only on Hulu starting on June 8. The premiere of Freeform's Cloak & Dagger arrives that same day, as do the season two premiere of Fox's The Four and the season six midseason premiere of CMT's Nashville. The second and final season of trippy BBC America mystery series Dirk Gently's Holistic Detective Agency, starring Samuel Barnett as the eponymous unconventional detective, driven by his belief in the interconnectedness of all things, and Elijah Wood as his reluctant sidekick, debuts on Hulu on June 14. And following it later in month are the season three premiere of NBC's Shades of Blue (June 18) and the complete first season of eOne's The Other Guy (June 22).
Where movies are concerned, Hulu's single biggest addition is actually a trilogy: Peter Jackson's beloved The Lord of the Rings films, including 2001's The Fellowship of the Ring, 2002's The Two Towers and 2003's The Return of the King, the last of which won enough Oscars—a whopping 11!—to account for the entire trilogy. All three of the epic action-fantasy films, based on J.R.R. Tolkien's legendary novel, hit Hulu on June 1, so you'd better carve out … *crunches the numbers* … about nine hours to watch all three in a row, like a true champion would. Also debuting on the first of the month are Ron Howard's Oscar-winning dramas A Beautiful Mind and Apollo 13, Beatles-inspired musical Across the Universe, acclaimed Frank Oz comedy Bowfinger, Ang Lee's landmark romantic drama Brokeback Mountain, baseball classic Bull Durham, Guillermo del Toro's soon-to-be-remade Hellboy, the Leprechaun films, Paul Thomas Anderson's Adam Sandler-starring Punch Drunk Love and Danny Boyle's manic drug-addiction dramedy Trainspotting, among many others. Later in the month, those titles are joined among Hulu's movie library by iconic 1994 sci-fi flick Stargate (June 3), Robert Redford's star-studded Lions for Lambs (June 5), Oscar-winning 2009 drama Precious (June 9), franchise blockbuster Transformers: The Last Knight (June 16) and Martin Scorsese's Leonardo DiCaprio-starring psychological thriller Shutter Island (June 26).
With the onset of summer also comes an exodus of movies making their way off Hulu, though the streamer isn't losing all that much of consequence on June 30. Departing films include another baseball classic in A League of Their Own, beloved bobsledding comedy Cool Runnings, 1985's Desperately Seeking Susan, Molly Shannon-starring SNL spinoff Superstar and Cheech & Chong's stoner-comedy classic Up in Smoke. The last cut is the deepest, though, as David Fincher's excellent 2007 crime drama Zodiac also says goodbye to Hulu at the end of next month. Don't miss that one, in particular, unless you're Ted Cruz, in which case you've already lived it.
See the complete list of Hulu's incoming and outgoing June programming below.
Coming to Hulu in June
Available June 1
1492: Conquest of Paradise (1992)
2 Days in the Valley (1996)
A Beautiful Mind (2001)
A Better Life (2011) (*Showtime)
Bridget Jones: The Edge of Reason (2004) (*Showtime)
Across the Universe (2007)
Allan Quatermain and the Lost City of Gold (1987)
Apollo 13 (1995)
Beer for My Horses (2008)
Bio-Dome (1996)
Blue Like Jazz (2012)
Boots on the Ground (2017)
Bowfinger (1999)
Brokeback Mountain (2005)
The Brothers Grimm (2005)
Burnt Offerings (1976)
Bull Durham (1988)
The Burbs (1989)
Chinese Box (1997)
Drive Me Crazy (1999)
Drop Zone (1994)
East is East (1999)
End of Days (1999)
Escape from Alcatraz (1979)
Event Horizon (1997)
The Eye (2005)
The Frozen Ground (2013)
Hard Rain (1998)
Harley Davidson and the Marlboro Man (1991)
Harsh Times (2005) (*Showtime)
Hellboy (2004)
The History Boys (2006)
House of D (2005)
I Am David (2004)
Inside (2018)
Into the West (1992)
Leprechaun (1993)
Leprechaun 2 (1994)
Leprechaun 3 (1995)
Leprechaun 4: In Space (1996)
Leprechaun 5: In the Hood (2000)
Leprechaun 6: Back 2 Tha Hood (2003)
Leprechaun: Origins (2014)
Life During Wartime (2009) (*Showtime)
The Lord of the Rings: The Fellowship of the Ring (2001)
The Lord of the Rings: The Return of the King (2003)
The Lord of the Rings: The Two Towers (2002)
Lucky Break (2001) (*Showtime)
Margin Call (2011) (*Showtime)
Mindhunters (2004)
Mistrust (2018) (*Showtime)
Mrs McCutcheon (2017) (*Showtime)
Mutant Species (1995)
My Left Foot (1989)
Nanny Mcphee (2006)
Nurse 3D (2014)
Our Lady of the Assassins (2000) (*Showtime)
Panic (2000)
The Pink Panther Strikes Again (1976)
Punch Drunk Love (2002)
The Quick and the Dead (1995)
Rare Birds (2002)
Religulous (2008)
Restoration (1995)
Revenge of the Pink Panther (1978)
The Running Man (1987)
Scary Movie 2 (2001)
Sleepwalkers (1992) (*Showtime)
Spawn (1997)
Stanley & Iris (1990)
Steel Magnolias (1989) (*Showtime)
The Sum of All Fears (2002) (*Showtime)
Sweeney Todd: The Demon Barber of Fleet Street (2007)
Swing Away (2016) (*Showtime)
Tamara (2006)
Trainspotting (1996)
The Triumph of Love (2001) (*Showtime)
Universal Soldier (1992)
Vantage Point (2008) (*Showtime)
We Blew It (2017)
Where the Skin Lies (2017)
Windwalker (1980)
Available June 2
68 Kill (2017) (*Showtime)
Blade Runner 2049 (2017) (*HBO)
The Gunman (2015) (*Showtime)
Available June 3
Max 2: White House Hero (2017)
The Promise (2016) (*Showtime)
Stargate (1994)
Available June 5
The Bold Type: Season 2 Pre-Premiere (Freeform) (Watch The Bold Type season 2 premiere episode early exclusively on Hulu!)
My Hero Academia: Season 2 Part 2 (Dubbed) (Funimation)
So You Think You Can Dance: Season 15 Premiere (FOX)
Lions for Lambs (2007)
Available June 6
Gintama (2017)
Out of the Dark (2014)
Available June 7
Allure (2017)
Available June 8
Abandoned: Complete Season 1 (Viceland)
Black Market: Complete Season 1 (Viceland)
Black Market Dispatches: Complete Season 1 (Viceland)
Bong Appetit: Complete Seasons 1-2 (Viceland)
Cloak & Dagger: Series Premiere (Freeform)
Cyberwar: Complete Seasons 1-2 (Viceland)
The Four: Season 2 Premiere (FOX)
Flophouse: Complete Season 1 (Viceland)
Fuck That's Delicious: Complete Seasons 1-2 (Viceland)
Gaycation: Complete Seasons 1-2 (Viceland)
Hamilton's Pharmacopeia: Complete Seasons 1-2 (Viceland)
Hate Thy Neighbor: Complete Season 1 (Viceland)
Huang's World: Complete Seasons 1-2 (Viceland)
Nashville: Season 6 Midseason Premiere (CMT)
Party Legends: Complete Seasons 1-2 (Viceland)
Weediquette: Complete Seasons 1-3 (Viceland)
What Would Diplo Do?: Complete Season 1 (Viceland)
Woman: Complete Season 1 (Viceland)
Available June 9
American Made (2017) (*HBO)
Pork Pie (2017) (*Showtime)
Precious (2008)
Simon Says (2006)
Available June 10
Ghost in the Shell (2017) (*Showtime)
Available June 12
Disney Fairy Tale Wedding: Series Premiere (Freeform)
Available June 13
Bad Blood (2016)
Available June 14
24 Hours to Hell & Back: Series Premiere (FOX)
Dirk Gently's Holistic Detective Agency: Complete Season 2 (BBC America)
Available June 15
Marlon: Season 2 Premiere (NBC)
35 and Ticking (2011)
Breakup at a Wedding (2013)
Cabin Fever: Patient Zero (2014)
The Clintons: An American Odyssey (2012)
Hellbound: Hellraiser II (1988)
The House October Built (2014)
The House October Built 2 (2017)
Huntsville (2017)
In Too Deep (1999)
Low Down (2014)
Middle of Nowhere (2010)
Nina (2016)
Playin' For Love (2013)
Sirens (1993)
Smoke (1995)
So This is Christmas (2013)
Tell Them Anything You Want: A Portrait of Maurice Sendak (2009)
The Second Mother (2015)
Walking Out (2017) (*Showtime)
Available June 16
Silent Witness: Complete Seasons 10-21(BBC)
Baby Mama (2008)
Killing for Love (2017)
The Mountain Between Us (2017) (*HBO)
Rebel in the Rye (2017) (*Showtime)
Transformers: The Last Knight (2017)
Available June 17
Punisher: War Zone (2008)
Available June 18
Shades of Blue: Season 3 Premiere (NBC)
Available June 22
The Other Guy: Complete Season 1 (eOne)
Available June 23
Rick & Morty: Complete Season 3 (Adult Swim)
Curious George 3: Back to the Jungle (2015)
Kingsman: The Golden Circle (2017) (*HBO)
Love Means Zero (2017) (*Showtime)
Available June 25
Ballet 422 (2014)
Available June 26
Shutter Island (2009)
Available June 27
Swan Princess 8 (2018)
The Thousand Faces of Dunjia (2017)
Available June 28
Cairo Time (2009) (*Showtime)
Available June 29
10 × 10 (2018)
Available June 30
EuroTrump (2017)
IT (2017) (*HBO)
Leaving Hulu on June 30
30 Beats (2012)
5 Days of War (2010)
A League of Their Own (1992)
A Simple Plan (1998)
Accepted (2006)
Agent (2017)
Alter (2017)
As I AM: The Life and Times of DJ AM (2015)
Bad News Bears (2005)
Basic Instincts (1992)
Billy the Kid (2013)
Cool Runnings (1993)
Death Becomes Her (1992)
Desperately Seeking Susan (1985)
Eye for an Eye (1996)
Fever (2017)
Home of the Brave (2006)
Horsemen (2009)
I'm Gonna Git You Sucka (1988)
Internal Affairs (1990)
Jane Eyre (1996)
K2 (1992)
Knock Knock (2015)
Ladybugs (1992)
Legionario (2017)
Life Stinks (1991)
Marathon Man (1976)
Married to the Mob (1988)
Mystery Team (2009)
Private Violence (2017)
Project Nim (2011)
Quigley Down Under (1990)
Roxanne (1987)
Shanghai Surprise (1986)
Small Soldiers (1998)
Snake Eyes (1998)
Spanglish (2004)
Stand Up Guys (2012)
Standing in the Shadows of Motown (2002)
Stories We Tell (2014)
Superstar (1999)
Tenderness (2009)
Texas Killing Fields (2011)
Thunder Soul (2011)
Trading Mom (1994)
Up In Smoke (1978)
Uptown Girls (2003)
Wishmaster (1997)
Wishmaster 2: Evil Never Dies (1999)
Wishmaster 3: Beyond the Gates of Hell (2001)
Wishmaster 4: the Prophecy Fulfilled (2002)
Zodiac (2007)
Zombie Decadence 2 (2017)