The Top 5 Moments from Jane the Virgin's Intriguing "Chapter Fifty"
(Episode 1.06)
The CW
TV
Lists
Jane the Virgin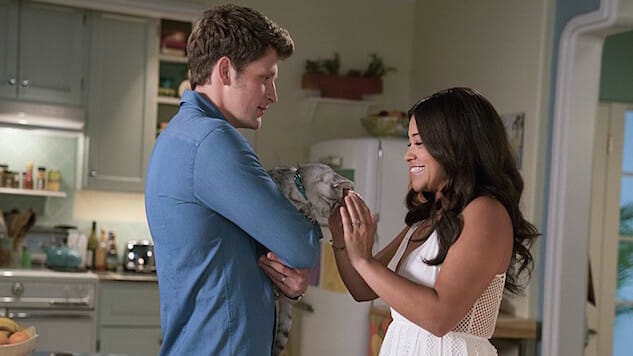 "Chapter Fifty" chugs along nicely as a filler episode. We're introduced to Catalina, Jane's third cousin from Venezuela, and Jane is enthusiastic about meeting a new family member. But things aren't as cut and dred as they seem, especially when Alba has an opinion. Petra, on the other hand, has to stop plotting against Rafael for the moment, as she needs his help.
5. Catalina's Introduction
Jane's third cousin arrives on her doorstep, ready to take their new friendship by storm. Jane is ecstatic, but Michael has a few concerns: Who is this person, really, and why is she here? Michael's intuition is usually right, but Jane's already romanticized the situation: Catalina (Sofia Pernas) is the sister she always wanted.
Catalina's breezy personality and mysticism make it hard to not be intrigued by her. She lives a fanciful life that all of us might envy. She's a worldly traveler with many friends in high places. But it's silly to think that this new character doesn't come with specific intentions or the ability to throw a wrench in Jane's life. Plus, if Rafael likes a woman on the show, I'm sure there's something shady about it.
4. Jane Bombs the Job Interview
Jane's big interview with a new publishing company is one of the best moments of "Chapter 50." After allowing Catalina to provide some wisdom on the situation, and ignoring what Michael says, our girl walks into the room full of confidence. Yet, her tiny lie about knowing a particular software turns into a huge mistake, as she erases something the agent was working on. Gossip Girl alum Kelly Rutherford guest stars as the big agent, which made this scene even sweeter.
Of course, magical realism and all, Jane is pushed to make friends with the agent's assistant, who fixes the situation. Jane should stick to her pre-planning skill set—it'll work more in her favor.
3. Rafael's Plot
If there's a couple that will plot against each other until their dying days, it's Rafael and Petra. In this episode, their arc is mostly stale and boring: Petra receives all of Rafael's shares in the Marbella, so she tries to force him out. Rafael didn't recognize Anezka as Petra and bad-mouths her, so she's out to be as evil as possible. But it falls flat.
Until Scott throws a sexual harassment lawsuit at Petra and she needs Rafael's help to get out of it. The ex-couple forces Scott to withdraw his suit and Petra leaves Rafael his shares and his penthouse. Fortunately, the twist is that Rafael planned Scott's suit. It's cunning and will throw Petra off his tail for a little while, but what I'm really looking forward to is when this explodes in Rafael's face. Petra has yet to reach Level 100 of the Bad Bitch club, but I'm waiting in anticipation for this to come to fruition.
2. Xo and Rogelio's Blasts from the Past
If there's a couple that deserves a chance after many decades in the making, it's Xo and Rogelio. After being bombarded by a couple of inside jokes, the Latin Narrator goes far back to when they first met. It was a dance class that Rogelio enrolled in just to meet Xo. In case you're wondering, he rocked the lavender outfit back then, too.
After another dance-off in the present, we really find out Rogelio's deep feelings. He feels guilty for not raising Jane, and in his eyes, raising another child with Xo would help fix the past. Unfortunately, when he finds Xo in the arms of ex-boyfriend Bruce, he is set on finding another harvest to sow. Get it? Since this is the Honey Bunches of Oats integrated advertisement episode, I have this corny metaphor to refer to.
1. Dry Arepas and an Unimpressed Abuela
At first, we thought Catalina and Alba wouldn't get along when they first met. Alba, feeling very distant from Jane, pushes aside her feelings to meet the new cousin by preparing for the worst. Alba seems to be enjoying herself, until Catalina's unsecured tatas— as the Latin Narrator puts it—were emboldened enough to say Alba stole her grandmother's first love. Alba, steamed, didn't agree, and made sure to tell Catalina that the arepas she brought to dinner were dry.
Alba tells Jane how she feels; Catalina reminds her so much of her manipulative sister that she cannot trust this woman. Catalina might be the reason Jane understands Alba's complete withdrawal from her family, and her heart's biggest downfall.
---
Iris A. Barreto is a writer for
Fangirlish
, freelance writer for
Paste
and social media intern for
Pink is the New Blog
. Heavily caffeinated. Forever lost in Westchester, NY & NYC; all GPS apps hate her. You can follow on Twitter.