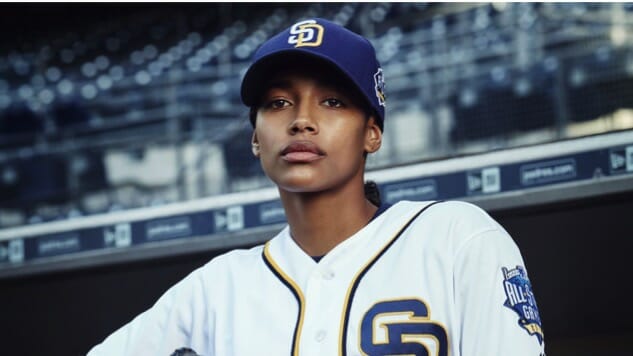 Will we ever see women playing alongside men in professional sports leagues?
Television seems to think so. The new drama Pitch, which airs Thursdays at 9 p.m. on Fox, follows Ginny Baker (Kylie Bunbury) as she becomes the first woman to play Major League Baseball. If professional baseball takes a cue from this heartfelt drama, Bunbury's first female pitcher could become a reality. The series has MLB's full cooperation. Ginny plays for the San Diego Padres and Bunbury wears the Padres uniform and films on location at various baseball parks.
Recently Paste had the opportunity to speak with Bunbury about nabbing the role, drawing on her own athletic background and working with "old man" Mark-Paul Gosselaar.
Paste Magazine: This is a significant role, perhaps even beyond the scope of the show itself. What was the process in getting the part?
Kylie Bunbury: I received an email that just said, "The show's going to be about the first female pitcher in Major League Baseball and here are two scenes. We have no script." At first, I thought, "Okay, interesting, how are they going to make this work?" Then I found out Dan Fogelman [Crazy, Stupid, Love, Galavant, This is Us] was attached to it and there's a through line in all of his shows and his films, which is a lot of heart. It's about human beings. That really inspired me to work on the scenes. I went in for them, and they saw something in me. I think part of what they saw in me was also the athletic aspect. I grew up in a family of athletes. My dad was a professional soccer player and my brother currently plays professional soccer. I have sort of this innate understanding of pro athletes. I think I sort of carry myself like one as well, not necessarily like a pro athlete, but an athlete in general. I just get them.
I guess they liked me and I signed on. Then I had to get to work with learning how to pitch. I had two and a half months to learn how to pitch before the pilot. That was about three to four days a week working on my throwing and pitching, the mechanics, and flat ground work and long tossing, and then also three days a week boxing so I could become stronger.
Paste: Was there anything about being a Major League Baseball player that you didn't realize before starting this intense training process?
Bunbury: I learned a lot. Baseball wasn't necessarily my first sport in terms of liking it. I'd never played baseball or softball growing up. I think the biggest thing that I learned, and why I've fallen in love with baseball, is how mental of a game it is. It's such a mental sport, and it's beautiful. I think definitely the mental aspect, the stats, and the mathematics, that, to me, really blew me away. It's like a whole other side of the sport element, which is cool.
Paste: One big reason that this show is getting a lot of attention, of course, is because the premise is that you are the first female Major League Baseball player. This is clearly a reflection of things that are actually happening in our world. Can you talk a little about the public outcry to focus more on women are capable of doing?
Bunbury: I think the outcry has been led by women. I feel like, as women, we are still in a position where we are having to prove what we are capable of and who we are. Also, there's a lot more female solidarity happening. Because of that, we're uplifting one another, and so we're able to show what we are capable of. We are just as capable. That's also why I was attracted to this, it's just really a woman's time right now. It's so interesting. I don't really know the answer as to why, I just feel like it's time. We're constantly evolving, and this is sort of the next step in our women revolution, I guess. (laughs)
Paste: Do you think that we are close to seeing the day when women will play in the MLB?
Bunbury: I definitely think so. Obviously we know biology is a factor, but that's really me pitching in the show. Obviously it's not perfect, but I really do know how to pitch 60 feet and that took two and a half months of training. If the right girl starts training at a young, young age, I for sure think so, especially if she has an arsenal of pitches. I definitely think it's possible, and I definitely think we could see it. Also, we have MLB supporting the show, so even MLB thinks it's a possibility, you know?
Paste: Speaking of MLB, Pitch is in the unique position of having their full approval to use their trademarked logos, team names, stadiums and other properties. Have they expressed any concerns or restrictions about the creative direction of the show?
Bunbury: No, the biggest thing for MLB that they said is that they want the baseball to be as authentic as possible. Also, I think that they sat down with the creators of this show, and had extensive meetings about, what these stories are going to be about. I think that a lot of people are expecting us to be talking about the darker sides of baseball. I don't think that that's necessary at all. We're just trying to show human beings in the world of baseball. How are baseball players with their families? How do they deal with the pressures of winning and losing? I don't think it's necessary to talk about the negative sides of baseball. I think that probably the biggest thing is that they knew that Dan Fogelman was going to guide this series with a lot of heart. I think that that's important to them.
Paste: Someone who's getting a lot of attention alongside you is Mark-Paul Gosselaar, a familiar face for a lot of viewers. Have you teased him about the fact that you were born the same year that Saved By The Bell first came on the air?
Bunbury: Trust me, there are a lot of old man jokes happening on set (laughs) which works really well for our characters, because I'm the rookie, and I'm coming in as the rookie. He is the veteran and the captain of the team. I'm definitely busting his chops and he's busting mine as well. He's so wonderful, and I just think that the beard and his physicality in the show is so important and so brilliant because you don't see Zack Morris. I think they did a really good job in transforming him into a catcher.
Paste: People who've heard a little bit about the show obviously expect to see baseball. What are some other aspects of the show for non-sports fans who might be thinking about checking it out?
Bunbury: The thing is that baseball just happens to be the world that we're living in. It's not just about baseball, it's really about human beings and the relationships between them. The other thing that's great about this show is that it's very current and timely as well. We're discussing issues that are going on right now. I think that that's really important. Also, it just shows people in real life circumstances, and how they deal with them. Every character is relatable. Every character has depth. It's multidimensional. They're really not just focusing on one character. Every character has a back story, and you get to know the character, and you fall in love with every character. I just think it's really great. They're keeping the heart in it, with some baseball in it, which is important. You're going to see baseball in almost every episode, but not to the magnitude of the pilot. We go to Dodgers Stadium. We have an All-Star game episode. It's set in the world of baseball, but ultimately it's about human beings.