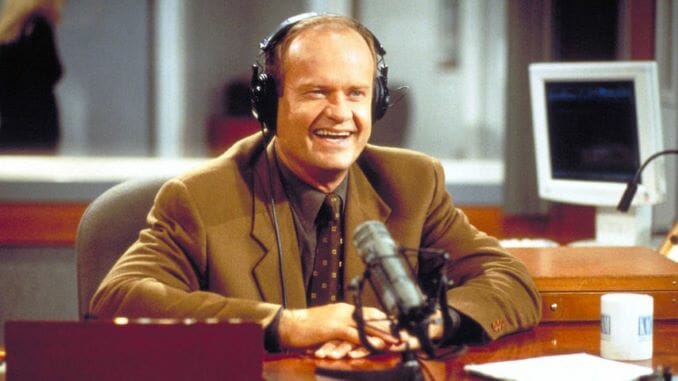 In a sea of streaming choices, NBC Universal's late-entry platform Peacock has gotten a little lost. Many of NBC's favorite classic series and sitcoms had been available on other streamers like Netflix and Hulu for a long time, but like HBO Max and Paramount+, Peacock was created to bring all of NBC's programming (and its affiliated cable channels, including USA and Syfy) into one studio-driven hub.
In addition to hits like Frasier, Cheers, Parks and Recreation, and 30 Rock, Peacock has also dipped a toe (like everyone else in this Peak TV era) into creating original programming. The results have been mixed. We Are Lady Parts, The Resort, and Poker Face shine in a sea of forgettable or mediocre offerings. And one of the platform's best original series, Girls5eva, was recently sold to Netflix to continue its run there. We live in strange times!
Though it has done away with its free subscription tier, Peacock's $4.99 a month (+tax) or $49.99 per year (+tax) rate (both of which are still ad-supported) is a decent value for a lot of great programming, much of which is nostalgic or familiar—something that bigger streamers like Netflix and Prime Video have largely lost out on.
So if you're looking for a comfy binge or are open to discovering some new and interesting series, Peacock has you covered. Here are our picks for the 40 best to stream right now:

40. Young Rock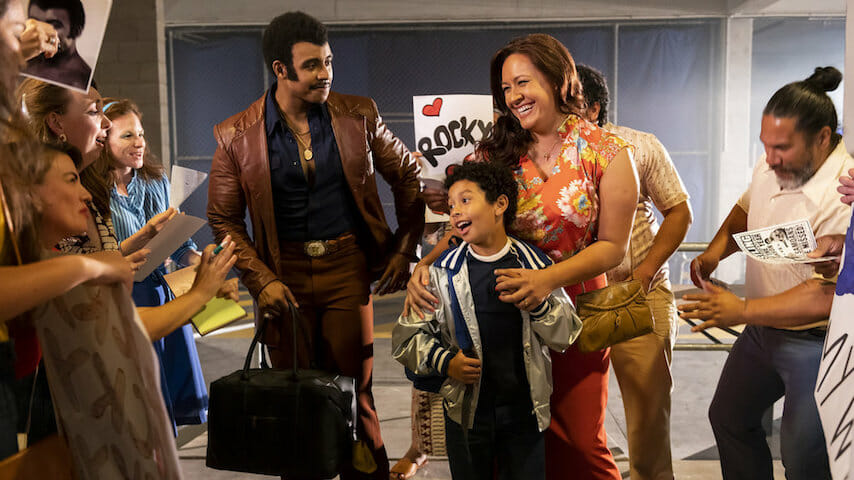 A cute and nostalgic network TV journey through a celebrity's early years would probably not work under any other circumstances than those of Young Rock. The NBC series brings together the comedy savvy of Nahnatchka Khan (Don't Trust the B— in Apt 23 and Fresh Off the Boat) and the well-established charisma of wrestler-turned-actor Dwayne "The Rock" Johnson, hopping through several timelines to give a colorfully embellished but seemingly emotionally genuine survey of The Rock's childhood.
There are plenty of Easter eggs for wrestling fans in particular, who will undoubtedly enjoy (or bristle) at depictions of famous figures like André the Giant, the Iron Sheik, and Macho Man Randy Savage. Even for those like myself who have no real context for the history of the industry being represented, it all helps build out Young Rock's candy-colored, comedically-heightened world.
While fans of Khan's previous work may be disappointed by a dulling of her signature surrealist humor, there are still some sharply funny moments throughout Young Rock, and the show is certainly brimming with warmth. Johnson is charming as always, and he manages to come off as genuine. The first episode's title, "Working The Gimmick," really sets up a wary expectation for all that follows. But the goal of wrestling is entertainment, and Young Rock provides that in spades; it's a sweet show, and earnestly likable. So even if viewers do feel like we're being worked, do we mind? —Allison Keene
---
39. Weeds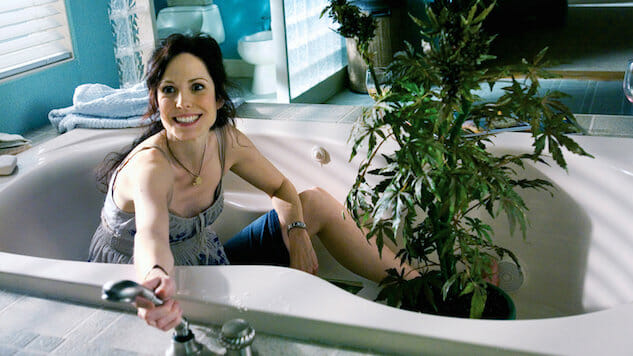 Before Walter White broke bad or Piper Chapman started selling panties, Weeds introduced us to the privileged protagonist who resorts to crime when faced with dire circumstances. In this case, meet Mary Louise Parker's Nancy Botwin, a suburban mom-turned-marijuana dealer desperate to keep her family afloat after her husband dies of a heart attack. As with so many Showtime series, Jenji Kohan's precursor to Orange Is the New Black skidded out of control as Nancy sunk deeper and deeper into the black market, but in its first season especially, Weeds offered a ballsy, bawdy send-up of conformist thinking and the American Dream, aided by gonzo comic support from Justin Kirk, Kevin Nealon, and the deliciously petty Elizabeth Perkins. Plus, its title sequence, featuring Malvina Reynolds' 1962 ditty "Little Boxes," is one of premium cable's most memorable. —Matt Brennan
---
38. This Is Us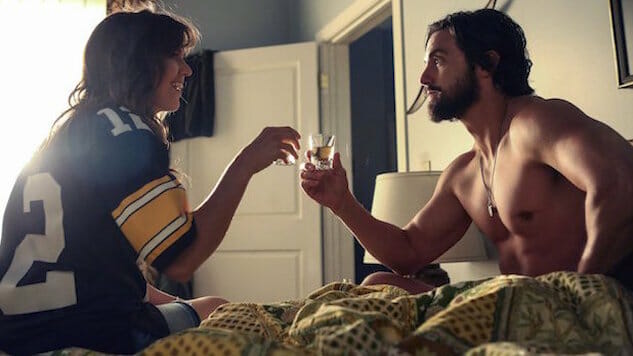 When I first watched the pilot for This is Us and got to the big reveal—Rebecca (Mandy Moore) and Jack (Milo Ventimiglia) are the parents!—I thought, "Well, that's clever. But now what?" The freshman drama surprised me by playing with time much the same way Lost did. While unfolding the stories of siblings Kevin (Justin Hartley), Kate (Chrissy Metz) and Randall (Sterling K. Brown) in the current day, the show bounces back and forth in the past as we visit key moments in their upbringing. The performances are extraordinary. Hartley brings depth and humor to his would-be clichéd character. Brown (also so great in The People v. O.J. Simpson) is a powerful screen force. Metz makes you feel her struggle and swoon over her blossoming romance. There's no doubt this is Ventimiglia's career-defining role. And I'll confess right now that I completely underestimated Moore's talents. The producers clearly delight in shocking their audience with each twisty reveal. Yes, the show does seem determined to make you ugly cry in every single episode, and some of the aging makeup needs work (I'm talking to you, Jon Huertas). But at its root, This Is Us is a touching and beautiful exploration of how our families and our childhoods shape us. Get your tissues out. Amy Amatangelo
---
37. Everybody Hates Chris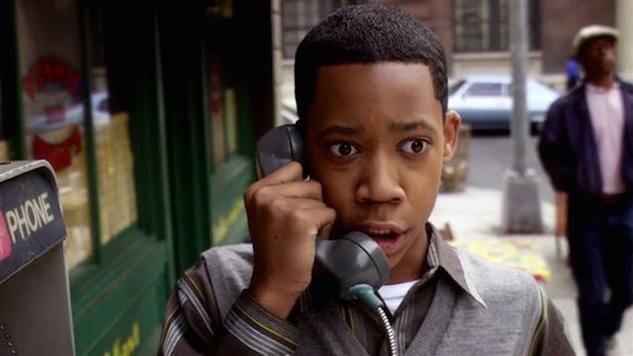 Chris Rock is one of the funniest comedians of all time. This is far from a controversial stance. Upon developing a period sitcom about his Brooklyn childhood for the (now defunct) UPN back in the mid-2000s, however, the question emerged of whether or not his brand of knowing, acerbic comedy could survive the transition to network TV. The answer proved to be both yes and no. From the opening seconds of its pilot, Everybody Hates Chris positions itself as an incisive, utterly confident comedic tour-de-force that is perfectly in line with Rock's brand. And yet, in the hands of co-creator/showrunner Ali LeRoi, the show aimed to be much more than simply the comedian's stage work reformatted into TV storylines. The result was a family sitcom that both harkened back to the Norman Lear comedies of old, while still retaining the rapid pace and tight construction of the best single-camera productions. The show was never more successful, however, than when it came to its casting, with Tyler James Williams demonstrating immense charisma and comic timing as a young Chris; meanwhile, Terry Crews and Tichina Arnold would promptly enter the pantheon of great TV couples as Chris' larger-than-life parental units. And though low ratings and frequent schedule shifts would ultimately snuff Chris out after four seasons, it quickly sketched out its place as one of the greatest sitcoms of the new millennium. —Mark Rozeman
---
36. Dr. Death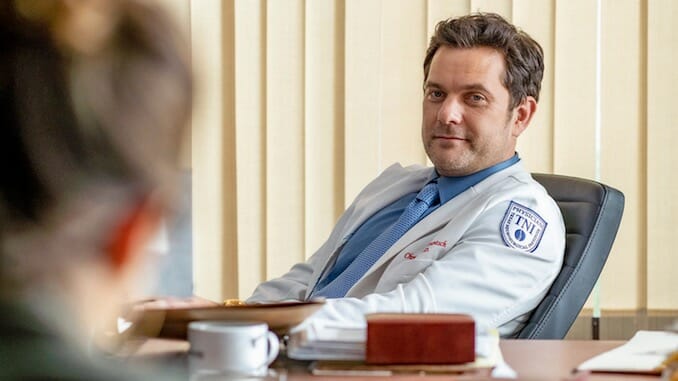 Whatever you think you know about the medical field will be upended by the Peacock series Dr. Death. And that after watching these eight episodes, you may never want to go to the doctor again. The limited series is more unnerving than any horror movie.
Dr. Death follows the true story of Dr. Christopher Duntsch (Joshua Jackson), a Dallas neurosurgeon who horrendously botched surgeries, leaving his patients heinously maimed or, in a few cases, dead. Among his transgressions: he sliced vocal cords, left sponges inside people's bodies, cut into muscles and nerves instead of bone. Wanting to cover their own you-know-whats, his employers passed him on from hospital to hospital with letters of recommendations carefully crafted by their legal departments. Finally, two doctors—neurosurgeon Robert Henderson (Alec Baldwin) and vascular surgeon Randall Kirby (Christian Slater)—made it their personal mission to stop him.
The writing, directing, and performances combine to make a taunt eight hours of TV, one that you will most likely quickly binge your way through. You'll also be left with the unsettling knowledge that this is a true story, that this could and probably will happen again. That it could happen to you. You might even be inspired to suddenly start eating right, getting your eight hours of sleep every night, and making sure to drink water and exercise regularly…. —Amy Amatangelo
---
35. Angelyne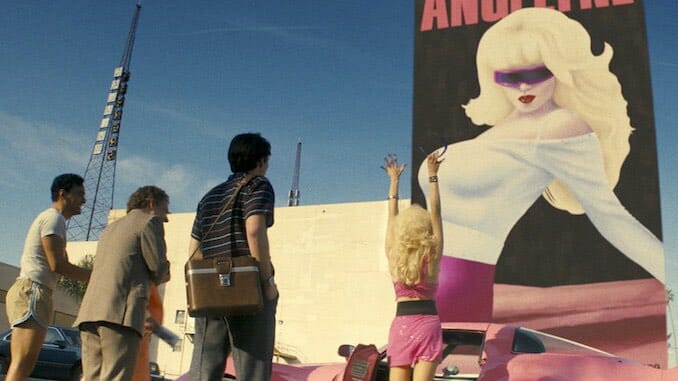 As a five-part biopic on Peacock, Angelyne tracks the story of its eponymous lead's path to stardom. Rather than give her account of an unorthodox rise to fame linearly (in this case, a plot to literally raise her image on billboards above the rooftops of the City of Angels), Angelyne leans into the slipperiness of her mystique. Like her trademark pink Corvette that she races down the road, Angelyne wants the public to remain inescapable of her, while she always secures a quick getaway car. The series embraces these tensions. Using shell narrative techniques, the viewer gets glimpses of Angelyne through those who seek to trap her or track her down: jilted lovers (Lukas Gage), devoted assistants (Hamish Linklater), dogged journalists (Alex Karpovsky, Charlie Rowe). Through an overarching documentary frame of all these former documentarians, Angelyne's story turns into a woozy blur of perspectives of her own alien persona. It becomes clear that Angelyne wanted to become a Barbie girl at any cost, but desired to live in a Barbie world of her own creation—a consuming ambition-cum-obsession. From a production standpoint, Emmy Rossum, both star and executive producer of the series, commits this continual splintering of Angelyne's story almost to a fault. While Angelyne's own narrative to herself becomes unreliable, the fractal framing and shifts into magical realism can make the series feel overstuffed, too imbalanced of a canvas for an already volatile source character. At same time, Angelyne, as a character for writing and within the plot, begs for maximalism. Her inability to live without it (or acknowledge a former self) proves to be the series' most satisfying teaser. —Katherine Smith
---
34. Eureka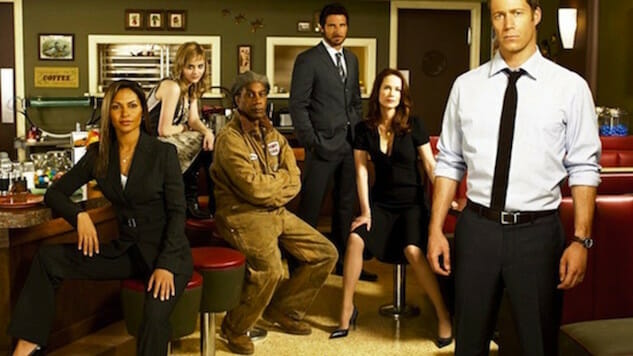 Set in the quirky, scientist-saturated, totally top-secret Pacific Northwestern town of the same name, Eureka was then-SciFi's big swing of a counterargument to the gritty seriousness of Battlestar Galactica, which had premiered two years earlier and launched SciFi into the pop culture mainstream. Where Battlestar Galactica was all grays and blacks and cramped metal hallways, Eureka was open sky and lush PNW forests and a cheerful whistling theme song; where Battlestar's resident geniuses colluded with genocidal humanesque clones, Eureka's lot over at Global Dynamics tinkered with technological goo and android dogs and pheromonal peptides that cause love stampedes; where Battlestar's uniformed officers strategized space war against those same genocidal humanesque clones, Eureka's solitary two—eternally gobsmacked outsider Sheriff Jack Carter (Colin Ferguson) and eternally exasperated insider Deputy Sheriff Jo Lupo (Erica Cerra)—used their practical training and relatively astronomical EQ to save the town's various head-in-the-clouds quantum physicists from the comedic excesses of their own geniuses.
This is not to say that Eureka didn't deal with complex, dark-ish arcs—long before he was the scheming Papa Pope, Joe Morton nearly set Eureka on fire with Dr. Henry Deacon's grief at losing his wife—but those more serious stories were always offset with Jack's banter with his Smart House, or Jo's flirtatiously combative slapstick with bad boy scientist Zane Donovan (Niall Matter), or bumbling super-genius Fargo (Neil Grayston) doing just about anything—including guest starring on sister goofball series, Warehouse 13. The more serious stories were fine, but it was those effortlessly light, entirely un-self-serious touches that made Eureka's short five seasons such refreshing fun to watch. —Alexis Gunderson
---
33. The Fall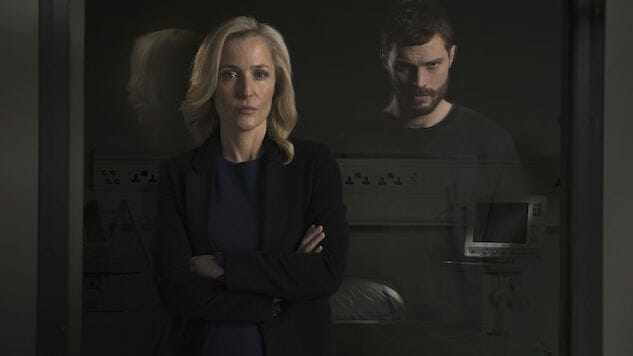 Let it be known that before he was Christian Grey, Jamie Dornan proved his acting chops and charisma as a disturbingly un-disturbable murderer in this superb psychological thriller. Dornan's mild-mannered husband, father and grief counselor (!) is among the most terrifying onscreen serial killers in recent memory. Paul Spector is a stalker, as exacting and methodical as his eventual pursuer. Enter Gillian Anderson's Stella Gibson, a British detective superintendent called to Belfast to look into a spate of gruesome murders. As the cat-and-mouse game intensifies, Anderson's characterization is its own triumph: analytical, uncompromising, reserved, but brazenly sexual on her own terms, entirely unfazed by the politicking and dick-swinging of her male colleagues. That we know the identity of the killer from the show's first frames, and yet can't take our eyes off the screen is a testament to the stealth creep with which The Fall operates. —Amanda Schurr
---
32. Parenthood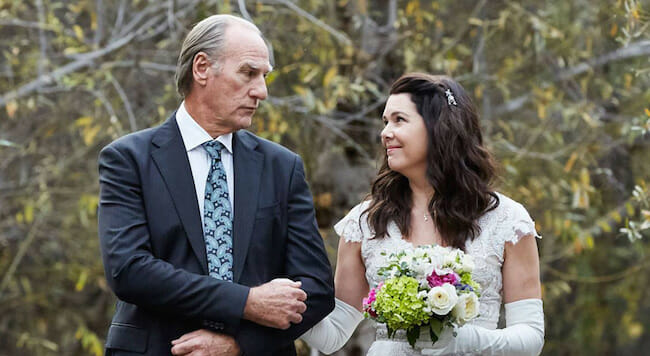 Parenthood always was a good drama, but, over the course of its six seasons, it matured into a great one. The NBC series was palpably real. The Bravermans are us. Each episode, the show provides insight into what it's like to be part of an extended, loving, and meddling family while giving viewers the opportunity for a nice cathartic cry. Family dramas are the hardest type of one-hour programming—they must keep viewers engaged without a weekly patient to cure, crime to solve, or case to litigate. That's why a family drama frequently will turn to the television trope of giving a lead character a disease. But what Parenthood did with the Kristina (Monica Potter) story arc was profound. The series thrives when it demonstrates the minutia of life. While Kristina battled breast cancer, she's also dealt with life's smaller moments. Life, the show subtly points out, doesn't stop for cancer. So often on TV, a disease will befall a character only to be wrapped up in one or two episodes after a few requisite maudlin moments. But Kristina lived with cancer and Potter gave the performance of her career. She evoked empathy from the viewer while never allowing the viewer to pity Kristina, and in doing so, Parenthood quietly became one of the best shows on TV paving the way for NBC's next big family drama This Is Us. —Amy Amatangelo
---
31. New Amsterdam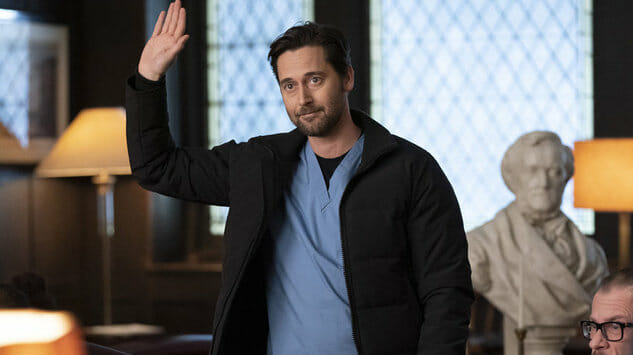 "How can I help?"
When New Amsterdam, NBC's break-the-system medical drama, first premiered as part of the network's Fall 2018 prime-time slate, this simple question was repeated so often and with such unflagging sincerity by Ryan Eggold's pot-stirring Medical Director that even Paste's own former TV editor, Matt Brennan (a self-proclaimed New Amsterdam apologist!), declared its "metronomic refrain" absurd.
And yet, as anyone who's watched the series grow into itself over the past two years might tell you, Dr. Max Goodwin's How can I help? has evolved from the kind of cheesy catchphrase my fellow critics derided as prime-time pabulum, to the kind of bullishly anti-cynical mission statement it's hard not to find inspiring—not least coming from a blockbuster broadcast medical drama. Because here's the thing: As many unbelievably sweeping, pie-in-the-medical-sky changes as Max seems to make at New Amsterdam in those first few episodes, the systemic injustices and bureaucratic nightmares baked into American healthcare are so deeply rooted that even a white savior complex as well-meaning and robust as Max's has proven not nearly enough to dismantle it all in one go. Or two. Or three. Or a hundred.
That's okay. With so many seasons already available for new viewers to catch up on—and with the likelihood that many of those same viewers will find themselves caught up in the shards of America's broken healthcare system, the longer both the pandemic and current historic rates of unemployment persist—there's more than enough of Dr. Max Goodwin's brand of break-the-system fantasy not just to hold us for the moment, but to inspire more of us to turn to our communities and take up the metronomic refrain, How can I help? —Alexis Gunderson
---
30. Lost Symbol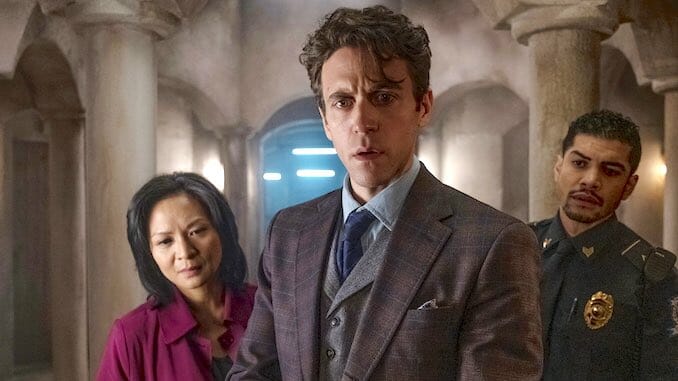 The tales of Robert Langdon and his hyper-specific expertise in deciphering ancient symbols captured movie-going audiences in the early 2000s with the The Da Vinci Code, a book-turned-film from author Dan Brown. In it, Langdon, a fictional Harvard University professor, becomes the prime suspect in a murder that only he can solve due to an unusual symbol on the dead body; escapades ensue. Fast forward to 2021 and the Langdon character is back for a new adaptation in The Lost Symbol on Peacock, this time investigating the disappearance of his mentor at the hands of a mysterious tattooed villain. The show, written and co-showrun by Dan Dworkin Jay Beattie, stars Succession's Ashley Zukerman as an attractive, somehow younger version of the role that Hanks originated.
The series is your typical caper: after being summoned to Washington D.C. under false pretenses, Langdon is thrown into a mystery that requires his specific knowledge and skill. Previous Dan Brown stories have relied heavily on interpretations of ancient Christianity and Catholic tales and symbols while injecting the story with a time-sensitive treasure hunt, and The Lost Symbol is no different. Episodes are fast-paced and engaging, making the series' new adventures with a familiar character freshly entertaining. —Radhika Menon
---
29. Saved By the Bell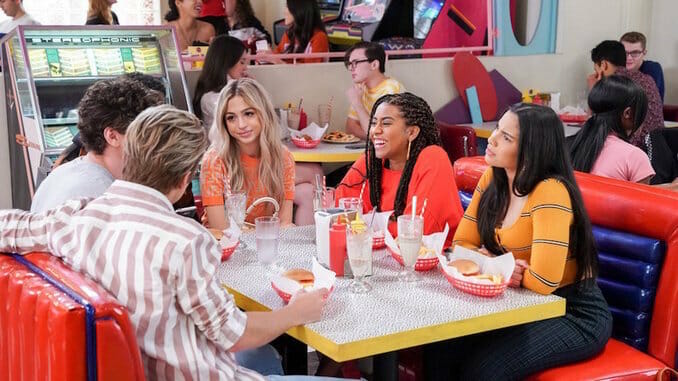 What could have been a cringe-inducing attempt to monopolize on existing IP, Peacock's Saved by the Bell revival-slash-reboot is a surprisingly charming and self-aware comedy that recontextualizes the original show by not-so-subtly highlighting its flaws. Hailing from Tracey Wigfield, the show follows a new generation of students attending Bayside High, but while it largely features a young cast, it's not a true reboot. Mark-Paul Gosselaar and Tiffani Thiessen reprise their roles as Zack and Kelly, now the governor and first lady of California, and when the former's ineptitude results in the closure of many public schools throughout the state, students from lower income brackets find themselves attending well-funded school districts. This setup injects Bayside with a much-needed dose of reality. But Gosselaar and Thiessen aren't the only familiar faces in the cast. Elizabeth Berkley and Mario Lopez reprise their roles as Jessie Spano and A.C. Slater, who both work for the school, while Lark Voorhies' Lisa Turtle is a fashion designer who pops by. With Berkley and Lopez taking active roles in the narrative, Saved by the Bell appeals to both old and new viewers, which is one of the biggest signs of a successful revival. —Kaitlin Thomas
---
28. Psych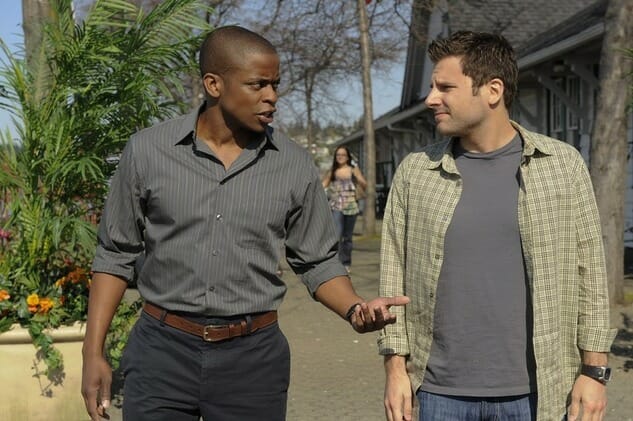 When USA debuted Psych, it was just a little show about a fake psychic who solved crimes. The network was in the nascent stages of its "blue sky" period, a time that included Burn Notice, White Collar and Royal Pains. Now that this phase is essentially over, it's easy to declare Psych the best of the no-heavy-watching-required bunch.
Starring James Roday, Dule Hill, Timothy Omundson and Maggie Lawson, the comedy-mystery hybrid was decidedly lighter than most shows centered around solving murders. Frequently hilarious, the series relished in spoofing the pop-culture landscape and tapped into the zeitgeist both past and present. Almost every episode was themed around a trope, genre, or specific film or TV show. Psych ran for eight seasons and 121 episodes, so don't be a myopic Chihuahua—dive in. Wait for it. Wait for iiiiiiiit… —Shannon Houston
---
27. House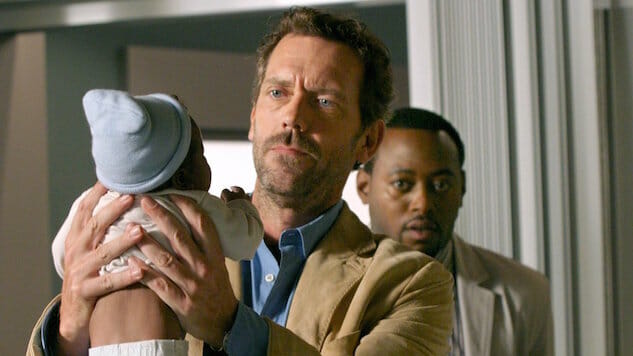 Hugh Laurie shined as the cranky and brilliant titular character who never believed his patients (they always lie) and could solve even the most complex medical cases (Note: it's never lupus). The series was the pitch-perfect mix of the Case of the Week (often introduced in the cold open as some seemingly healthy guest star falls ill) with ongoing story arcs that followed the will-they-won't-they romance of House and Dr. Lisa Cuddy (Lisa Edelstein), the lives of House's often randy interns, and the long-running bromance between House and his best friend Wilson (Robert Sean Leonard). It's a winning TV prescription playing out again today on ABC's The Good Doctor, which is also produced by House creator David Shore. —Amy Amatangelo
---
26. Chucky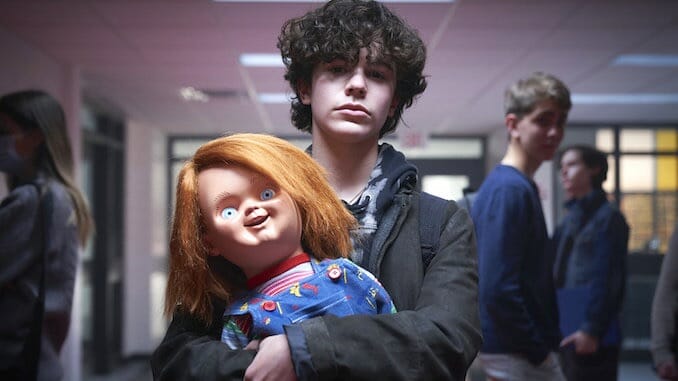 Ask yourself: what do you want from a Chucky TV show?
If you want believable dialogue and a coherent narrative, this may not be the place. If you want a demon doll who creatively and excessively kills a host of human characters in ways that will make you laugh, groan, and be grossed out, then yes: Chucky delivers. Not that these two things can't exist simultaneously, but when it comes to USA and Syfy's campy horror series based on the enduring franchise, you need to opt-in to the good-time gory fun with these caveats in mind.
Chucky comes from Child's Play mastermind Don Mancini, and takes place in Hackensack, New Jersey. The prolific killer doll is matched with a new friend quickly: Jake Wheeler (Zackary Arthur), an artsy middle-school outsider who likes making freaky doll sculptures, picks Chucky up at a yard sale. Jake can't quite manage to pull Chucky's head off to add him to his collection, though, and pretty quickly comes to understand that this Good Guy doll is actually a Bad Guy and a vicious killer—one who wants to ostensibly "help" Jake through some difficulties at school and at home, whether Jake wants him to or not.
Ultimately, the Chucky series is accessible for those starting out with the franchise and (I am assured) those who have enjoyed Chucky's journey and various incarnations over the years. CG may smooth out some of his movements and facial expressions more than in the past, but the practical puppetry remains the star. Every time an unassuming kid or parent holds this bizarrely large doll, the tension begins to build. Will he wink, flip a bird, or grin before reaching for his knife? Or will he just remain calm and quiet, except for the occasional declaration: "Hi, I'm Chucky. Your friend till the end…" —Allison Keene
---
25. A Friend of the Family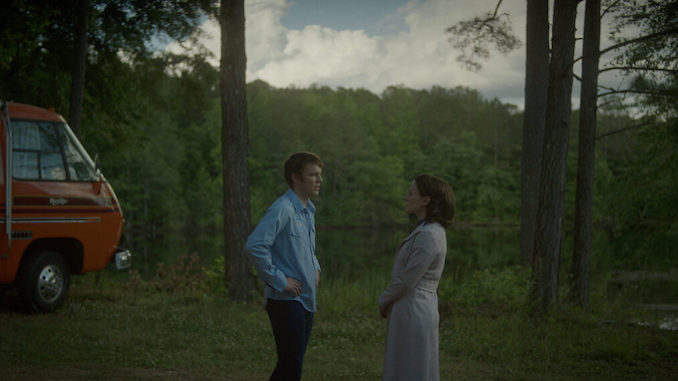 In constructing a case for how a sensational story could very well be plausible, A Friend of the Family showrunner Nick Antosca (Hulu's The Act; Candy) attempts to humanize and redeem two overly gullible parents. Jake Lacy stars as Bob Berchtold, a serial predator in 1970s Idaho who became so obsessed with neighbor girl Jan Broberg (Hendrix Yancey as the younger version; McKenna Grace as the older version) that he kidnaps her—twice. Anna Paquin and Colin Hanks play parents Mary Ann and Bob Broberg, who were too sheltered by their insular community to realize that they, themselves, were also Berchtold's victims. —Whitney Friedlander
---
24. A.P. Bio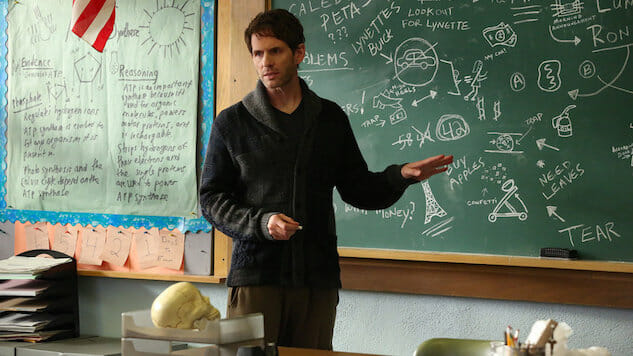 A.P. Bio has quietly become one of the best sitcoms on TV today due to the strength of its ensemble. It's on full display in an episode like "Wednesday Morning, 8 A.M," where instead of juggling two or maybe three storylines like a typical sitcom episode, it presents a series of interconnected vignettes, each of which focuses on a different major or recurring character at Whitlock High. It gives the entire cast a chance to shine and also acts as a good introduction to pretty much every character on the show. It's a modern-day "22 Short Films About Springfield," but from a series that continues chugging along as TV's most underrated sitcom. —Garrett Martin
---
23. Poker Face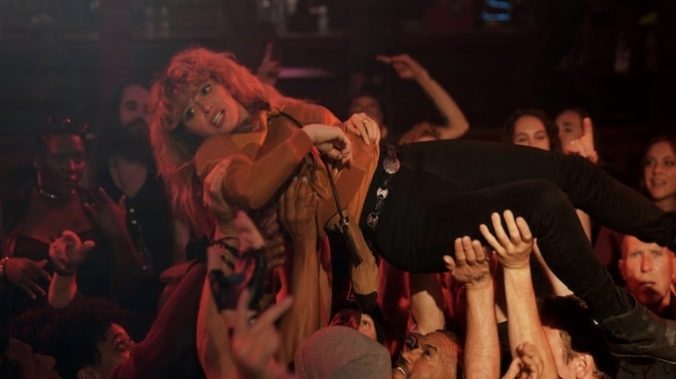 The deck is heavily stacked in the audience's favour with Rian Johnson and Natasha Lyonne's Poker Face, a case-of-the-week "howcatchem" that feels less like an ode to Columbo and more like a gleeful, excited squeal of adoration. Johnson writes and directs the pilot, giving us a welcome return to the darker, restrained type of genre filmmaking he showed in Brick and Looper, which provides an impeccable introduction to the world of Charlie (Lyonne), a nobody who can sniff out when anyone is ever lying. Our perceptive idol still has to slum it across America's backroads, seemingly drawn to impractical, impossible murders being staged in regional theaters, crummy punk bars, and a militant old folks home. There's a great deal of texture to the world that a team of capable writers and directors explore, and despite some repetitive structure issues, Poker Face makes us wonder why procedurals like these aren't on TV year-round. —Rory Doherty
---
22. Zoey's Extraordinary Playlist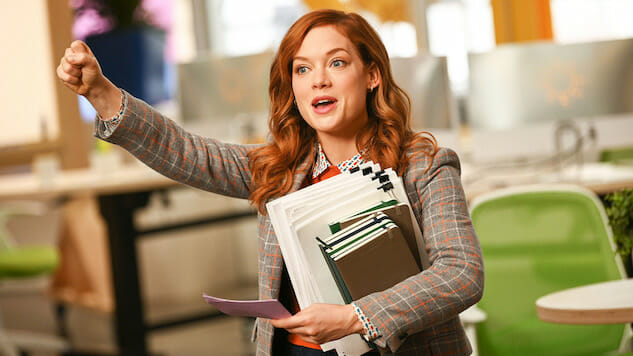 Zoey's Extraordinary Playlist is a pure delight. A show that is 1000% guaranteed to put a smile on your face, get your feet tapping and leave you humming a happy tune. I defy you to not be in a good mood after watching it. Jane Levy stars as the titular character who, after an MRI gone awry, can suddenly hear the soundtrack of people's lives. Their innermost thoughts set to a Beatles song, a Whitney Houston ballad or a Katy Perry number. Because Zoey is privy to people's innermost thoughts whether they are singing about sexual desire or loneliness or marital frustration, she tasks herself with solving their problems. But by adding the extra layer of full on, big musical numbers everything Zoey does seems natural. Musicals, by their very nature, require a huge willing suspension of disbelief. The show also isn't afraid to tackle big emotional problems: from the sudden death of a parent, to a husband who doesn't respect you, to being your true self to everyone. It's NBC taking a risk. As far as musical TV series go, for every Glee or Crazy Ex-Girlfriend there's a Cop Rock. For network television to be airing, promoting, financing a show like this is a sign that broadcast TV isn't throwing in the towel to Netflix or Prime Video. NBC has come to play, thank you very much. And that's something to sing about. —Amy Amatangelo
---
21. Columbo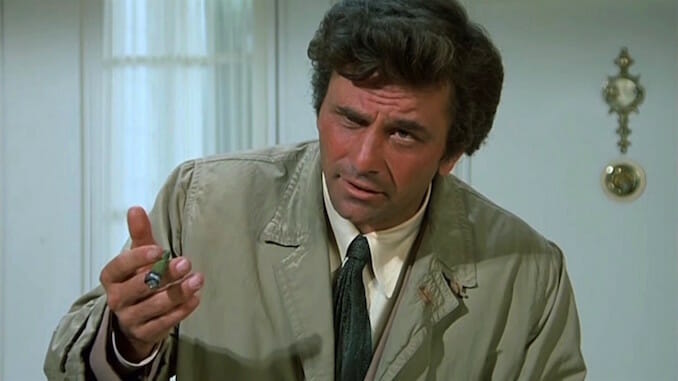 "Just one more thing…" With those words, audiences knew that Peter Falk's Columbo was about to very casually tear into whatever suspect was unfortunate enough to be in the same room as him. In an age where every cop now needs to be a troubled, yet brilliant, antihero, a character like Columbo thrived on his unassuming, affable nature, which inevitably resulted in the show's villain-of-the-week underestimating him, unknowingly giving themselves away in the process. Indeed, unlike most police shows at the time, Columbo always started by following the perspective of the perpetrator, with the audience then tracking how Columbo would crack the case (referred to by the show's creative team as a "howcatchem" instead of a "whodunit"). Presented as a series of mini-movies spread out over the course of nearly 35 years, Columbo had its inevitable ups and downs, with some cases being infinitely more interesting than others. What remained largely the same, however, was Falk's charismatic portrayal of the lovable, titular detective. It's a performance for the ages, and one that has been frequently imitated but never duplicated.—Mark Rozeman
---
20. Monk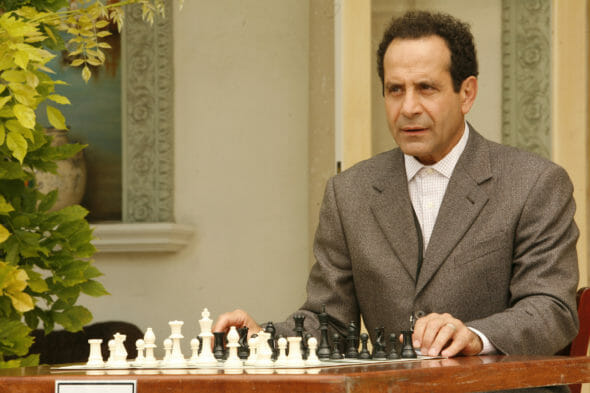 "Homicide detective with OCD" might seem like a cheap concept on paper—after all, Detective Adrian Monk (Tony Shalhoub)'s obsession with the tiniest of details is an easy, plausible explanation for his uncanny ability to solve even the most convoluted crimes by episode's end. But Monk used its central character's mental illness as so much more than plot device; though the show was a procedural, character development was always its driving force. We continue to learn bits and pieces of Monk's backstory (his wife Trudy was killed by a car bomb, resulting in his nervous breakdown and worsening of his OCD), we watch as his mental health gradually improves, and through it all we're treated to an expert blend of comedy and drama that makes it so obvious why Shalhoub was nominated for eight Emmys (taking home three) for the role. —Bonnie Stiernberg
---
19. Bates Motel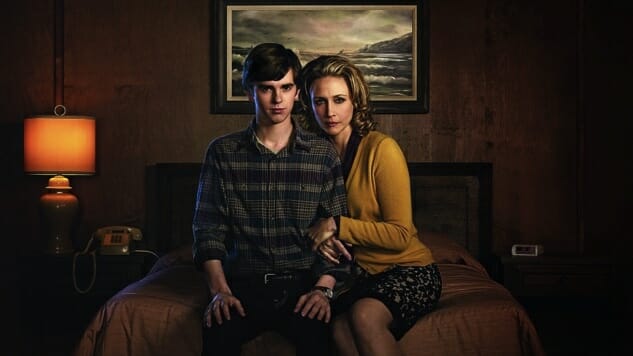 When telling the origins of a horror icon, a fine line must be walked. For one, you run the risk of losing the mystery that made the original characters so terrifying to begin with. Bates Motel, however, has created a backstory for Norman Bates (Freddie Highmore) that makes the psycho of Psycho sympathetic. But Norman is always just a second away from behaving horrifically. Over the course of the show, Highmore goes from confused teenager to schizophrenic maniac, and in doing so, given a performance that rivals Anthony Perkins' take on the character. Playing off this evolution is the incredible, hypnotic Vera Farmiga as his mother Norma. Of course Norma's story has to end tragically. But when watching mother and son together, there's hope that the story will diverge from the way we know it must go, and there's the constant fear that what we know must happen can occur at any point. By expanding on the Norman Bates story, Bates Motel has taken an iconic character and enriched him with a haunted history that makes him even more fascinating as we watch his descent into madness. —Ross Bonaime
---
18. Rutherford Falls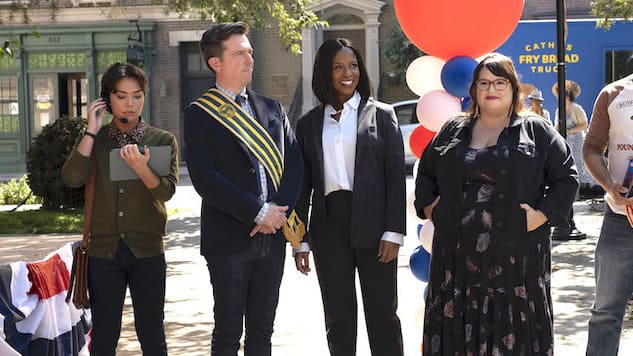 Rutherford Falls has all the makings of a typical Michael Schur sitcom: a catchy little jingle of a theme song, with mirrored musical interludes sprinkled into the story; topical pop culture references; an endearing slew of quirky characters; workplace banter. If you've even remotely enjoyed the comedies that have come before it (like Parks and Rec or Brooklyn Nine-Nine), you're sure to enjoy Peacock's latest addition to the bunch. The concept blends a traditional workplace comedy with deeper, more dramatic topics surrounding colonialism, Indigenous land, and, of course, "cancel culture"—all of which, when tossed around with clumsy humor, can land like a rotten egg on linoleum. Fortunately, with quick-witted writing and easy-going performances, Rutherford Falls opens unsuspecting, nuanced discussions on the once-fraught subjects.
The most controversial aspect about watching Rutherford Falls? Adding in one more subscription service in Peacock, although the NBC platform houses most of Schur's other series, too. If that bounty hasn't seduced you yet, let Rutherford Falls be the straw that breaks the camel's back: it may not be perfect, but it's more than worthy of a friendly stream. In other words, best to get started now, in case it hits the masses like a true protege of The Office or Parks and Rec might. —Fletcher Peters
---
17. Brooklyn Nine-Nine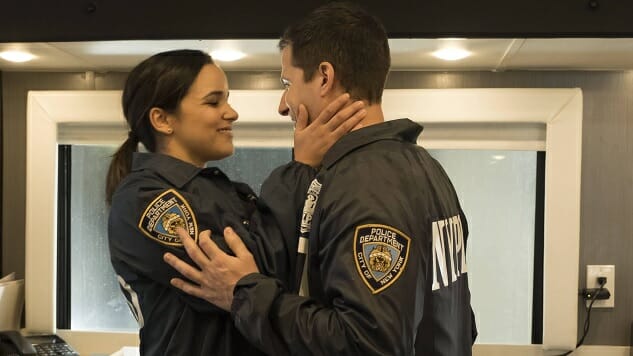 "Consistency" might not be the most flattering virtue you can ascribe to a sitcom, but consistency is a big part of Brooklyn Nine-Nine's greatness. Week in and week out, Dan Goor and Michael Schur's half-hour cop comedy manages to hit just the right notes without losing its groove. Some episodes hit higher notes than others, and yes, in the series' lifespan there have in fact been a few off-key episodes intermingled with the others. But when Brooklyn Nine-Nine is good, it's good, and it's good with an impressive regularity. When it's great, it's arguably the best sitcom you'll find on network television, thanks in part to sharp writing, but mostly to an even sharper cast. Consistency is what fuels Brooklyn Nine-Nine's motor, but the characters are the ones steering the ship. The show is enormously diverse, not only in terms of gender and ethnicity, but also in terms of comic styles: There's career sad sack Joe Lo Truglio, the stoically hilarious Andre Braugher, king of the clowns Andy Samberg, master of badassery Stephanie Beatriz, and that only covers a little less than half the team. Since Brooklyn Nine-Nine's debut back in 2013, each character on the show has developed and grown, and in the process we've come to care about all of them in equal measure. At the top of its game, Brooklyn Nine-Nine harmonizes our attachment to these people with great gags, and occasionally even sharp (if brief) action. In other words, there's a lot the series has to offer, and that just drives home how vital its constancy really is to its success. Never underestimate well-regulated humor. —Andy Crump
---
16. The Amber Ruffin Show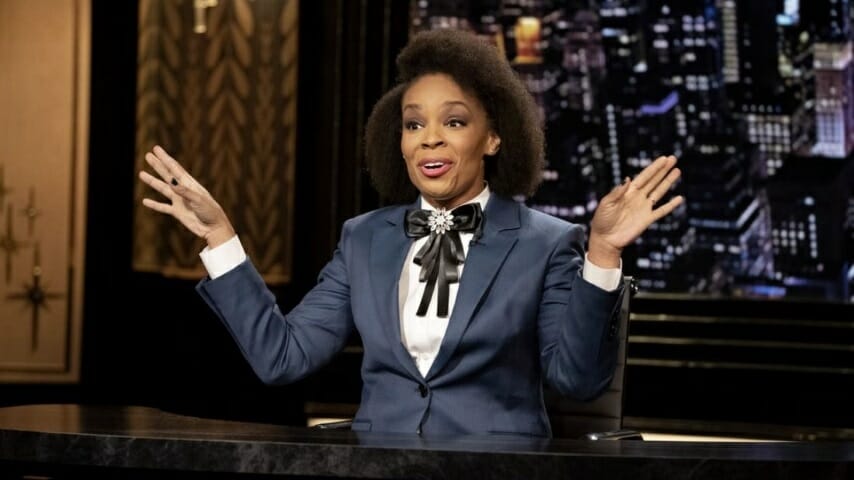 The Amber Ruffin Show immediately established itself as one of the funniest shows in late night when it first launched on Peacock. It helps that the show is nothing but comedy—no guest interviews, no bands, just a monologue and comedy sketches featuring writer/performer Amber Ruffin. If you've seen her on Late Night with Seth Meyers, you know how charming and disarming Ruffin can be—she's almost preternaturally cheerful, using that effervescence as cover for precision strikes against racism, systemic oppression, and the many indignities and traumas of the Trump age. That contrast works wonderfully during her brief appearances on Late Night, and she's been able to scale it out for her half-hour show without undermining it at all. —Garrett Martin
---
15. Killing It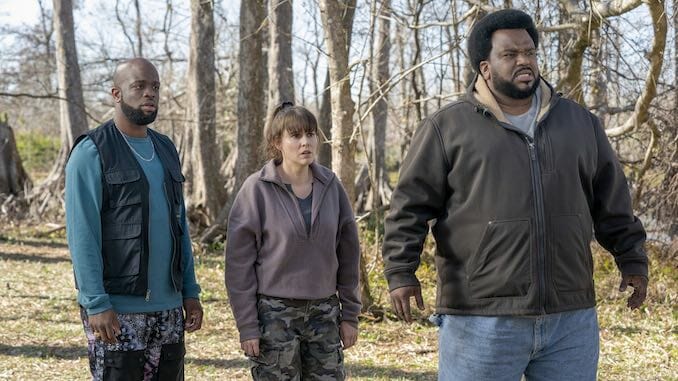 Killing It, a sitcom from Dan Goor and Luke Del Tredici, might sound like a live action riff on The Simpsons' Snake Whacking Day, but it's actually based on a real competition in Florida to help reduce the state's population of wild pythons. In a reverse of the sewer alligators of urban legend, Florida has a real problem with pythons bought as pets being released into the wild once they grow too large and unmanageable; without any natural predators, they've overrun the swampland and unsettled the state's ecological balance. Enter Craig Robinson and Claudia O'Doherty as two well-meaning hunters struggling with debt and unemployment who see the prize money as the way to realize their dreams. If you've ever seen either actor before, you know how charming and hilarious they are, and they instantly establish the kind of chemistry every successful comedy needs. They're joined by Scott MacArthur (of The Righteous Gemstones and The Mick) as an overly competitive YouTube hunting influencer also entering the contest, and stand-up comedian Rell Battle as Robinson's criminal younger brother who hides his inner pain beneath an unflappable exterior. (Battle's subplot as an assistant for a get-rich-quick hoaxster played by Tim Heidecker is one of the show's highlights.)
As ridiculous as "the snake hunting sitcom with the guy from the Pizza Hut ads" might sound, Killing It quickly reveals a serious side in its exploration of class divisions, personal trauma, and economic disparity. It's one of the few sitcoms I can think of that's explicitly focused on how our financial system preys on the least fortunate and most at-risk among us, with the true life absurdity of a Florida python hunt as the jumping off point for that discussion. Many comedies with a message hammer on it with a heavy hand, but Killing It explores how difficult life can be for its characters without ever feeling like a lecture or sermon. It's simply the world they live in and are accustomed to, the backdrop to all the jokes and character moments you expect from a sitcom, and the main reason Killing It is more than just a goofy comedy about killing snakes. —Garrett Martin
---
14. Vampire Academy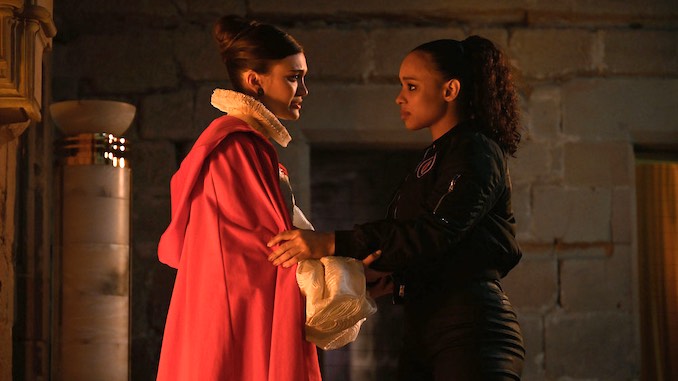 Even though The Vampire Diaries universe just met an unceremonious end, its mastermind Julie Plec and former TVDU actress Marguerite MacIntyre are bringing some more hot vampire drama to Peacock to fill the void. Based on a series of books of the same name by Richelle Mead, this is the series' second chance at adaptation after the spectacular failure of 2014's Vampire Academy film. The show follows half-vampire Guardian Rose Hathaway (Sisi Stringer) and vampire royalty Lissa Dragomir (Daniela Nieves) as they fight to keep their world protected against Strigoi (a type of feral, unhinged vampire driven only by bloodlust). Reveling in royal intrigue, high school drama, and classic vampire shenanigans, Vampire Academy is the perfect show to sink your teeth into. —Anna Govert
---
13. Kingdom
Created by: Byron Balasco
Stars: Frank Grillo, Jonathan Tucker, Matt Lauria, Nick Jonas, Kiele Sanchez, and Joanna Going
Original Network: Audience Network
The best way to describe Kingdom is that it's sort of like Friday Night Lights if the show were about mixed martial arts instead of football. The character-driven series, which ran from 2014 to 2017 on AT&T's Audience Network, stars Frank Grillo as Alvey Kulina, a former champion fighter who now runs a gym with his girlfriend and business partner Lisa (Kiele Sanchez) where he trains fighters, including his sons Jay (Jonathan Tucker) and Nate (Nick Jonas), and former MMA star Ryan Wheeler (FNL's Matt Lauria), who's just gotten out of prison at the start of the show. You don't need to know much about the sport of MMA to enjoy the show; while it is an integral part of who these men are, it's also just the vehicle through which creator Byron Balasco delivers complex stories about family, loyalty, purpose, and redemption. And although Kingdom is anchored by tremendous performances across the board—the actors leave their blood, sweat, and tears in the cage—it's the beating heart at the center of the show that ultimately makes it worth watching. — Kaitlin Thomas
---
12. We Are Lady Parts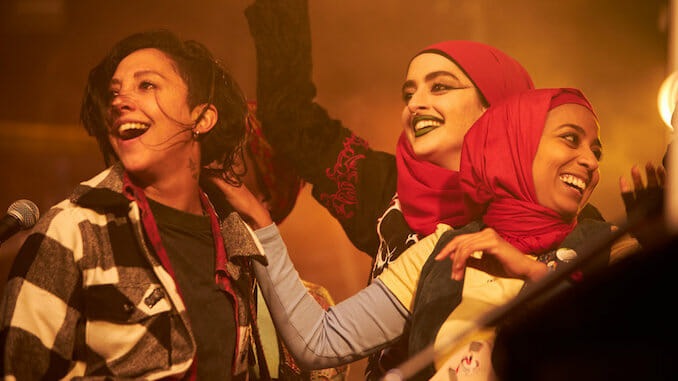 "Own your freakiness, before it owns you." So rings the declaration of Muslim mother, fierce bassist, and indomitably sweet spirit Bisma (Faith Omole). While she serves it as a piece of encouragement to the perpetually nervous, stage fright-ridden, but dorkily charismatic Amina (Anjana Vasan), it could easily translate to a subheading for Peacock's raucous musical comedy series.
Documenting the accidental (but transformational) addition of the sometimes hapless, staunchly buttoned-up microbiology PhD student Amina to an all-woman, devoutly Muslim British punk band that takes delight in shredding the ears of its disapproving audiences, creator Nida Manzoor's series revels in the same tone of cathartic outrage as its titular band's riot grrl, punk, and heavy metal idols. With instantly lovable characters who practically bathe in anxiety around their interpersonal relationships, played by a cast of delightfully excitable performers who thrive in the series' melodramatic, stylized interludes, the show's first season is a combination of loud joy, anger, and terror that is especially well-suited for an audience facing the challenges of coming into their own, or coming out themselves.
In addition to a genuinely exciting soundtrack and brilliant bits of silliness in each episode, the series also sets itself apart by making the girls' repeated screw-ups a necessary launch pad on the road to DIY stardom. In its season finale rendition of "We Are the Champions," there's little doubt that no matter how often they get knocked down, the girls will keep rumbling, and continue to fine-tune their freakiness through encouragement and raw enthusiasm of their sisterhood. —Shayna Warner
---
11. Downton Abbey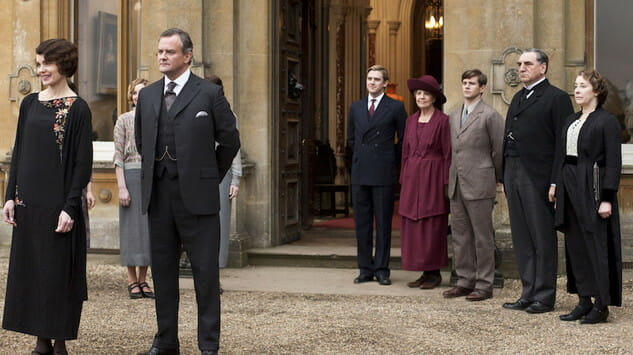 The lush, swirling period piece Downton Abbey is never short on drama or general strife. The ensemble series is extraordinarily well-acted (as evidenced by Maggie Smith, Hugh Bonneville, Michelle Dockery, Joanne Froggatt, Jim Carter and Brendan Coyle all receiving Emmy nominations), and there's perhaps no easier way to describe some of the plot twists than fucking nuts, a term we strongly feel the saucy Dowager Countess would approve of. Amnesia? Yup. Temporary paralysis? Got it. Murder conviction? Oh, big-time. In less capable hands, these stories would've likely flown off the rails and veered into the completely ridiculous, but the talented cast of Downton Abbey manage to always handle it with aplomb. As the seasons progressed, many more tragedies would befall the Crawley family, making for some of most compelling television in recent memory, and all capped off with one of TV's most satsifying finales (and then, another hugely satisfying movie which then got its own sequel). —Bonnie Stiernberg
---
10. Alfred Hitchock Presents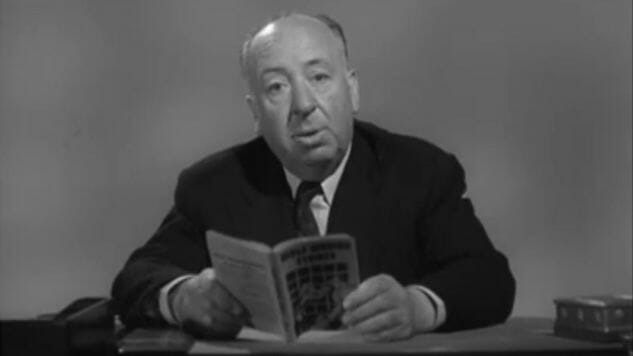 It may be a little bit of a stretch to truly call Alfred Hitchcock Presents "horror," as it were, but it was definitely high drama in the style created by the master of suspense. Hitchcock, of course, knew true horror, whether via The Birds or Psycho, and threads of these films, along with thrillers such as Notorious or North by Northwest, are woven into the long-running show's DNA. Take the ultra-macabre episode "Man From the South," starring horror icon Peter Lorre as an insidious old man with a truly nasty proposition for a young gambler played by Steve McQueen. Lorre's character promises to give McQueen his Cadillac … if McQueen can successfully strike his Zippo lighter 10 times in a row. If he fails? Then Lorre will cut off McQueen's finger as punishment. It's a sadistic, weird premise that has since been adapted again multiple times, including by Quentin Tarantino in 1995's Four Rooms, but none of them can touch Hitchcock. —Jim Vorel
---
9. Friday Night Lights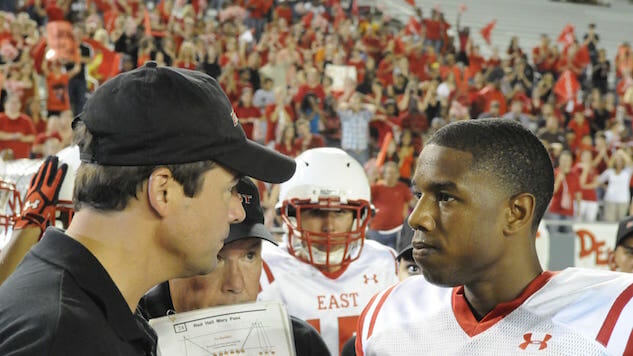 Who ever thought football, a sport infamous for its meatheads and brute force, could be the cornerstone of one of television's most delicate, affecting dramas? Heart-rending, infuriating, and rife with shattering setbacks and grand triumphs—Friday Night Lights is all of these, and in those ways it resembles the game around which the tiny town of Dillon, Texas, revolves. "Tender" and "nuanced" aren't words usually applicable to the gridiron, but they fit the bill here, too. Full of heart but hardly saccharine, shot beautifully but hyper-realistically, and featuring a talented cast among which the teenagers and parents are—blessedly—clearly defined, the show manages to convince episode after episode that, yes, football somehow really is life. Clear eyes, full hearts, can't lose. —Rachael Maddux
---
8. Girls5eva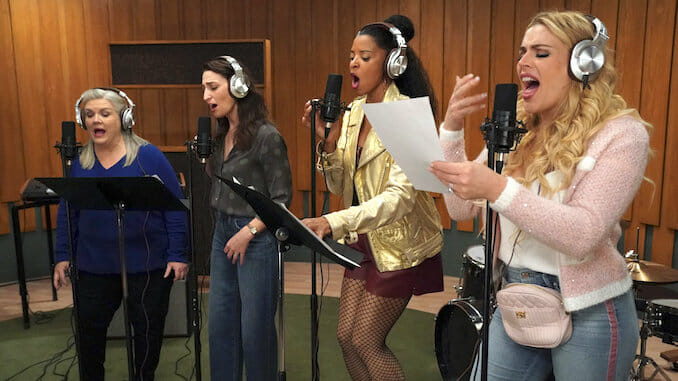 Meredith Scardino's series, which is also executive produced by Tina Fey and Robert Carlock—her bosses from Netflix's Unbreakable Kimmy Schmidt—focuses on the four remaining members of a one-hit wonder '90s girl pop group. Thrown together then by a lecherous and demoralizing manager, they had nothing in common, no autonomy over their talents or their bodies, and no idea what they were getting into. They sang songs entitled "Jailbait" and "Dream Girlfriends" (which included lyrics like "We've got the kind of birth control that goes in your arm. And tell me again why Tarantino's a genius"). Now Wickie (Renée Elise Goldsberry), Dawn (Sara Bareilles), Summer (Busy Philipps), and Gloria (Paula Pell) have all but been forgotten by anyone beyond a bored Wikipedia editor—until a chance at a comeback has them taking a second look at where they've been and where they're going.
Girls5eva is a cautionary tale about the era of low-rider jeans and sateen "going out tops"; about a time when young girls were supposed to giggle when their boyfriends compared them to the women in Maxim magazine and didn't flinch if their professors offered to buy them drinks after class. But it also has a special present for the Gen Xers, late Millennials, Xennials, and anyone else who groks with its commentary on aging and the frustration and rage one can feel over being ignored and underappreciated—especially the frustrations we have with ourselves for not being "better."—Whitney Friedlander
---
7. The Resort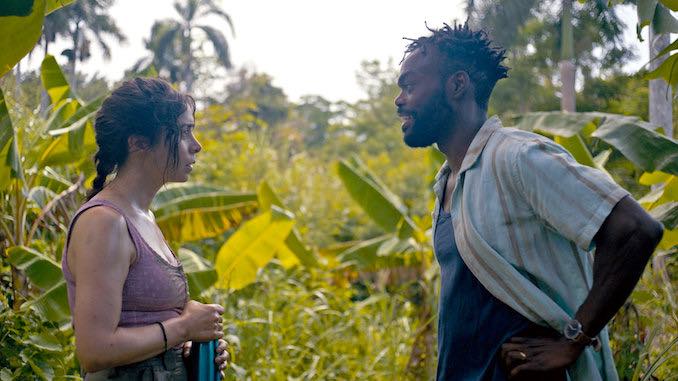 The Resort concocts an ambitious vacation adventure that provides both fast-paced escapism and a meditation on the languid effects of time. For their 10th wedding anniversary, Emma (Cristin Milioti) and Noah (William Jackson Harper) book a stay at a picturesque resort on the Mayan Riviera. Their relationship's in a lull, and the trip offers the perfect opportunity to reconnect. But while Noah's content to weather this out, Emma's crisis has deepened into something more existential. When she stumbles upon a dusty Motorola that belonged to a college kid who disappeared 15 years prior, she decides to investigate the strange case. Part old-fashioned adventure à la Romancing the Stone, part love story, and part off-kilter comedy, the show cuts across two timelines as it unravels the mystery. Not all of The Resort's ambitions quite land in its short runtime, but to its credit, the show's confident trek forward also smooths down loose threads. The rapid twists and likable cast make the mystery a diverting watch that doesn't take long to get into. —Annie Lyons
---
6. Frasier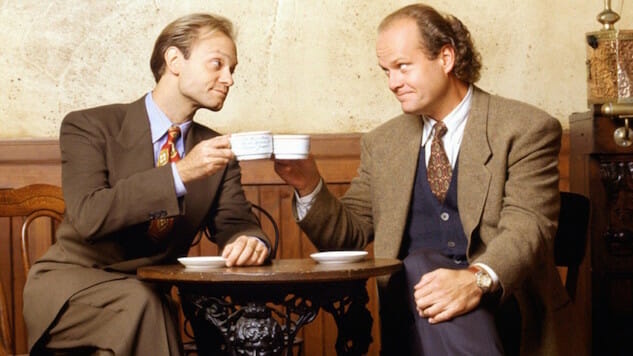 Many classic sitcoms are paeans to blue-collar family life, but Frasier was the odd show that made cultural elites and eggheads somehow seem like lovable characters to a mass audience. Both Frasier and his brother Niles can be infuriatingly snobbish, but audiences soon found that when their petty jealousies were directed at each other, they could also be hilarious. The show quickly became an off-hand representation of the idea of "smart comedy" on TV, but it was also still a sitcom full of relationship humor. Viewers waited a hell of a long time in particular for the long-teased relationship between Niles and Daphne to finally come to fruition (seven full seasons). Frasier, on the other hand, is never really lucky in love, but he was always better as a semi-depressed single, turning his probing mind on himself. —Jim Vorel
---
5. Cheers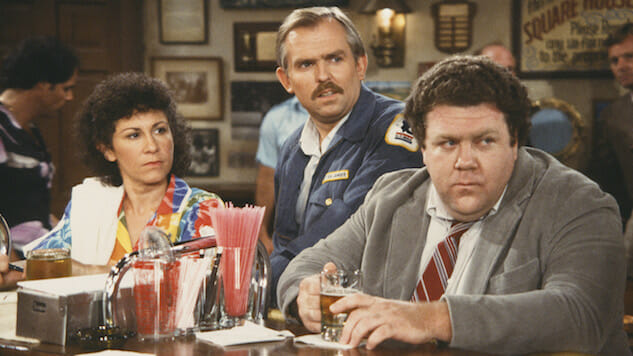 It was more than a bar where everybody knows your name. It was a lifestyle. Cheers rarely left the confines of the bar, but was able to weave slapstick comedy, romance and drama into the 11 seasons it was on the air. It started as the worst-rated series (74 out of 74) but climbed its way to the top 10 during the third season. Two casting changes couldn't even slow it down. The ensemble all won awards in acting, and the show itself won four Outstanding Comedy Series awards. Unlike many sitcoms that touch on serious social issues, the show never felt like an after-school special. Everything was done with sophisticated humor. —Adam Vitcavage
---
4. Battlestar Galactica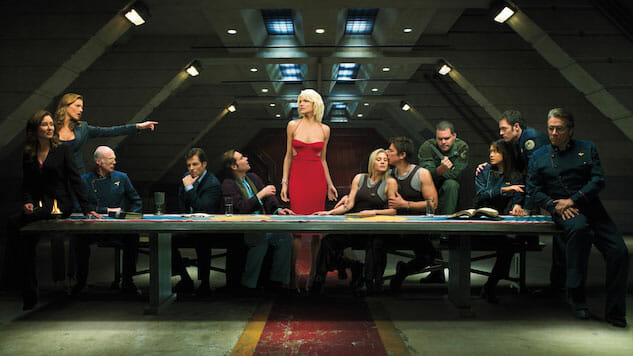 There's often a dichotomy in art between the epic and the personal. Smaller stories, those dealing with the kinds of challenges we regularly experience-family, romance, friendship, work, money-connect because they're familiar. We watch epic films like Braveheart or Lord of the Rings to get caught up in struggles much greater than we face and vicariously inherit the satisfaction of seeing them overcome. But then we read novels with minimal plots to see people like ourselves make the same stupid mistakes we do and come out on the other side having changed. Science fiction is almost entirely the domain of epic stories-working through a relationship gets completely overshadowed with the fate of humanity on the line. This is one of the main things sci-fi fans love about the genre and also what many people hate about it. So when people say that Battlestar Galactica is a show with a broader appeal than sci-fi, this is partly what they're getting at.
Creator Ronald D. Moore took the bare bones of a campy 1970s series and completely reimagined it, bringing a realism that sci-fi hadn't quite seen before. The ship itself is aging and cramped. Quarters are claustrophobic, leading their inhabitants to live in a hyper-sensitive fishbowl-everyone is in everyone else's business. But where Battlestar Galactica trumps other sci-fi stories in the minutia, it also beats them at their own epic game. Each season propels the main story arc along at light speed. A limited number of Cylon models are perfect human replicas—"skinjobs" who've infiltrated the human fleet. Their relationship with humanity grows more complex as disagreement arises within their ranks. And humanity's search for the mythical Earth is full of constant surprises.
Nearly every season is better than the last (even the misguided mess of a finale has its emotionally wrenching moments). With no alien civilizations to discover, Moore turns his lens inward on the species we know best. All the tensions in life are examined: religion vs. science, safety vs. freedom, the needs of the many vs. the needs of the few, conscience vs. loyalty, passion vs. commitment. And the show's big question—"What does it mean to be human?"—is explored on every level, big and small. (Note for new viewers, make sure you watch the miniseries first) —Josh Jackson
---
3. 30 Rock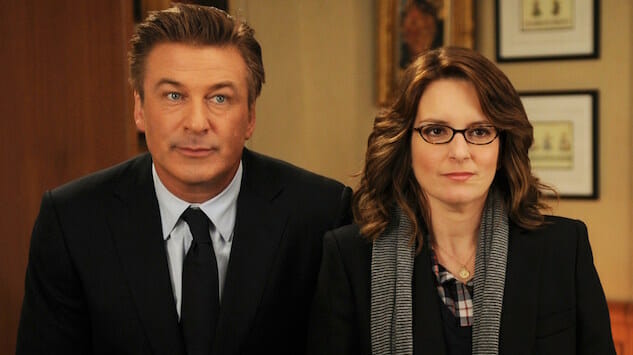 The spiritual successor to Arrested Development, 30 Rock succeeded where its competition failed by largely ignoring the actual process of creating a TV show and instead focusing on the life of one individual in charge of the process, played by show creator Tina Fey. 30 Rock never loses track of its focus, and creates a surprisingly deep character for its circus to spin around. But Fey's not the only one who makes the series so outstanding. Consistently spot-on performances by Tracy Morgan—whether frequenting strip clubs or a werewolf bar mitzvah—and Alec Baldwin's evil plans for microwave-television programming create a perfect level of chaos for the show's writers to unravel every week. 30 Rock doesn't have complex themes or a deep message, but that stuff would get in the way of its goal: having one of the most consistently funny shows ever on TV. Suffice to say, it succeeded. —Sean Gandert
---
2. The Office (U.S.)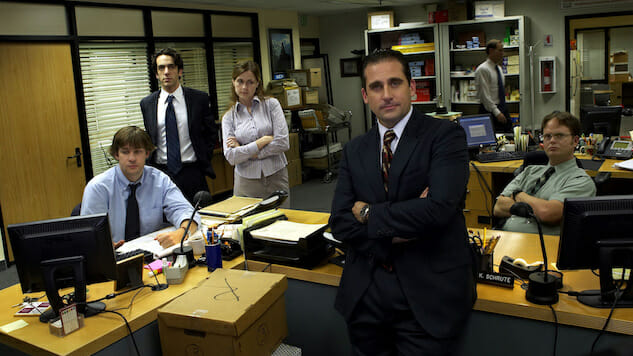 Ricky Gervais' immortal Britcom deserves full marks for establishing this comedy franchise that killed the laugh track and introduced us to a hilarious bunch of paper-pushing mopes. Defying expectations that it would pale in comparison, NBC's The Office became an institution unto itself. Before there was Steve Carell's Michael Scott and endless "that's what she said" jokes, there was Ricky Gervais' equally clueless David Brent and his fantastical dancing. Before there were John Krasinski and Jenna Fischer's adorable Jim Halpert and Pam Beesly, there were Martin Freeman and Lucy Davis' star-crossed Tim Canterbury and Dawn Tinsley. And, of course, before there was Rainn Wilson's assistant [to the] regional manager, Dwight Schrute, there was Gareth Keenan—Mackenzie Crook's retired Territorial Army member, who is both obsessed with his slightly senior workplace status and his one-sided friendship with his boss. Still, long-running, Emmy-winning American spinoff remains a streaming mainstay as comfort TV, and we wouldn't have it any other way. —Nick Marino and Whitney Friedlander
---
1. Parks and Recreation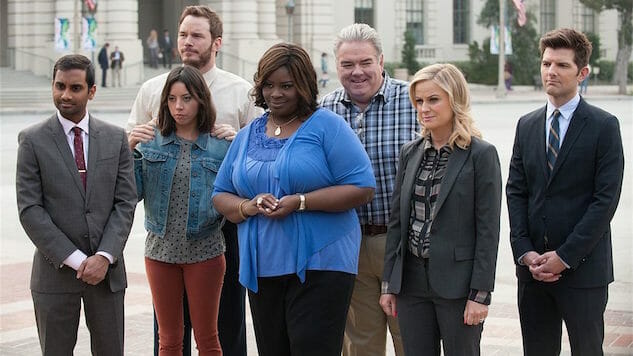 Parks and Recreation started its run as a fairly typical mirror of The Office, but by its third season, the student became the master. Fleshed out with oddballs and unusual city quirks (that are terribly relatable), Pawnee quickly became the greatest television town since Springfield. The show ultimately flourished with some of the most unique and interesting characters in comedy, who remain beloved thanks to the utter joy this show always delivered. With one of the greatest writing staffs on all of TV, watching Parks and Recreation—with its gentle heart and excellent humor—only gets better with time. —Ross Bonaime and Allison Keene
---
For all the latest TV news, reviews, lists and features, follow @Paste_TV.